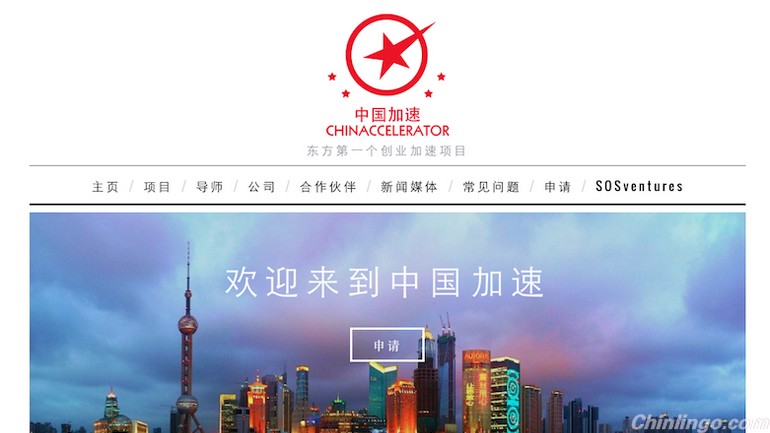 In the recent roadshow held by OIF in Shanghai, the partner Chinaccelerator caught much public attention. Its project focuses on the charity instead of O2O, with a team almost made up of foreigners or ABCs.
近日,浩腾创新基金在上海刚刚举办的项目路演活动中,活动的合作方——中国加速,引起许多人的注意。团队几乎都是老外或者ABC,该公司项目不走O2O,而主打慈善等主题。
William Bao Bean, the managing director of Chinaccelerator and the venture partner of SOS, has some rich experience. William was once the VP of Bank of America and an investment analyst of Deutsche Bank, with 17 years of experience in the venture capital profession. He then took a position in SBCI (Softbank China & India Holdings) as a partner, in charge of the early investment in China and Southeast Asia. During William's serving as the executive director in Singtel, he led the investment project in Yodo1 and Lekan.
中国加速董事总经理、SOS投资合伙人宾威廉先生早年的经历非常广,曾在美国银行任VP、在德意志银行任投资分析师等,他有着17年的投资职业经历,后来又去了软银中印集团当了合伙人,负责中国及东南亚早期投资。在新加坡电信投资任执行董事期间,他领投了游道易、乐看等公司。
In 2014, William became the partner of SOS, and the managing director of Chinaccelerator.
2014年宾威廉成为SOS创投合伙人,并担任加速器项目——中国加速的董事总经理,将加速器文化带到中国。
William believes the biggest difference between an accelerator and an incubator is cultural diversity. "In China, an incubator is much more popular than an accelerator, and it's payed better, much more than an accelerator." William thinks the reason why accelerators are not popular in China's startup circle in most cases lies in its non-profit character.
宾威廉认为,加速器与孵化器最大的不同是背后的文化差异。"在中国,孵化器要比加速器火得许多,孵化器对项目的回报要求比加速器更多。"宾威廉认为,加速器在中国创业圈中的不红火是因为它大多时候是非营利性质的。
In addition, an accelerator requires the team members to work together with an open and cooperative mind.. "Most startups are quite cautious about their business patterns and secrets, fearing their secrets would be leaked in the open office environment."
与此之外,加速器要求项目团队进行开放式、合作办公。"大多数的初创团队对自己的商业模式和商业秘密很紧张,他们害怕开放式办公会泄漏他们的秘密。"
Now take Chinaccelerator as an example: they select two projects every year, and invest. Then the team will be asked to work in Shanghai during the "accelerated" period, and they will be offered the opportunity of showing their work in public. The major difference is that the accelerator is operated through a mentor system, who come from various fields and circles; investment, marketing and Top 500 companies.
除此之外,以中国加速为例,他们一年精选2期项目,投资一定资金,团队在加速器期间被要求到上海办公,并提供项目路演等机会。最重要的不同还在于,加速器实行导师制度。加速器邀请的导师来自各行各业,有投资界、营销界、500强。
Strictly speaking, the accelerator is responsible for short, intense and centralized work. The accelerator is made for the entrepreneurs who are fit for this kind of work culture, and that is why the founders of most startup projects that enter Chinaccelerator are mostly foreigners and ABCs.
严格意义上来说,加速器承担的工作周期短,强度高、集中性强。加速器所合适的创业者是要完全认可这类工作文化的人,因此在中国加速入驻的大多创业项目的创始人都为老外和ABC。
Chinaccelerator, boasting "the top accelerator in the East" title, is one of the 5 accelerator companies in China. However, accelerators in China are facing an awkward situation, the same as the problems that foreigners face in their startups in China. The accelerator backed projects focus more on tech innovation areas like public benefit and charity, introducing foreign tech innovation to China. Currently, although the most founders of the projects are foreigners or ABCs, Chinaccelerator hopes more local entrepreneurs will join them in the creation of more companies.
中国加速打着"东方第一加速器"的招牌,是国内仅有的5家加速器之一。加速器在中国的生存显得比较尴尬,也正如老外在中国创业所要面临的各种问题。不过,这些创业者带来的项目关注更多公益、慈善类的科创领域,正在把一些国外的科创思维导入国内。目前,尽管大多数项目的创始人都是老外或者ABC,中国加速希望能吸引更多的本土创业者,加速创造出更多精彩的企业。