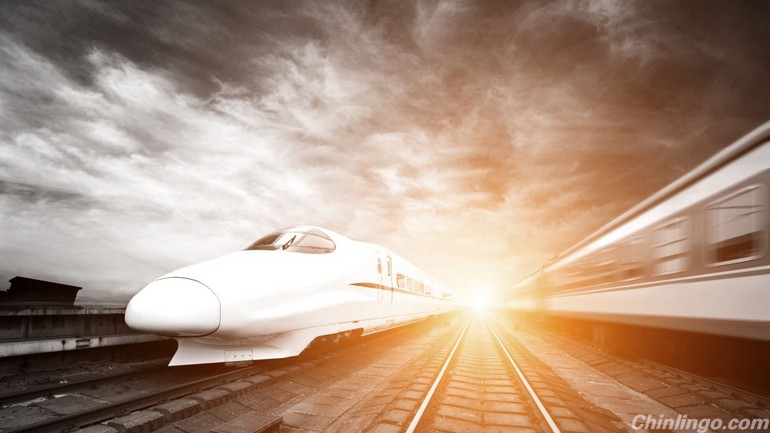 Germany is in dialogue with China to purchase trains, which raises spirits for workers in China's rail industry. Germany might purchase 35,000 pairs of high-speed train wheel-sets from China. Although Germany has its own local providers, China has been manufacturing high-speed train components with a lower price and guaranteed quality. In order to cut costs, Germany decided to buy China's high-speed train products.
近日,德国拟购买中国列车引起业界极大振奋。据悉,德国打算向中国购买3.5万组高铁轮对,目前德国高铁轮对由本土企业供货,不过中国产品的售价更低,且中国已经具备相关关键技术,高铁制造质量也有所保证,出于压缩成本的考虑,德国决定向中国进货。
If Germany is panning to buy China's high-speed train manufacture goods, we can safely say that foreign people's belief in China's high-speed rail industry is growing. In recent years, China has had few advantages in traditional foreign trade, but the export of newly emerging high-tech industries like high-speed train components is becoming crucial to the transition and upgrading of the old trading model. The development and maturity of domestic high-speed rail industry form a solid foundation for China to begin exporting more high-quality goods.
一向以工业制造强国著称的德国决定使用中国高铁产品,这是对中国高铁制造的肯定,也提振了中国高铁产业发展的信心。近年,中国传统对外贸易在国际市场优势不再,高铁等新兴高科技产业输出成为了中国对外贸易转型升级的一大重点,而国内高铁产业的发展与成熟则奠定了中国高铁出海的坚实基础。
A research showed China is using at least 1,300 high-speed trains,, the most in the world; China has had the highest growing development of high-speed trains, ranging from 200 km/h to 380 km/h. These high-speed trains have already run 1.6 billion kilometers. All these facts indicate how China is growing stronger and able to compete with foreign manufacturers in the high-speed rail industry. Moreover, China has had much experience in construction and operation of building railroads under severe weather conditions, with two thirds of usual costs and time of construction compared to America and European countries, making its high-speed rail industry very attractive to foreign country investors.
调查显示,中国高速列车保有量为1300余量,居世界之首;高速列车时速有每小时200公里至380公里多个等级,种类最为丰富;高铁已经累计运营16亿公里,达世界高铁总里程的一半。上述说明了中国高铁产业已经发展成熟,已具备与国外市场竞争的实力。再加上中国高铁产业在极端恶劣天气中建设与运行具有经验优势,而且造价低于欧美等国1/3,工期时间短于欧美1/3,这更使得中国高铁产业深受海外国家青睐。
For now, China is in talks with over 20 foreign countries including Turkey, Brazil, the U.S. and Russia. As the global rail market is rapidly growing , many countries are considering the high-speed rail as the key to new infrastructure development. That means many domestic enterprises in the high-speed train industry like China's CNR, CSR, CREC, TGOOD, Tianma Bearing Co. and Taiyuan Heavy Industry Co. will be increasing their foreign trade rosters.
中国正在洽谈合作的海外国家有土耳其、巴西、美国、俄罗斯等20余个。考虑到全球铁路市场正在快速增长,在铁路设备更换过程中,将有许多国家把建设高铁作为发展重点,这就使得未来全球高铁市场空间巨大。中国高铁凭借技术、成本等优势,有望在全球高铁产业中获得巨大经济效益。因此,中国南北车、中国中铁、特锐德、天马股份与太原重工等本土高铁产业链上企业将被长期看好。