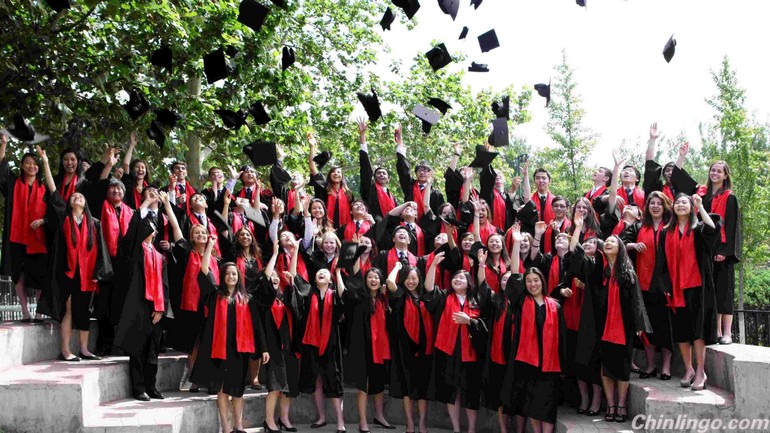 Surfing the Web, hanging out with friends and sleeping are the most important extracurricular activities for a typical Chinese university student in Beijing, a recent survey found.
最近一项调查发现,大部分北京大学生最重要的课外活动是:上网,和朋友出去玩以及睡觉。
According to China Youth Daily, the survey conducted by the Beijing Municipal Committee of the Communist Youth League collected a random sample of 8,231 students from Beijing's 91 universities.
据《中国青年报》消息,中国共产主义青年团北京市委员会最近从北京91所大学中随机抽取了8231个样本。
According to the survey, a typical university student in Beijing is likely to spend more than two hours online every day. The most common extracurricular activities are surfing the Web, socializing with friends and sleeping. The typical student spends about 800 yuan ($130) to 1,600 yuan a month on average, and expects 6,668 yuan as their first monthly income after graduation.
调查显示,一个典型的北京大学生一般每天上网两小时以上。最常见的课外活动是上网,交际和睡觉。一个学生平均每月800(130美元)到1600元生活费,毕业后第一个月月薪可能是6668元。
Beijing has 814,300 enrolled university students. Huang Xuejia, from Beijing Foreign Studies University, is one of them. Huang said she spends about two to three hours on the Internet viewing friends' recent activities.
目前北京有814300名在校大学生。北京外国语大学的黄雪佳就是其中一名。黄表示,自己每天花2到3小时上网浏览朋友的动态。
The survey found that 70 percent of students spend more than two hours online every day, 17.9 percent spend more than three hours and 13.1 percent spend more than five hours online.
调查发现70%的大学生每天上网超过2小时,17.9%的学生超过三小时,13.1%的学生超过5小时。
Huang, who is majoring in language, has an intensive workload.
黄雪佳学的是语言,作业繁重。
Studying the Serbian language requires her to spend about four to six hours a day practicing, besides attending regular classes and completing homework. She has a more flexible schedule now. "I do translation work to practice my language ability," Huang added.
由于学的是塞尔维亚语,她每天除了上课、写作业外,还要花4到6小时做练习。现在她的时间更灵活了点。她还表示,"为了提高我的语言能力,我总做翻译练习。"
The survey found also that university students love sleep. Nearly 40 percent of university students spend their extracurricular time to sleep.
调查还发现大学生对睡觉情有独钟。将近40%的学生课余时间用来睡觉。
Tsinghua University student Gao Siji described her life as "going to class, attending student activities and sleeping". "Sleep accounts for one third of my life, which is important," she said. "I like to sleep."
清华大学学生高四季把自己的生活描述成"上课,参加学生活动,睡觉"。"睡觉对我来说非常重要,我三分之一的时间都在睡"她说道,"我非常喜欢睡觉。"
Wu Jianzhi, a sophomore from Beijing Language and Culture University, has a tight life schedule. Getting up at 7 am and attending classes from Monday to Friday, a quick lunch and break at noon, classes in the afternoon, a simple supper and going to the library till 10 pm, keeps Wu busy.
北京语言大学的吴健智生活节奏则很紧张。周一至周五7点起床去上课,中午紧张的吃完午饭稍休息会儿,再去上下午的课,而简单的晚饭后他又会去图书馆呆到晚上10点。
The survey also found that the average monthly expenditure of a Beijing university student is 1,481 yuan. More than half of the interviewees spend about 800 to 1,600 yuan per month, 21 percent spend less than 800 yuan and 14 percent spend from 1,600 to 2,400 yuan.
调查还发现,北京大学生的月平均消费是1481元。参与调查的学生中,超过一半的学生每月消费800到1600元,21%的学生低于800,14%的学生每月消费1600到2400。