Most American tourists come back from China with just a T-shirt, or a cheap, stolen iPhone from a Shenzhen back alley. But Alisa Grandy returned with a deep hankering for jian bing – Chinese breakfast crepes she ate constantly while she was there.

大多数美国游客从中国回国带回来的要么是一件便宜T恤,要么是从深圳小巷子里买来的便宜偷货iPhone。但是Alisa Grandy把中国天津的煎饼带了回来。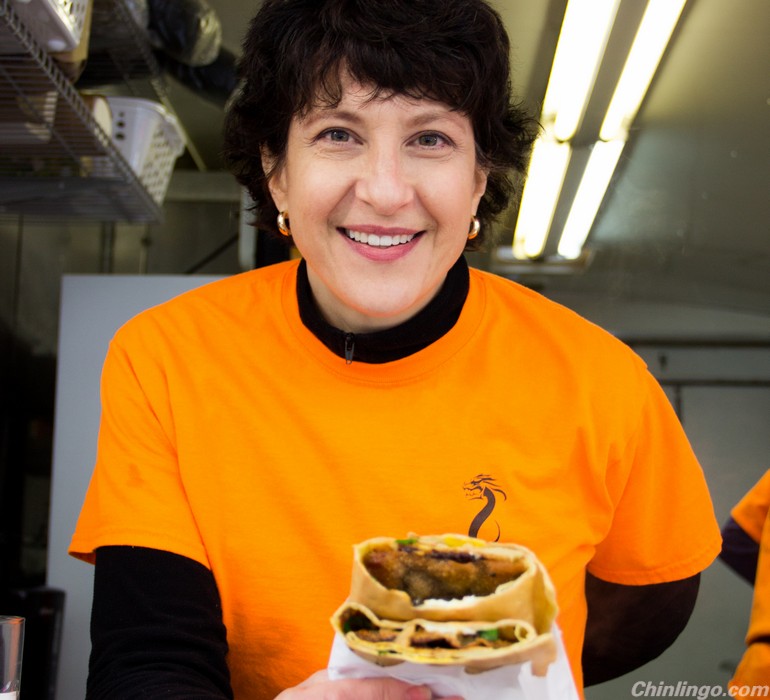 "When she got back from China, that's all she would talk about," says her husband, Neal, at the couple's Bing Mi food cart, while spreading mung-bean batter across a hot plate. "Six months later, we've got a food cart."
丈夫Neal说,"老婆Alisa从中国回来后整天都在聊煎饼,"Neal一边说着一边往煎饼摊Bing Mi上滚烫的铁板子上抹绿豆面糊,"这个煎饼车摊是六个月前开起来的。"
Jian bing is the quintessential Chinese street food, found on every Northern roadside—but until now, nowhere in Portland. They're mung-bean-and-millet crepes folded around a riot of ferment and sweet heat: Black bean and chili pastes mingle with herbs, pickled bamboo and mushroom, and an optional sweet plum sauce that I heartily recommend. The real piece of genius, though, is that big brick of wonton cracker and its deeply rewarding crunch.
煎饼是中国北方街边小吃的精髓,但是在波特兰还没有人卖煎饼。煎饼外面是绿豆和小米制成的面糊制成的脆皮,里面是发酵甜味黑豆酱、辣酱混合着香菜、葱、腌竹笋和蘑菇。顾客还可以选择甜味梅子酱。而真正的精华是其中一块大大的方形馄饨皮炸成的薄脆,吃起来脆脆的非常值得一试。
Jian bing ($6) is the only thing on the menu, and even the option of mild, medium and hot is an illusion: They're all pretty mild. It is a heartening specialization, and the gamble has been borne out by the business and the quality. They're already so busy they've got two crepe-makers on back order.
菜单上只有一种食物,那就是煎饼,每个售价6美元,即便有微辣、中辣和重辣等选择,但是所有的口味都是微辣。从生意和煎饼的质量看来,他们的这次赌注是下对了。煎饼车的生意非常好,两个人摊煎饼还是忙不过来。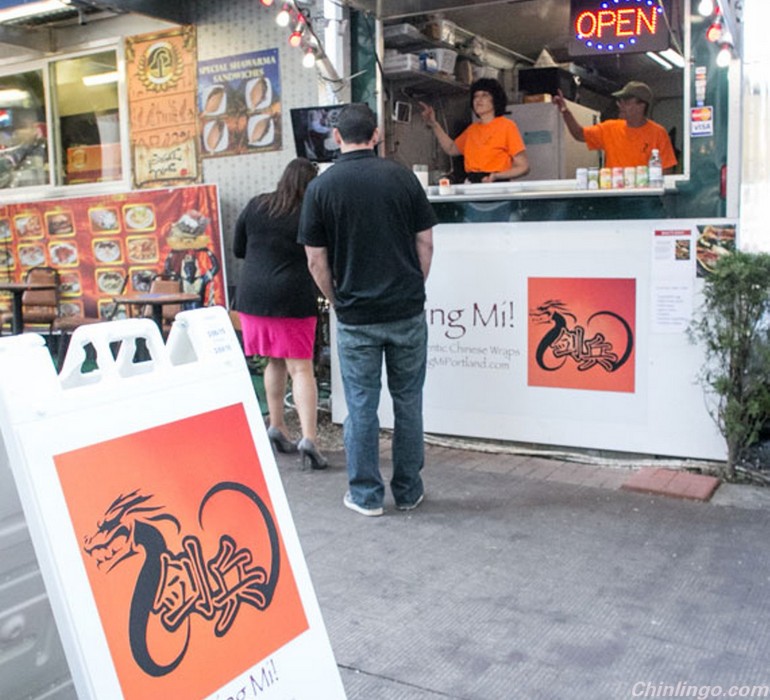 The jian bing is flat-out fantastic, whether with or without the sweet Chinese sausage you can tack on for a buck. Indeed, the meat texture is a bit of a fifth wheel amid the already bustling party of flavors.
煎饼加不加中式甜酱都非常好吃,好吃到其中的肉在已经非常丰富的口味面前甚至显得多余。
After returning from China, Grandy spent months perfecting the right mix of ingredients, and it shows. Her husband says Chinese customers nostalgic for the dish have offered compliments.
从中国回到波特兰后Grandy花了几个月时间完善配料的调配,他的丈夫说有些怀念中国煎饼的中国顾客都说他们家的煎饼做得好。
Customer comments on Yelp, the largest user review website in US:
美国最大点评网站Yelp上顾客的评价:
The shop is fantastic and the food is tasty and inexpensive. Any collocation is delicious. You'd better come early and avoid morning peak.
发现这家太棒了,美味又便宜。怎么搭配都好吃。早点来,避开早高峰。
I come to post comments here after eating for the first time. So Yummy! Five stars!
第一次吃就来发评论,太好吃了!五星!