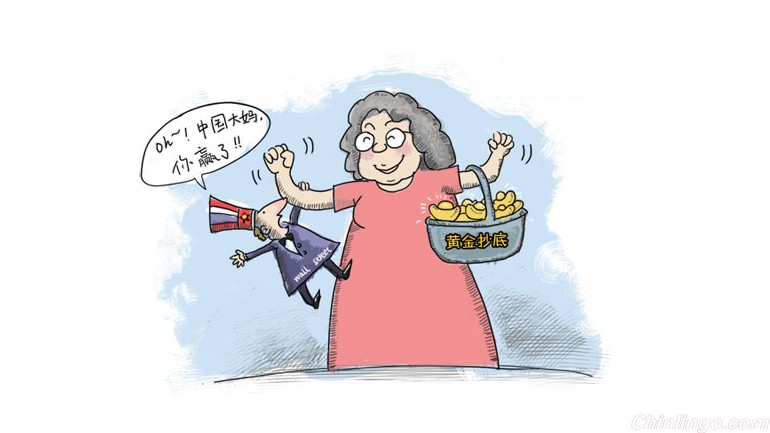 The term "dama" (dà mā) refers to the middle-aged Chinese women (35-65 years old) who have become a driving force in the global gold market. Since the Wall Street Journal first cited the term in 2013, it has been one of the Internet buzz words in daily life, especially in China.
"dama"一词源于中文里"大妈"的拼音,是指那些成为全球黄金市场驱动力的中国中年妇女(35-65岁)。自2013年《华尔街日报》引用"大妈"一词后,"大妈"已成为人们日常生活中的网络热词之一,尤其是在中国。
On April 15, 2013, when the gold price collapsed by 20% in just a day, a huge number of Chinese dama rushed to purchase gold in the nearest gold shop, buying as much as a dozen kilos ! They were dubbed "Chinese dama" by the western media. The Chinese dama's increasing appetite for bling is giving some spark to the gold market. Their strong buying power has shocked the global gold market and stolen Wall Street's spotlight.
2013年4月15日,黄金价格一天下跌20%,大量中国民众冲进最近的店铺抢购黄金,一买就是几公斤,他们被称作是抄底黄金市场的"中国大妈"。中国大妈对黄金制品的强劲需求扭转了垂死的黄金市场。全球黄金市场为之震动,中国大妈在华尔街抢尽风头。
However, buying gold is not the only thing damas are doing. They are also buy Bitcoins, invest in stocks and real-estate both at home and abroad; they organize square dancing (guang chang wu); they designed the Facekini (a beach-going face mask); they go to seniors college; they travel and go shopping! Some western media say that the Chinese dama have become the "secret weapon" of China's economy.
除了炒黄金,中国大妈创造传奇的能力似乎一发不可收拾。她们还买房、炒股、买比特币、跳广场舞、设计脸基尼、上老年大学旅游购物等。一些西方媒体认为,中国大妈已经成为中国经济的"秘密武器"。
Having mentioned all of the above, you may wonder who are the Chinese dama actually, and why are they so smart and active in financial management?
说了这么多,中国大妈到底是什么人?又是什么原因使得她们有如此精深的理财能力?
Mostly, Chinese dama are just common people, a product of recent economic development. China's GDP increased dramatically from about 10 trillion yuan in 2000 to nearly 57 trillion yuan in 2013. The dramatic increase in family income created the concept of dama. when they faced economic pressure in housing, education and endowment. They decided to make a profit by investing, and, as it turns out, most of them did manage to make a fortune.
别看"中国大妈"被形容得那么"神乎",其实她们不神秘也不复杂,就是咱们普通老百姓。她们的表现,与这个群体的特征、生活的圈子密切相关,也与整个国家的经济局势与决策紧紧相连。在"中国大妈"身上,我们可不要光抱着看热闹的心态,因为读懂了"大妈经济",也就触碰到了中国经济的脉搏。"中国大妈"实际上是中国经济发展到一定程度的产物。2000年,中国GDP总量约10万亿元,而到2013年快速上升近57万亿元。家庭财富的快速增长催生了"中国大妈"的到来。然而,当大妈们面临着大额消费的压力,住房、教育和养老等问题时,她们渴望利用投资来实现财富的增值,而且他们中的大部分人的确赚翻了。
Why did the brave and enthusiastic Chinese dama appear in today's economy? The following reasons may help explain why the common women have an uncommon financial ability.
敢想敢干、热情冲动的"中国大妈"出现在今天的经济生活里。普通人拥有如此不凡的理财能力,就得追根溯源。
The initiative of "men and women get equal pay for equal work" laid the necessary economic foundation. In their 20s, they had to work to support the family, they were equal to their husbands, also known as "Chinese daye" (a satiric title for the masculine Chinese men), in raising their children and managing the household. Through working in the society, their social network grew much wider than that of previous generations, which brought them more channels of information.
男女同工同酬为"中国大妈"奠定了必要的经济基础。她们从年轻时代起,就得以走出家门,参加工作,取得薪酬,拥有了养家的能力。因此,在子女教育、家庭建设等方面,她们至少都可以和"中国大爷"(对中国大男子主义男人的讽刺称号)平起平坐,共同决策。同时,由于融入社会,"中国大妈"的社会交往网络也比自己的前辈广泛得多,这就使她们有了更多交流的渠道。
Next , the special cultural background where they lived in played an important role– a common pursuit for girls at that time was to become an "iron lady". The women currently aged between 50-80 years old experienced the 1960ies and 70ies, receiving the social education based on the idiom "Women hold up half the sky" and the propaganda slogan "China's daughters have high-aspiring minds, they love military goods, not silks and satin", which were a part of Chairman Mao's education project "Iron Girls".
曾经的"铁姑娘"榜样是"中国大妈"特殊的文化背景。从50岁的中年妇人,到80岁的老妪,都经历过一个共同的时代——1960~1970年代。那时候她们接受了"妇女能顶半边天"的社会化教育,受到了"不爱红妆爱武装"的审美教育。