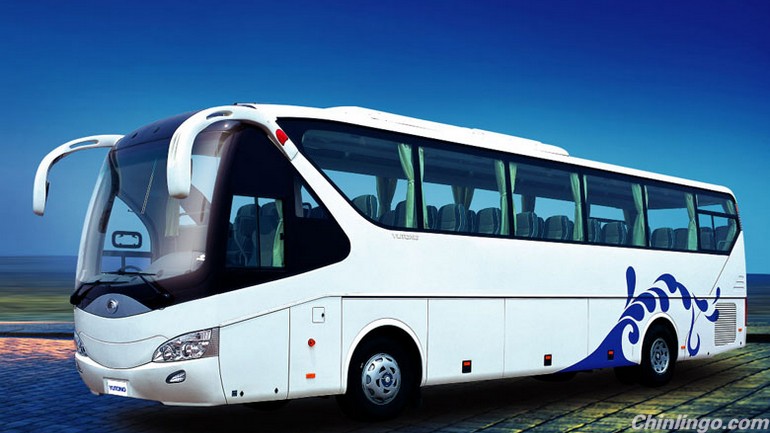 If I had a penny for every kilometer that I have traveled by bus in China, I would never have to travel by bus again. Twenty-eight hours by bus from Qinghai Province to Lhasa, Tibet. Twenty-four hours from Central China to Xiamen. Twelve plus hours from Laos to Kunming. There were many more; too many to remember. One might think that I became very comfortable traveling by bus in China, but in reality, I always tried to avoid buses as much as possible.
如果我在中国乘公交车走过的每一公里就能有一美分的话,我就再也不用乘公交车旅行了。乘大巴从青海省到西藏的拉萨花了28个小时。从中国中部到厦门花了24个小时。从老挝到昆明花了12个多小时。还有很多,要记得太多了。可能有人会觉得我已经习惯在中国乘公交了,但是事实上,我经常试图尽可能避免坐公交车。
Traveling by bus is definitely the cheapest way to 'get around' in China; it is also the most dangerous method of travel. During my extensive travel by bus in China, I have encountered crazy drivers, bold thieves, 'turbulence' as bad as on an airplane, and brain cell killing fumes. Obviously, I survived to write about these experiences so there is some hope for other foreigners who happen to find themselves trapped in a bus for hours on end.
乘公交是"走遍"中国最便宜的方法;也是最危险的旅行方式。我在中国广坐公交的时候,曾经遇到过疯狂的司机、大胆的窃贼、像飞机上那样糟的"动荡",还有能杀死脑细胞的烟雾。当然,我能活着写出这些经历,所以其他碰巧也困在公交车上的外国人也是有希望的。
You might be asking yourself right about now why I have chosen to take the bus so much. 'Chosen' is not the correct word to use. While the train system in China is modern and extensive, there are times when 1). you cannot even find a 'standing room only' ticket and 2). a train is simply not available to where you are going. In these situations, you have to 'bite the bullet' and hope and pray that a Chinese bus can get you where you want to go in 'one piece.'
现在你可能会暗自疑惑我为什么总选择坐公交。"选择"用得并不准确。虽然中国的火车系统很现代也很广泛,但是还有会有这样的时候:1)你连"站票"都买不到;2)火车就是不到你要去的地方。在这些情况下,你就不得不"咬紧牙关",祈祷中国公交能完整地将你送到你想去的地方。
There is one advantage to traveling by bus in China that you do not typically find going 'Greyhound' in the United States; most long distance buses in China are equipped with beds on which, if you are very lucky, you may be able to catch a few hours of 'shuteye.' Beware. If you are unfortunate enough to be perched on a top 'bunk,' you may find yourself flying off in the middle of the night should your bus happen to screech to a halt or hit even a moderate sized pothole. You definitely want to keep your belongings in a bag and keep that bag securely attached to yourself. Once your cell phone or MP3 player has fallen off your bed, you might as well start thinking about how much money you are going to spend on your next one.
在中国坐公交旅行有个好处,就是你通常不会看到美国的那些"灰狗"(译注:一家美国长途汽车公司);中国的大多数长途公交都配备床位,如果你幸运的话可以有几个小时的"睡眠"。注意,如果你足够倒霉地分到了"上铺",你可能会在午夜时分汽车急刹车或颠过路坑的时候发现自己飞出去了。你肯定想把行李都放在一个包里,然后把包安全地带在身边。一旦你的手机或MP3掉下了床,你可能也要开始思考下一个该买多贵的了。
If it was possible, it would just be better to stay on the bus for the whole trip. Unfortunately( or fortunately depending on how you look at it), most long distance buses do not have bathroom facilities which means that at some point, you will have to get off. Make sure you take everything with you in case someone else decides to 'hang around' and 'sniff' through your bags. When you do get off the bus, make sure you keep a close eye on it so that it does not end up leaving without you. Chinese bus drivers are notoriously impatient and your absence will probably not ruin any one's day. Always pay attention.
如果可能的话,整个旅程都待在车上比较好。不幸的是(或幸运的是,看你怎么理解了),大部分长途车都没有车载厕所,这就意味着你得在某些停车点下车解决。确定你带上了所有的东西,以防某些人"光顾"或"轻嗅"了你的包。当你下车时,确定你要时刻注意着车,这样它就不会把你丢下了。中国公交司机是众所周知地不耐烦,你的缺席不会妨碍到任何人。时刻留意。
Everything else is out of your control. Saying a prayer before you board the bus and frequently while you are on the bus is probably a good idea. Your life is in the hands of a bus driver who very well may be half asleep from the 24 hour run that he he completed the day before. Hopefully, he has just been drinking water and juice but one never can tell; driving a bus in China is a rough job.
其它的事情就都不在你控制范围内了。登车前先祈祷一下,在车上也经常祈祷一下。你的生命在公车司机的的手中,他们很可能是在前一天24小时工作后的半梦半醒中。我们希望他只喝了水和果汁,但是没人能分辨出来;在中国开公交车是个艰难的工作。
Hopefully, I have not completely frightened you about riding buses in China. You just need to be prepared for what may be a moderately uncomfortable experience or your worst nightmare. Either way, traveling by bus in China is the adventure of a life time. Happy trails!
希望我没有用在中国乘公交车完全吓坏你。你只需要为一个可能的不舒适经历或最可怕的噩梦而做好准备。不管怎样,在中国乘公交车旅行都是生命中的冒险。一路顺风!