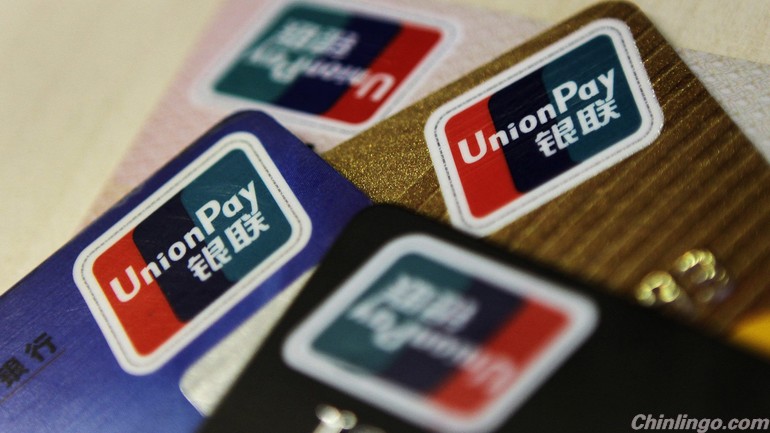 China UnionPay is promoting economic and personnel exchanges along the "Belt and Road Initiative" by enhancing cooperation with major banks in the countries on the trade routes.
中国银联通过加强与"一带一路"沿线国家的主要银行合作,从而促进国家间的经贸交流、人员往来。
The Chinese bank card company has already expanded the UnionPay card acceptance network to more than 50 of the 64 countries along the Silk Road Economic Belt and the 21st Century Maritime Silk Road.
在"一带一路"所涉及的64个国家中,有近50个国家可受理银联卡。
UnionPay International said it is committed to providing diversified support and services for the trade initiatives and said it has already signed an agreement with Halyk Bank, the second-largest commercial bank in Kazakhstan by assets, for further cooperation.
据悉,银联国际正致力于为"一带一路"提供多样化的支持与服务。该机构已和哈萨克人民储蓄银行签署合约,将进行进一步合作。哈萨克人民储蓄银行是哈萨克斯坦资产排名第二的商业银行。
The two sides agreed to deepen cooperation in several areas, including local card issuance, online payment, express money and financial support for Kazakh students who travel to China for studies.
双方同意在多领域加深合作,包括本地卡发放、在线支付、外币兑换以及资助哈萨克斯坦来华留学生。
At present, nearly 70 percent of the automated teller machines and over 50 percent of the merchants in Kazakhstan accept Union-Pay cards.
目前,在哈萨克斯坦,约有70%的自动取款机可受理银联卡,并有超过50%的商人使用银联卡。
Umut Shayakhmetova, president of Halyk Bank, said the bank has issued around 200,000 co-branded cards with UnionPay. Before the end of 2016, it will issue more than 1 million such cards.
乌穆特·沙亚赫梅托瓦说,截止目前,银行已发行大约20万张联名卡。2016年底前,银行将会发行超过1百万张联名卡。
More than 90 percent of the co-branded cards were issued to local residents, including employees of Chinese companies, students, entrepreneurs and tourists from Kazakhstan to China. All the cards issued are chip-based, which brings more security for the payment system, she said.
超过90%的联名卡的发行对象为当地居民,包括中国企业的员工、学生、企业家以及来华旅行的游客。所有联名卡都带有芯片,因此持卡人在支付时更加安全,乌穆特·沙亚赫梅托瓦说道。
"Being the closest neighbor of China on the new Silk Road, we are developing more and more banking and financial initiatives. We are talking about opening the Khorgas land port on the China-Kazakhstan border, for Halyk Bank to enter Chinese territory and Chinese banks to go to Kazakh territory. It will strengthen and promote more economic activities between the two countries," she said.
"作为中国新丝绸之路上最近的邻国,两国间正在开展越来越多的银行与金融行业间的合作。我们正在商谈开放中哈边境的霍尔果斯口岸,以便于哈萨克人民储蓄银行进入中国,中国的银行进入哈萨克斯坦。这些合作将会加强和促进两国的经济合作,"乌穆特·沙亚赫梅托瓦说道。
Last year, total payments using the co-branded cards exceeded 150 million yuan ($24 million) when they were used in China, giving the country much help to expand foreign trade, said Cai Jianbo, chief executive officer of UnionPay International.
去年,联名卡在华支付总额超过了1.5亿元(2.4千万美元),这有助于国家扩大对外贸易合作,银联国际首席执行官蔡剑波说道。
"We are supporting the 'Belt and Road Initiative' by providing quality payment services for economic and personnel exchanges between China and Kazakhstan. And we support two-way communications rather than single-way," Cai said.
"我们为中哈的经济交流、人员往来提供高质量的支付服务,为"一带一路"的建设提供支持。我们支持双边的交流,而不是单边的。"
UnionPay International is designing products in the yuan and the Kazakh tenge, which will allow the Chinese and Kazakh people to use their own currencies as much as possible to avoid currency exchange losses, he said.
银联国际正在设计人民币/哈萨克斯坦腾格双币产品,这项产品能够使两国人民尽可能地使用自己的货币,从而避免汇率损失。蔡剑波说道。