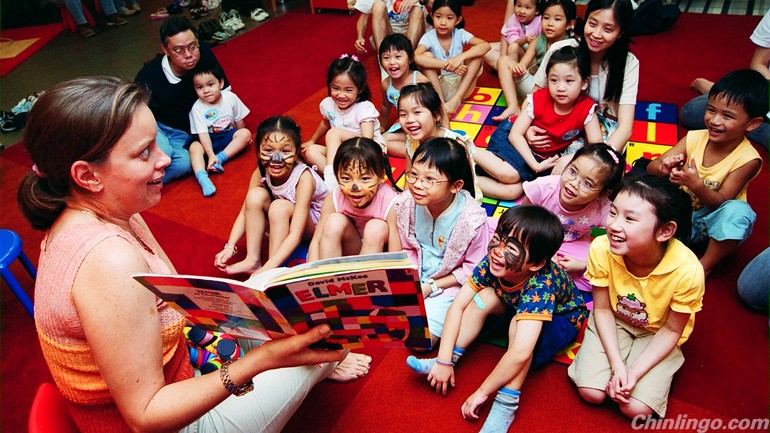 US high-end early education firm Kids 'R' Kids International Inc is expected to open two facilities in Beijing and Shanghai respectively this September.
美国高端早教公司Kids 'R' Kids国际股份有限公司预计今年9月在北京和上海分别开设两家教育机构。
The move by the company, based in the US state of Georgia, is due to the easing of China's one-child policy, which serves as a major boost to its decision to enter the Chinese market, said Lena Wang, general manager of Kids 'R' Kids China.
Kids'R'Kids公司中国区总经理王莉娜称,总部位于美国乔治亚州的Kids 'R' Kids有此一举动,是因为在中国计划生育政策开始松动,而这一政策的转变推动了该企业进入中国市场的决定。
China's poorly developed preschool education market, the increasing maturity of Chinese parents and their ability to judge the quality of preschool education had propelled the introduction of its brand to China, Wang said.
王莉娜表示,中国的学前教育市场发育不完善,而中国父母成熟了起来,有能力鉴别学前教育的质量,这都推动了Kids 'R' Kids的品牌进入中国。
According to a family education consumption survey conducted by this year by iResearch Consulting Group, a leading organization focusing on in-depth research of China's Internet industry, parents born after 1970 are now the majority of consumers in the children's education industry, or 63 percent, with children aged between 7 and 18 years old. About 29 percent of parents were born after 1980-the first generation of single child families, with children aged under nine. Parents who are born after 1980 are more academically advanced and have preferences in terms of online and high-tech products, according to the research.
根据中国互联网产业领先的市场研究机构艾瑞咨询集团2015年发布的一份关于家庭教育消费支出的调查显示,目前孩子教育产业的主要消费者是70年后的父母,比率达63%,他们的孩子年龄在7岁到18岁之间。28%的父母出生于1980年后——也是第一代独生子女,他们的孩子年龄在9岁以下。调查显示,80后的父母们学历更高,更偏爱网络和高科技产品。
Kids 'R' Kids plans to open 10 facilities in China over the next five years, with a mix of direct operation and chain outlets.
Kids 'R' Kids计划未来5年内在中国开设10家教育机构,包括直营店和连锁店。
"Education is not an instant business," said Wang. Usually it takes two to three years before it can make a profit. A kindergarten generally involves a total investment of 5 million yuan. Most of that money is spent on renting premises, but Wang said that more should be invested in finding the best teachers.
"教育不是一次性投资,"王莉娜说。通常前期投入两三年后才开始盈利。开设一家幼儿园通常需要500万人民币总投入,主要用于租经营场所。不过她还表示,寻找最佳老师需要更多投资。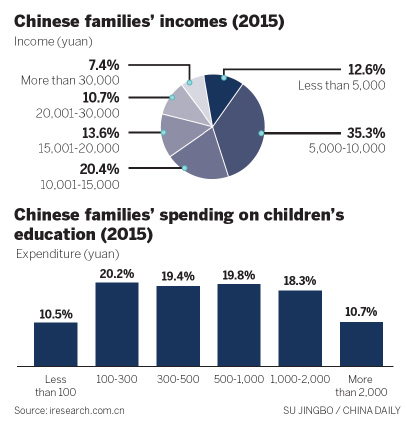 Chinese parents are keen to invest in their child's education. Among families with a monthly income below 5,000 yuan, nearly half of them spend less than 300 yuan on education. But those with a monthly income of more than 15,000 yuan spend more than 1,000 yuan a month on education. Among families with an income exceeding 30,000 yuan, more than 38 percent of them spend 2,000 yuan per month on education.
中国父母热衷于教育投资。在月入5000元以下的家庭中,几乎有一半的家庭每月的教育支出少于300元。月入15000以上的家庭,每月的教育支出在1000以上。月入3万元以上的家庭中,38%的家庭每月教育支出在2000元以上。
Among families with children aged under 6, around 76 percent of them purchase early education books and audio materials, 58 percent of them enroll their children in early education classes, 49 percent of them buy electronic toys for educational purposes, and 37 percent of them purchase online education applications.
孩子年龄在6岁以下的家庭中,大约76%的家庭会购买早教课本和音频材料,58%的家庭会送他们的孩子去早教班学习,49%的家庭会购买电子学习玩具,37%的家庭会购买在线教育应用。
The research has shown that 83 percent of surveyed parents have acquired parenting knowledge online, particularly from online communities, applications and WeChat accounts.
调查显示,83%的受调查父母从网上得到育儿知识,尤其是一些网络社区、移动应用和微信公众号。
Despite the booming market opportunities, the repetitive formats of early education institutions and high rents in shopping malls have resulted in the closure of many English-language schools for children.
尽管儿童教育市场蓬勃发展,但千篇一律的早教教育机构和商场的高额租金导致许多儿童英语学校倒闭。
Liu Dongmin, an analyst with iResearch, said that the online preschool education market remains relatively small as children aged under 6 are not encouraged by their parents to use electronic devices.
艾瑞咨询集团分析师刘东明称,网络学前教育市场空间相当小,父母不鼓励6岁以下的小孩使用电子设备。
The lack of people-to-people interaction in digital applications is also a major obstacle in terms of children accessing online education programs.
从孩子们访问网络教育节目的频率看来,缺乏面对面的交流也是数字应用的主要障碍。
According to iResearch, parents use online education products for an average of five minutes per day.
根据艾瑞的调查显示,父母们每天使用网络教育产品的时间是5分钟。
Liu said the parents-the major users of online education products-are very reluctant to pay for such products, despite the fact that applications such as those teaching foreign languages or ancient poetry actually charge quite small fees.
刘东明表示,尽管事实上这些应用——如外语教学古诗应用——收费相当低,但这些父母——网络教育产品用户的主力军——十分不情愿在这些产品上花钱。
But Liu said there are opportunities for further growth in this section of the market as younger parents have more access to the Internet and online education products.
不过,刘东明表示,年轻的父母有更多接触网络和在线教育产品的渠道,因此,这一块的市场还有进一步增长的空间。