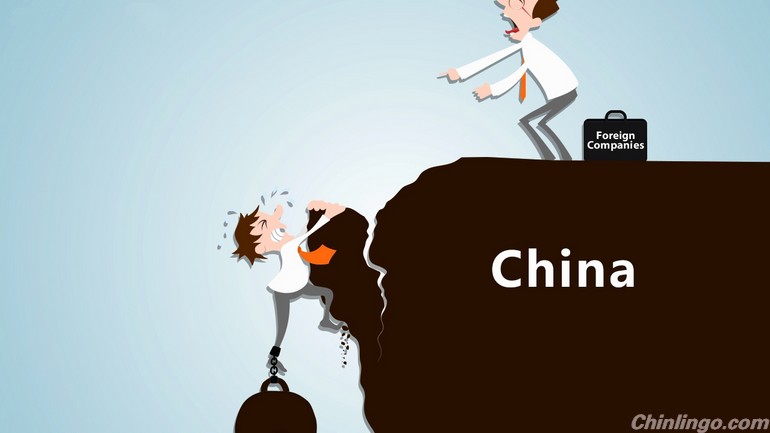 In this age of internet globalization we have seen many successful foreign companies enter China with their heads held high only to later slink away in defeat. The Chinese market is big, but it is not easy. If you want your foreign startup to make it in China, here are three massive mistakes to avoid.
在这个互联网全球化的大时代,我们已经目睹了众多外国企业高傲进军中国最后却失败而落得夹着尾巴逃离的结果。中国市场很大,但拿下它很不容易。想让你的外国创业公司在中国取得成功,那么请避免以下三大错误。
1. Not understanding the market and the culture
完全不了解中国市场和文化
Not understanding the market is a big no-no in any country, but when foreign companies enter China it seems to happen a lot. Perhaps that's because China's culture – especially its internet culture – is quite different from the culture that has developed in the West. Chinese consumers have different needs and desires when it comes to online services, and companies that ignore that are usually doomed to failure.
对市场的不了解在任何国家都是禁忌,但似乎外企进入中国的时候却经常出现这样的问题。或许这缘于中国的文化,尤其是其互联网文化,都和西方国家的文化有所不同。在网上服务方面,中国消费者会有不同的需求,而忽视这一点往往就注定外企的失败。
The classic example of this is eBay, the successful American C2C ecommerce giant that copied its American model to China and got completely destroyed by local competitor Taobao. Why did Taobao win? Because Taobao understood that in China, shopping was a social and personal experience. People were used to talking and even haggling with the people they bought things from, and building relationships with them. Ebay had user reviews, but it lacked the personal connection that Chinese shoppers were used to, so it failed.
典型例子便是eBay,这家美国成功的C2C电商巨头将其美国运营模式照搬到中国,却在和中国的对手淘宝的竞争中输得一塌糊涂。为什么淘宝胜了?原因在于淘宝了解在中国的购物是一种社交和私人的体验。中国人习惯于和卖家交流甚至讨价还价,与他们建立关系。eBay设置有客户评价,但是缺少了中国消费群体习惯的人际关系这一环节,因此败了。
2. Picking the wrong local partner, or ignoring the right local partner
选错或忽视了当地合作伙伴
Entering China on your own can be very difficult, and in some sectors, it's completely impossible. But choosing a local company to partner with brings its own share of problems, and companies that choose poorly often end up in trouble. One of the most common issues with local partner companies is that they operate their own services, causing a conflict of interest when it comes to operating and promoting their foreign partner's China operations.
单枪匹马进军中国是很棘手的,在某些行业甚至是不可能的事。但是选择一个当地的合作伙伴可以共同分担问题,而选择不当则会惹上麻烦。一个最常见的问题就是当地合作方有自己的服务项目要运作,当要执行和推广外企方的中国业务的时候会引起利益冲突。
Groupon China was a great example of both of those problems. Tencent was a questionable pick to begin with because the company already owned and operated several Groupon-style sites. Partnering with Tencent should have offered some big advantages like local knowledge, local staff. Groupon failed to take advantage of any of these, hiring Western managers to run its China operations and continuing to do things the American way in a market where that just wasn't going to work.
高朋团购就是遇到这些问题的公司里最好例子。由于腾讯已经拥有和运营着许多类似团购的站点,所以选择腾讯为合作对象其实还是有待商榷的。与腾讯的合作,对高朋而言应该得到很大的优势,比如当地常识、当地员工。然而高朋并没有好好利用这些优势,反而雇了外国经理去管理中国的业务,并且继续沿用美国的套路,可是在中国市场完全起不了作用。
3. Not playing nice with the government
与政府的关系较紧张
Especially when it comes to the internet, China has one rule that towers above all others. Both foreign and Chinese companies can and do push the envelope from time to time, but any direct challenge to the government, or refusal to abide by its directives, is going to lead to a one-way ticket home.
尤其是在互联网方面,中国有着高于其他一切的政策法规。中国和外国的企业都会时常挑战底线,但任何向政府的直接挑战或者拒绝遵守政府指令的行为都将导致卷铺盖走人的下场。
Google is a classic example of this. Although the company had other problems in China, too, what ultimately proved its undoing was its failure to get along with the Chinese government. The backstory here is complicated, but the endgame came when Google decided to stop censoring search results in China, which meant shutting down its mainland China search engine entirely. When a foreign company takes on the Chinese government, there can only be one winner, and it won't be the foreign company.
典型例子就是谷歌。尽管谷歌在中国还面临着其他问题,但最终导致其失败的就是其与中国政府的错误沟通方式。这里面的渊源很复杂,但当谷歌决定在中国停止搜索过滤的时候,它的失败结局已定,这意味着它在中国大陆的搜索引擎将被完全屏蔽。当外企和中国政府杠上的话,最终只有一个胜者,而这个胜者绝不会是外企。