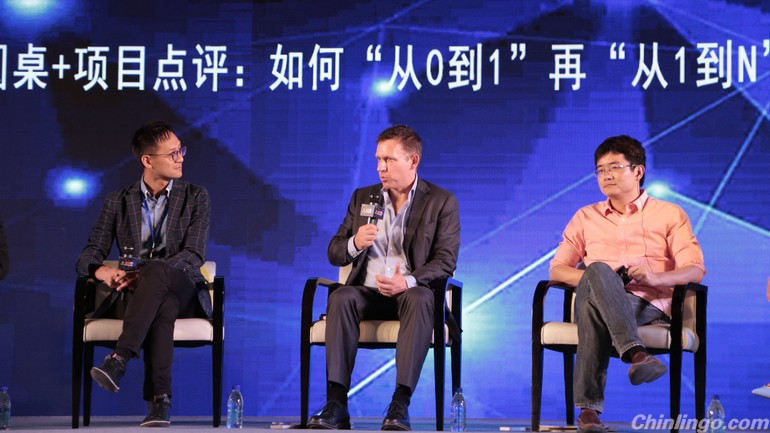 Start-ups: bubble or hype?
创业潮是泡沫还是炒作?
Perhaps everyone getting involved in startups is a growing bubble, but would you worry about such hype? Sam Altman thinks that there is a tech bubble in China after traveling for a week around China, but no one here believes that. Comparing China with Silicon Valley, we would like to discuss whether there's a tech bubble growing here.
当每个人都参与到众创,可能这是一个泡沫,你们是否担心所有人都进行这样的一种炒作?Sam Altman到中国走了一周他觉得中国存在泡沫,但没有人相信中国存在泡沫。从硅谷和中国来看,我们在讨论科技泡沫这个事情存不存在。
Peter Thiel: We have encountered several disastrous bubbles, including the tech bubble in the 90s and the estate bubble in recent years. I'm always being asked about this question in the U.S.. For the U.S., the bubble situation is nothing but another social phenomenon.
彼得·蒂尔:我们有一些灾难性的泡沫事件,包括90年代科技泡沫,还有21世纪的房地产泡沫,所以关于泡沫这个问题,我在美国也经常被别人问到。就美国来说,泡沫是一种社会现象。
But in China, a greater participation of the public does not necessarily lead to bubbles. As investors and entrepreneurs, you should not just think about the tendency or follow others' ideas. You should think by yourselves.
但在中国,更多的公众参与进来,也并不一定会带来一些泡沫。现在这个问题说是泡沫,可能是一个借口。作为投资者、企业家们,不能简单看一下趋势是什么,别人说什么,你应该自己思考。
Fu Sheng: It's hard to say whether there is bubble today, for I don't do much research on economy. I think what Internet is affecting the most is speeding up the way we think, making us do things faster. Things which needed greater efforts in the past are soon organized.
傅盛:今天是否存在泡沫不好说,我对于经济没有那么多研究。我觉得,互联网对于我们的最大改变,就是加速了人脑之间的连接,使得过去需要一个大循环才完成的事情,能够快速地被组织。
We talk about methodology and Internet, and spread these theories. It might be a good thing. We arm ourselves with more updated knowledge and make it so many people are able to participate, which is generally good for everyone.
今天中国讲方法论,讲互联网,讲这些理论传播,这可能是一个好现象,用更多的新知识把我们武装起来,这么多人一起参与,总的来说,非常健康。
Pan Shiyi: We have been arguing whether there was bubble in real-estate over the last 10 years, and we are convinced that there's no bubble, and some research has shown that we are right.
潘石屹:过去十年时间,我们不断的争论房地产有没有泡沫?我们坚定的认为没有泡沫,实践证明我们是对的。
We don't only think there is no bubble, but believe that our practice will not cause a bubble. We are making a fortune by investments. But a dramatic change occurred in real-estate during the last two years. When those that regarded it as a bubble had nothing to say anymore, we realized that the assumption they had was wrong.
我们不光是说没有泡沫,而且认为这样做也没有泡沫,大量投资投下去,我们赚了很多钱。可是前两年我们发现房地产的形势急剧变化,这些说泡沫的人不说话的时候,我们觉得有问题了。
When there are many failed enterprises in Internet business, they must have failed in setting a main direction for themselves. The prospects of Internet business are huge.
如果说互联网里面有一些失败的企业,他就是整个方向错误了。互联网的发展前景非常大。
"Zero to One" theory in China
中国的"0到1"
We have been discussing about the idea of "Zero to One" and "One to N" since Peter Thiel visited China 3 months ago. So what exactly are "Zero to One" and "One to N"?
从0到1和1到N这样一个问题,这个问题我们已经从上次彼得·蒂尔来中国,已经争论了三个月。那么到底什么叫从0到1,什么是从1到N?
Peter Thiel: "Zero to One" means doing new things, innovation as well as new tech, designing new enterprise models and social patterns, and more importantly, the technology to support it. "One to N" refers to imitating the methods that work.
彼得·蒂尔:从0到1就是做新的事儿,就是创新,就是新技术,设计新企业模式,新的社交模式,重点还是技术上面。从1到N是不断的模仿可行的方式。
China does well in "One to N" idea. Over the last 40 years China was superior to other countries in globalization trends, and has skipped many periods of often slow development elsewhere. Of course, China is also facing many challenges. When you try to imitate others, you should be aware that the first challenge is that thousands of other people are also imitating and you have to compete with them too.
中国做从1到N做的非常好,这在过去40年来做的全球化比任何国家都好,它跳过很多阶段,做得非常快。当然,对中国来说有很多挑战。在中国模仿的时候最基本挑战就是你得知道,数千人在模仿,你要跟他们竞争。
In other words, China is leading the way similar to Silicon Valley. But it needs creativity to make progress.
但也可以说,中国现在已经处在前沿,跟硅谷一样。但要取得进步,也需要做新的东西。
In general, I believe people are working hard in China with growing entrepreneurship skills.
但我认为有一点,就是在中国人们努力工作,有强烈的创业精神。
Chinese people are always convinced that the future can get better and they make great effort to achieve their dreams, which is quite a powerful drive.
在中国,人们坚信未来可以比现在更加美好,所以中国人比较勤奋的工作,去努力实现这样一个梦想,这是非常强大的力量。
Are there any enterprises and innovations reaching the standard of "Zero to One"?
中国哪些创业,哪些创新够得上从0到1的标准?
Peter Thiel:Tencent. Many companies own mobile applications which are rather advanced. Alibaba is also very creative in its business patterns.
彼得·蒂尔:比如腾讯,有很多公司他们有移动应用的方面,我想也是非常先进的,阿里在他们的业务模式上面也是很有创新性。
Xiaomi. Xiaomi deeply impressed us with its ability to combine low costs and high quality. That is also a kind of innovation from "Zero to One", and it wouldn't work without some innovation.
小米手机公司,也是令人印象很深,把所有地方零部件组合起来,有些成本不太高,但做得非常好。这也涉及到某种类型的从0到1的创新,如果没有创新是不行的。
I've never known that history would predict future. The current China is totally different from what it was 20 or even 4 years ago. If we take a careful look at China's past, we will realize that we have underestimated its potential in the coming 20 years.
我永远不知道,对于预测未来,历史可以告诉我什么。因为就今天的中国来说,比如说20年前或者4年前完全不一样。我想针对这个问题有时候容易引起误解,有很多不正确的方向。如果看一下中国过去的东西,有时候我们低估了它今后20年的潜力。