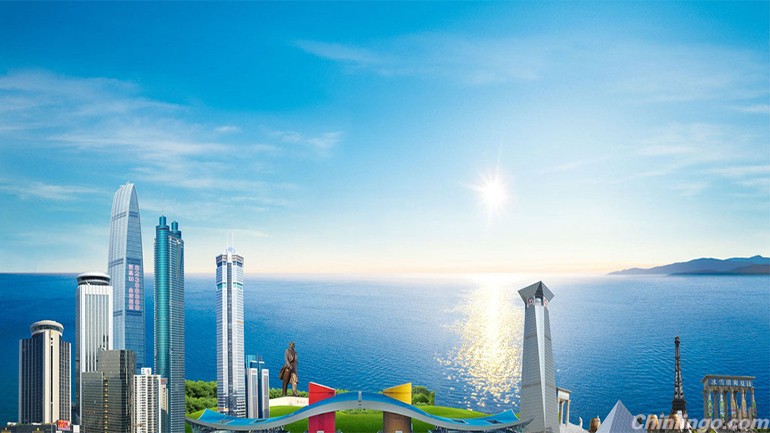 Shenzhen passed Hong Kong to become China's most competitive city in the Chinese Academy of Social Sciences 2014 rankings. Hong Kong had held the top spot ever since its first inclusion in the survey a decade ago. Shenzhen, which borders Hong Kong, switched places, rising from No. 2 last year.
在中国社会科学院的2014年中国城市综合经济竞争力指数排名中,深圳超越香港,成为中国最具竞争力的城市。自从十年前首次被列入此项调查以来,香港一直高居首位。与香港毗邻的深圳今年是与香港互换了排名,从去年的第二晋升为第一。
The survey of 294 cities, contained in CASS's Blue Book on Urban Competitiveness, was released Thursday in Beijing.
包含在中国社科院的《城市竞争力蓝皮书》中的此项调查涵盖全国294座城市,其报告上周四在北京公布。
The Pearl River Delta dominated the rankings with, in addition to Shenzhen and Hong Kong, Guangzhou at No. 5 and Macau at No. 9.
珠江三角洲在排名中占据主导地位,除了深圳和香港之外,广州排名第五,澳门排名第九。
Shanghai remained third from the 2013 survey. Beijing fell two notches, landing in eighth place.
从2013年以来,上海一直稳居第三,北京则下降两位,名列第八。
Hong Kong lost its leader-of-the-pack position largely because it did not support innovation. Its Census and Statistics Department reported that in 2013, the last year for which figures are available, the city's public and private sectors and its educational institutions spent an amount equal to 0.73% of its gross domestic product on research and development for innovation and technology. Shenzhen, on the other hand, devoted 4.05% of its GDP last year to such areas.
香港失去了榜首之位,主要是因为缺少对创新的支持。香港政府统计处报告,2013年(数据齐备的最近年份),香港的公共部门和私营部门以及教育机构在创新和科技的研发方面总计投入的资金只相当于该市本地生产总值(GDP)的0.73%。另一方面,深圳的这个比例达到4.05%。
Why the heavy emphasis on innovation? Perhaps because Chinese Premier Li Keqiang, with his much-publicized "Internet Plus" plan unveiled in early March, has placed his hopes on new businesses to revive the country's economy. His concept is that Beijing can invest in innovation, and CASS has evidently adopted the theme.
为什么深圳如此强调创新呢?或许因为本届中国政府已经把提振经济的希望寄托在新兴企业身上。今年3月初,国务院总理李克强公布了他大力宣传的"互联网+"计划,其理念在于政府也可以投资于创新,而中国社科院显然顺应了这个主旋律。
Hong Kong, on the other hand, has its noninterventionist philosophy and refrained, for the most part, from picking winners and losers. In any survey conducted by a Beijing-based organization, Hong Kong is bound to lose out to cities implementing activist policies favored by the country's leaders.
另一方面,香港奉行不干涉的理念,在大多数情况下不会挑选赢家和输家。在由一家总部设于北京的组织进行的任何调查当中,香港势必会输给实施着受中国领导层青睐的积极政策的城市。
For decades, Hong Kong has worried about losing out to Singapore, run by world-class interventionists. Now, its concern focuses on next-door Shenzhen. After all, Hong Kong could have been the home of DJI Technology.
几十年来,香港一直担心在发展竞争中输给新加坡——一个在全世界数一数二的奉行干涉主义的国家。现如今香港需要担心的是隔壁的邻居深圳。毕竟,香港原本该是大疆创新落户的城市。
DJI—the initials stand for Dajiang Innovations—was founded by mainland-born Frank Wang, who graduated from Hong Kong's University of Science and Technology in 2006. He had wanted to start his business in Hong Kong but left the city for Shenzhen after not getting support. That year he founded DJI, which now has 70% of the global market for civilian drones.
大疆创新由出生于大陆的汪滔创建,他在2006年毕业于香港科技大学。汪滔原本想在香港创立他的公司,但由于缺少支持,于是离开香港迁往深圳。那一年,他创建了大疆创新,该公司现在在全球民用无人机市场上占据70%的份额。
Fast Company magazine ranked DJI 22nd on its 2015 list of the world's most innovative companies. Frank Wang's business is estimated to be worth about $8 billion, and many see it going to $10 billion after further rounds of funding.
《快公司》(Fast Company)杂志在其2015年全球最具创新力企业榜上,将大疆创新排在第22位。汪滔的公司目前的估值约为80亿美元,许多人认为如果该公司再进行几轮融资的话,估值将会达到100亿美元。
Now, it seems every Chinese drone-maker has flocked to Shenzhen. There are about a hundred companies chasing DJI, and around 80% of them are located in that city.
现在,似乎中国的每一家无人机制造商都涌向深圳。大约有100家公司在追逐大疆创新,其中大约80%的公司落户于深圳。
Like the tiny one started by John Ma and two friends. They pooled savings; moved to Shenzhen in July; and built 70 drones, which they offered for sale on Alibaba Group's Taobao platform for 468 yuan apiece.
比如由约翰·马(John Ma)和两个朋友创建的一家小公司。启动资金是他们自己的积蓄;今年7月落户深圳;已制造了70架无人机,在淘宝上以每架468元的价格出售。