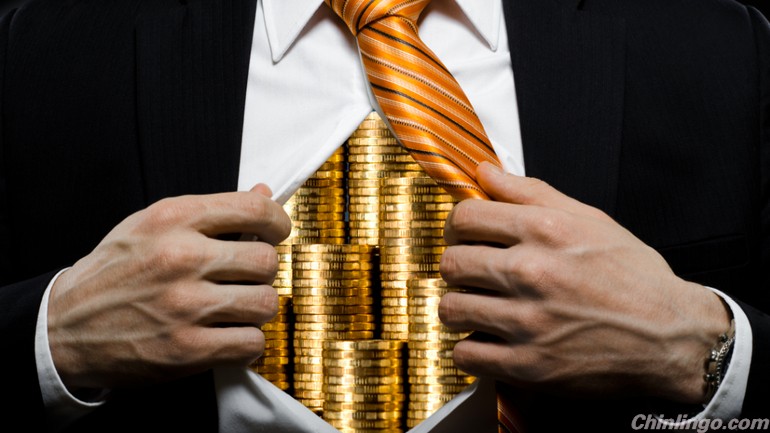 During the first three months of the year, China produced new billionaires almost every week, according to a new report.
一份新的报告显示,2015年头三个月,中国几乎每周都会诞生新的亿万富豪。
The 2015 Billionaires Report, jointly released by UBS and PricewaterhouseCoopers, said that Asia for the first time had more self-made dollar-billionaires than Europe.
由瑞士联合银行和普华永道会计师事务所共同发布的2015年亿万富豪排行榜显示,在亚洲,白手起家拥有亿万美元资产的超级富翁人数首次超过了欧洲。
In total, 917 self-made billionaires generated more than $3.6 trillion of wealth globally between 1995 and 2014. Asia accounted for 36%, second only to the U.S.
在1995年至2014年间,全球917位白手起家的亿万富豪创造了超过3.6万亿美元的财富。亚洲占了36%,仅次于美国。
"We are very optimistic that in the next five to 10 years [the number of] Asian billionaires will surpass the U.S, because of the high-growth opportunities in this part of the world," Francis Liu, a managing director at UBS Wealth Management, told CNN.
"我们乐观地看到,由于该地区快速增长的机遇,未来5至10年内,亚洲亿万富翁的数量将超过美国,"瑞士联合银行资产管理的管理总监弗兰西斯•刘说道。
While members of the billionaire population typically exhibit similar character traits – namely, an appetite for clever risk-taking, an obsessive focus on business and a strong work ethic – they have built their wealth in different ways.
亿万富翁群体表现出相似的个性特点——热爱聪明的冒险,对生意痴迷且专注,以及强烈的职业道德——虽然他们通过不同的方式积累财富。
In Asia, almost 20% of all self-made billionaires created their wealth from the consumer sector, followed by real estate that made up 13%.
在亚洲,约20%白手起家的亿万富翁通过在消费领域的打拼致富,其次是靠房地产致富,占13%。
At a media briefing, Zhang Lijun, managing partner of PwC China Financial Service Consulting, said China's wealth expansion is mainly due to the fever in setting up businesses and the booming capital market, Global Times said.
据《环球时报》报道,普华永道会计师事务所中国财富服务咨询部的的管理合伙人张立军在一个媒体吹风会上表示,中国的财富扩张主要来自于创业热潮和资本市场的繁荣。
In the U.S., however, the financial services sector was the top manufacturer of self-made billionaires, accounting for 30%.
而在美国,金融服务行业是最大的白手起家亿万富翁的制造工厂,制造了30%的亿万富翁。
Self-made billionaire population in Asia is unique, the report said, because wealth creation in the region is more recent than in other parts of the world. Asian billionaires are generally younger than billionaires elsewhere, having an average age of 57, which is 10 years junior to U.S. and European billionaires.
这份报告称,在亚洲白手起家的亿万富翁群体是独特的,因为该地区的财富积累迟于世界上其它地方。亚洲亿万富翁的年龄普遍较小,平均在57岁左右,比美国和欧洲的亿万富翁年轻十岁。
Besides, a significant proportion of Asian billionaire grew up in poverty, 25%, compared to only 8% in the U.S. and 6% in Europe.
此外,很大一部分亚洲亿万富翁出身贫寒,人数占到了25%。而在美国和欧洲,出身贫寒的富翁分别仅占总数的8%和6%。
China's frenzy stock market has also boosted wealth during the last quarter. The Shanghai Composite Index has doubled in value since November, and hit a seven-year high. Stocks in Shenzhen has doubled this year.
在2015年第一季度,中国疯狂的股票市场催生了大量的财富。上证综合指数自2014年11月起总资产翻了一番,创下7年来的最高点。同样,深圳股市也在2015年翻了一番。
According to the 2015 Forbes Billionaires List, the number of billionaires around the world expanded to record 1,826. Mainland China had a record 213 members on the list, partly lifted by the stock market rally. It's an increase from 152 people last year and second only to the United States.
据2015年福布斯富豪排行榜显示,全球亿万富豪人数达到1826人,其中中国大陆有213人上榜,富豪人数创新高,仅次于美国,他们中的一部分人得益于股市的繁荣。2014年,中国亿万富豪为152人。
Several economists have warned about a stock market bubble. The 2015 Billionaires Report also highlights the risk of China's slowing economic development and a potential negative impact on wealth creation. At the press briefing, Chen Qing, president of UBS, urged Chinese investors to construct long-term strategies and diversify investments to other markets.
一些经济学家提醒人们注意股市泡沫。2015年亿万富翁报告指出中国经济发展放缓的危机,以及对财富创造的潜在负面影响。在新闻发布会上,瑞士联合银行行长陈勤督促投资者设计长期策略以及分散资金到其它市场。