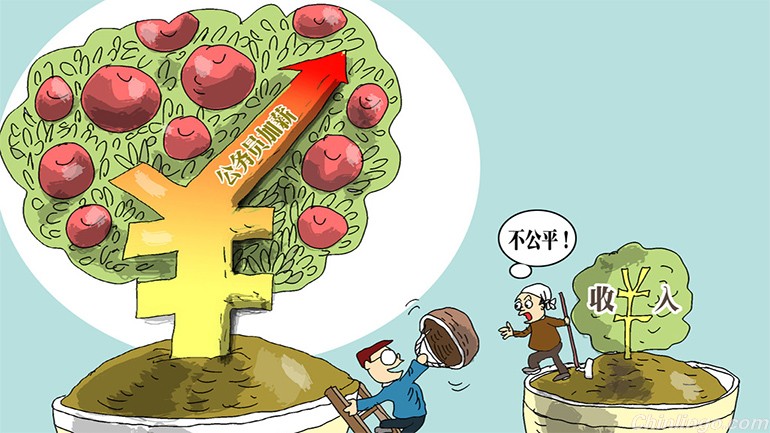 More and more young Chinese civil servants are deciding to quit their jobs and start their own businesses. According to CEOs of leading enterprises in China, the startup rush is helpful to the Chinese economy restructuring.
中国越来越年轻的公务员决定离职,踏上创业致富的道路。中国大企业总裁认为,这股创业热将有助于中国经济转型。
In the past few decades, being a civil servant has been the most popular job in China. Dubbed as the "iron rice bowl", being a civil servant means a stable income as well as various privileges. However, since Xi Jinping took office as the Chinese President, he has launched a crackdown on corruption severely. As a result, Chinese civil servant positions are not so brilliant or attractive as they were, and the civil servant fever is cooling down as well.
过去几十年,公务员一直是当地民众最梦寐以求的职业;素有"铁饭碗"之称的公务员工作不但收入稳定,并能享有各种特权。但是,自中国国家主席习近平上任以来严厉打击腐败,中国政府的反腐倡廉活动使公务员身份不再像过去那样光鲜,吸引力下降,公务员报考热也随之降温。
The number of civil servant examination applicants is just 1.4 million this year in China, dropping by 7.5% to the lowest in history. As a clear contrast, the startup rush is in full swing and new startups are emerging at record-breaking speed.
中国公务员今年报考人数下降7.5%,创下140万人的历史低点。而与这现象形成鲜明对比的是,中国创业热潮正如火朝天,新企业正以创纪录的速度如雨后春笋般涌现。
Mr. Li, a 34-year-old interviewee, is a typical portrayal miniature of many young civil servants quitting their jobs and starting their business. Liu Yuan is one of them. According to Mr. Li, people of their generation are not eager to become civil servants. He said, "As long as you are capable, you will probably succeed in a business."
李先生(一位34岁的受访者)的生活经历是许多年轻公务员选择离职,投身创业行列的写照。刘元也是一样。李先生表示,他们这一代人并不渴望投考公务员。他说:"只要你有能力,你极有可能创造出一番事业。"
He said, "Many young people do not consider becoming a civil servant as their preferred job any more. They are more interested in staring up their own business."
刘元说:"现在的孩子不再视投考公务员为其首选工作。他们比较热衷于成立自己的公司。"
Estimated by the Ministry of Science and Technology of China, over 1,000 enterprises have invested over RMB 350 billion in the startups. In Zhongguancun, the Chinese "silicon valley", 49 new enterprises on average were born every day last year.
据中国科学技术部估计,超过1000家机构向创始企业投资了3500多亿元人民币。有中国硅谷之称的中关村,去年平均每天有49家新企业诞生.
CEOs of Chinese leading enterprises are optimistic about the startup rush. They believe that Chinese innovative enterprises are not inferior to their kind globally and that innovation and startup will be helpful to the Chinese economic restructuring.
中国大企业总裁对这股创业热潮抱持乐观态度,他们认为,中国的创新企业在全球来看也毫不逊色,创新和创业将帮助中国实现经济转型。
Liu Qiangdong, founder and CEO of JD.com, said in one of his speeches: " The CBD of Beijing is still brightly lit at ten every evening, as the young people are working hard on their startups and innovations; as long as they continue with such enthusiasm, the Chinese economy will be free of any problems."
京东集团创始人兼首席执行官刘强东在演讲时表示,每天晚上10点,北京的中心商务区仍旧灯火通明,当地年轻人正努力创业创新;只要他们继续保持对这种热忱,中国经济就没问题。
Wang Qiang, co-founder of ZhenFund, said, "Compared with cases several years ago, there are a large number of overseas returnees and researchers devoted to the business startup in China right now. They are more experienced, so the startups have been improved greatly."
真格基金联合创始人王强说,相对于几年前,中国现在已有大量的海归和科研人员投身于创业行列,他们有更多的经验,现在初创企业的质量也大大提高。
According to Wang Qiang, the most outstanding entrepreneurs in China have been well prepared for dialogue with the world.
王强认为,中国现在最优秀的企业家已经具备了与世界对话的基础。