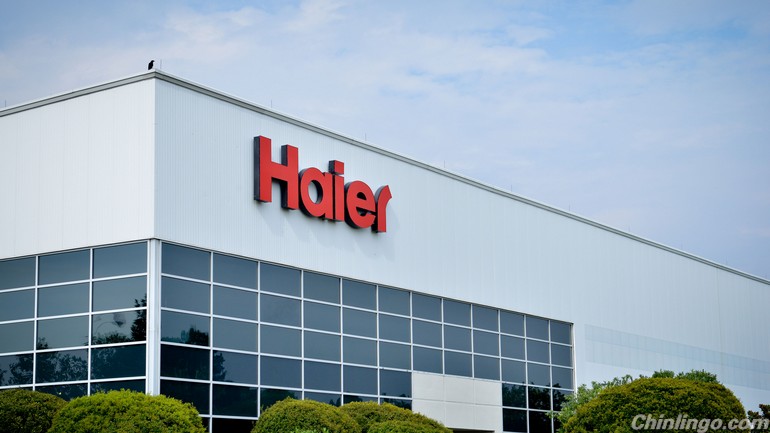 The Chinese businessman who built the world's second-biggest refrigerator, washing machine and air conditioner empire is putting big overseas acquisitions in the deep freeze, to focus on innovation and connectivity – linking his firm and its customers to their smart home appliances.
缔造了世界第二大冰箱、洗衣机和空调帝国的中国商人,正将大规模海外并购置于深度冰冻期,而将重点转向创新和连通性—把公司和客户与智能家用电器连接起来。
Zhang Ruimin, the 66-year-old CEO of Haier Group, said global over-capacity and a shift to advanced manufacturing in a wireless age has put off talk of large acquisitions.
66岁的海尔集团首席执行官张瑞敏表示,"全球产能过剩以及向无线时代先进制造业的转型,促使我们推迟讨论大规模并购的话题"。
In recent years, Haier has bought New Zealand's Fisher & Paykel Appliances and Japan's Sanyo Electronics to compete against worldwide home appliances leader Whirlpool Corp and other global brands, including Electrolux AB.
近年来,海尔收购了新西兰的斐雪派克公司和日本的三洋电子,与家用电器在世界范围的领军者惠而浦公司及包括伊莱克斯在内的其他全球品牌展开竞争。
"We used to think: maximize quantity, export more and manufacture more. This isn't working," Zhang said.
张瑞敏说:"我们过去的想法是:提高质量、增加出口和扩大产量。但这行不通。"
He is now driving production and sales at one of China's most successful consumer brands closer to customers, flattening the management structure and streamlining the workforce, in a battle to maintain profitability as China's growth slows.
现在,他正在拉近中国最成功的消费品牌之一与客户的距离,同时精简管理结构并提高员工效率,以在中国经济增速放缓之际保持利润率。
"It's survival of the fittest," said Zhang. "(Haier) must transform from a traditional manufacturing enterprise into an Internet business."
他说:"这是适者生存。海尔必须从传统的制造企业转型为一家互联网企业。"
Zhang told that last year he wanted to double the contribution of worldwide sales to 50 percent of revenue. "The goal hasn't changed, but what's important is that we've come to realize the path has problems," he says now.
张瑞敏称,去年他希望把全球销售额对收入的贡献翻倍,使其达到收入的50%。他说:"这一目标没有改变,但重要的是,我们逐渐认识到实现目标的途径存在问题。"
The Haier chief has brought home all the Chinese executives from 24 worldwide production locations, leaving local managers in charge. "We found that when we sent people, they were always using Chinese thinking to manage overseas," he said.
张瑞敏召回了全球24个生产地的全部中国高管并让当地经理负责管理。他说:"我们发现派人出去时,他们总是用中国的思维方式来管理海外。"
Haier's success has been as unexpected as Zhang's emergence as a national industrial leader. A native of China's northeast Shandong Province, Zhang was a township official when he was appointed to head Qingdao Refrigerator Factory in 1984 – then a collective enterprise with 800 workers and 1.47 million yuan in debt, a huge sum at the time.
海尔的成功和张瑞敏成为民族工业领袖一样出人意料。张瑞敏1984年被任命为青岛电冰箱总厂厂长,当时该厂是一家有800名员工的集体企业,亏损达147万元人民币,这在当时是笔不小的数目。
"We didn't have a penny, we were losing money, and we couldn't pay wages," Zhang said. "Every day was perilous." Zhang soon famously picked up a sledgehammer and passed it among his workers, telling them to publicly destroy 76 defective refrigerators. His message was clear: quality and brand were the way forward. Today, the sledgehammer sits in China's national museum in Beijing.
张瑞敏说:"我们身无分文,我们在亏损,支付不起工资。"众所周知的是,他很快将一把大锤递给工人,让他们当众砸毁76台有缺陷的电冰箱。他要传达的信息很明确:质量和品牌是前行之路。如今,那把大锤被收藏在位于北京的中国国家博物馆。
Haier is applying advanced manufacturing to mass produce customized appliances that can be ordered online from four 'smart' factories. It is developing an app that will allow customers to watch their products being made on a live video feed.
海尔正将先进制造应用于在四家"智能"工厂大规模生产可在线预订的定制家用电器。海尔还在开发一款应用程序,顾客可以通过直播视频观看他们产品的生产过程。
The ultimate aim, Zhang says, is for Haier to become a full services company for the wireless age, where customers place orders for tailor-made appliances, and communicate directly with their home appliances via smartphone or controlling device.
张瑞敏说,最终目标是让海尔成为无线时代的全服务公司:顾客为定制家用电器下订单,并且能够通过智能手机或控制设备直接与家用电器通讯。
Last year, Apple Inc announced that Haier was among the first home appliance makers it partnered with for its smart home platform. While Zhang is pausing big offshore buys, Haier is still pushing ahead with global investments, adding production lines in India, and last month offering to buy an industrial site in Wroclaw, Poland, which could become a manufacturing hub for the European and Russian markets.
去年,美国苹果公司宣布,海尔是与它合作打造智能家居平台的首批家用电器制造商之一。虽然张瑞敏暂停了大规模海外收购,但海尔仍在推进海外投资:在印度增加了生产线;上月还出价购买了波兰弗罗茨瓦夫的一个工业区,它可能成为海尔在欧洲和俄罗斯市场的一个制造中心。