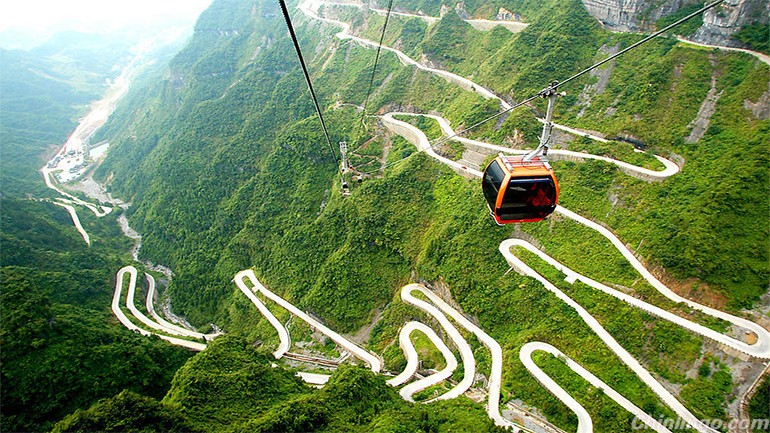 Tianmen Mountain, one of the 1,801 Chinese tourist attractions
that agree not to raise prices for 3 years.
A total of 1,801 tourist attractions have been included in the "price trusted" list by China National Tourism Administration (CNTA) after agreements that include not raising prices for three years.
1801家旅游景点承诺3年内不涨价,被国家旅游局列入首批"信得过"景区。
The deal revealed on Monday comes after the tourism administration's three-year campaign launched in March to deepen the reform of ticket prices across the nation.
周一公布名单之前,国家旅游局在3月份启动了为期三年的全国景区票价深化改革。
To be recognized as "price trusted" by CNTA, the scenic spot has to meet six requirements: use a single price, no price fraud, offer discount to special groups, advance booking privilege, publish price component and no price rise in three years.
要想被列入"信得过"名单,景区需要满足景区一票制、价格无欺诈、特殊人群优惠、预约优惠、公布价格构成、三年不涨价等6项要求。
The 1,801 scenic spots from 30 provinces and cities have signed the agreement to become the first batch. The tourism admission will regularly review the list to remove those no longer meeting the requirements.
全国30个省、市的1801家景区在签署协议后,进入首批名单。旅游局还会定期检查,从名单中移除不符合要求的景区。
However, local media has noticed that some of the top rated tourist attractions, including the Palace Museum, were not seen in the list. Chaoyang Park in Beijing is one of the 1,801 "price trusted" tourist attractions.
然而,有媒体发现,一些游客众多的景点如故宫博物院等都不在此名单之中。而北京朝阳公园则是1801家"信得过"景区之一。
An associated staff with CNTA said that those listed volunteered to apply, not selected by the administration. That's to say, a tourist spot can choose whether to join the list according to the requirements.
国家旅游局相关工作人员表示,名单上的景区都是自愿申请,没有行政命令。这就是说,旅游景点可以根据要求,自由选择是够加入这份名单。
Some of the scenic spots said they were not aware of the program and might join next time. At the same time, the requirement of adopting a single price ticket might have become the threshold for many, including the Palace Museum.
一些景区表示不了解相关程序,可能会下一次加入。同时,要满足单一票价制的要求可能会成为许多景区提出申请的门槛,包括故宫博物院。
Although the Palace Museum has not raised its admission ticket for 12 years, visitors have to pay extra fee to enter the jewelry and watch galleries. The Summer Palace is in the same situation.
虽然故宫博物院12年来都没有提高门票价格,但游客必须支付额外的费用才能参观珠宝和画廊。颐和园也是如此。
CNTA said they will keep promoting the program and update the list ahead of summer vacation in July and the golden week of National Day holiday.
国家旅游局表示,首批名单公布之后,将继续推动这项活动。并将在"七一"暑期旅游高峰期前、"十一"旅游黄金周之前,持续向社会集中发布新增"信得过"旅游景区名单。