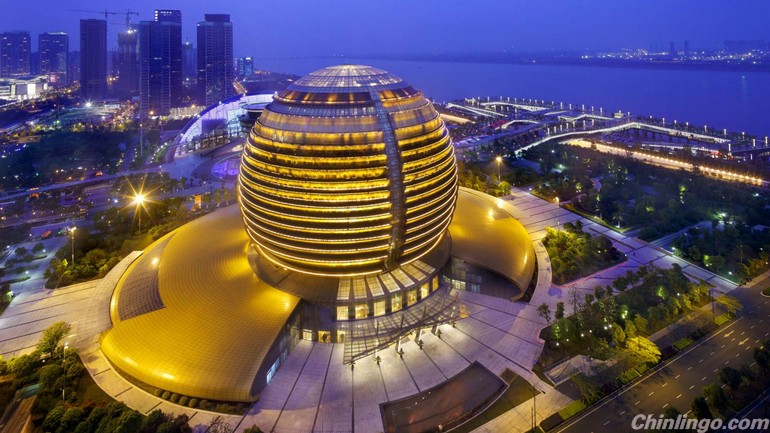 Signs that China's reforms may be paying off have sprung up in the eastern coastal city of Hangzhou, where a booming high-tech and software sector has fired up the local economy in defiance of a nationwide slowdown.
中国推行的改革可能正在取得成功的迹象已经在东部城市杭州出现。在杭州,蓬勃发展的高技术和软件部门已经在推动当地经济,尽管全国经济放缓。
From venture capital funds to big data firms, hundreds of technology-linked companies have set up shop in Hangzhou, capital of Zhejiang province.
从风险投资基金到大数据公司,数百家和技术有关的企业已经在浙江省省会杭州开业。
Once home to thousands of makers of household wares, Zhejiang's transformation is an exemplar of Chinese leaders' vision of an economy powered less by exports and investment and more by services and advanced industry, as embodied in the country's "Made in China 2025" strategy published on May 19.
浙江曾经拥有数千家家庭用品制造商,该省的转变是中国领导人愿景的一种典范,中国的领导人希望经济能够更多地受到服务业以及发达工业的推动,而不是出口和投资,正如5月19日公布的《中国制造2025》战略所体现的那样。
The province, which accounted for 6.3 percent of China's economy last year, is benefiting from reforms being rolled out across China, such as tax breaks for high-tech firms, more funding for internet start-ups, and a better logistics network to aid e-commerce.
浙江省去年占中国经济的6.3%。该省正在从在全中国推行的改革中受益,比如为高技术企业减税、为新成立的互联网企业提供更多资金,以及完善物流网络以支持电子商务。
A case in point, Kuaidi Dache, part of China's biggest taxi-hailing app, employs close to 2,000 workers today, compared with fewer than 10 just three years ago.
中国最大的打车应用软件快的打车如今聘用了近2000名员工,与之相比,快的打车三年前聘用的员工还不到10人。
At the Internet Finance Building in west Hangzhou, which houses technology start-ups, Silicon Valley culture is taking root.
在杭州西边的互联网金融大厦,硅谷文化正在生根。
Young workers stroll about in tee-shirts, jeans and sneakers, and offices are lined with treadmills, ping-pong tables and spaces for Friday night parties.
年轻的员工身着体恤衫、牛仔裤和运动鞋。办公室设有跑步机、乒乓球台,以及供周五晚上聚会的空间。
In Hangzhou, a city of 7 million people just an hour's train ride from Shanghai, local authorities have long allowed private enterprise to flourish.
杭州拥有700万人口,距上海只有一小时的火车车程。在杭州,当地政府长期以来允许私营企业繁荣发展。
It is the birthplace of e-commerce giant Alibaba Group, which earned annual revenues of 76.2 billion yuan in its last financial year, and hired nearly 13,000 employees in the year since March 2014.
电子商务巨头阿里巴巴成立于杭州,该公司上一财年年收入762亿元人民币,并在自2014年3月起的一年来聘用了近1.3万名员工。
It used to be that Zhejiang was supported by small and medium-sized enterprises that focused on exports, but now you see a lot of really good venture capital firms.
曾经,浙江是由关注出口的中小型企业支撑的,但现在,你能看到大量很好的风险投资企业。
Companies here receive "enormous" state support, a deputy manager at Hangzhou Efuton Tea Co Ltd said. Entrepreneurs get housing subsidies, and companies are invited to networking and industrial design events run by the government. Liu had just returned from a local-government-led tour of Haier Group, China's biggest household appliance maker, in Qingdao, eastern China.
杭州的艺福堂茶业有限公司的一名副经理而言,杭州支持经济的环境是中国其他地区的典范。这名副经理说,企业得到了"巨大的"国家支持。企业家得到住房补贴,而企业则受邀参加由政府运行的建立人际关系网络以及工业设计活动。他刚刚从由当地政府主导的海尔之旅回来。海尔位于中国东部的青岛,是中国最大的家电制造商。
"This is a government that helps companies," Liu said.
他说,这是帮助企业的政府。
Investment in its services sector jumped 33.3 percent in the first three months of the year, far outstripping a 5.8 percent rise in factory investment. Investment in the communications, software and IT industries was particularly buoyant, soaring 138.5 percent.
官方政府对其服务领域的投资今年前三个月增加33.3%,远远超过对工厂投资5.8%的增长。对通信、软件和信息技术行业的投资尤其活跃,增长138.5%。
That is altering perceptions among young Hangzhou residents, said Cai Jingyan, a spokeswoman at Kuaidi. Many now aspire to work for Chinese internet firms instead of multinational corporations and state-owned giants such as Hangzhou Iron and Steel Group, known as Hanggang.
快的打车的一名女发言人说,这正在改变年轻杭州居民的看法。很多人现在希望为中国的互联网企业工作,而不是跨国企业和杭钢等国有大型企业工作。
"There's a popular saying in Hangzhou – back in the day, girls wanted to marry boys who worked at Hanggang. But now they want to marry boys who work at Alibaba," Cai said.
她说,杭州有一种流行的说法——过去,女孩希望嫁给在杭钢工作的男孩,但现在,她们希望嫁给在阿里巴巴工作的男孩。