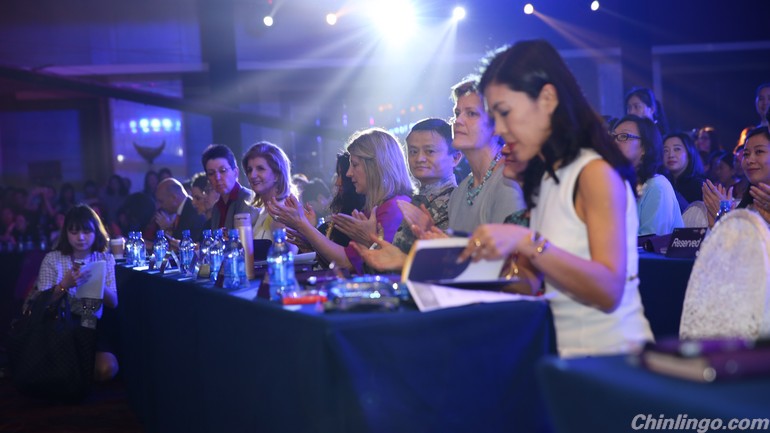 The rapid development of new technology and the widespread use of the Internet will help more Chinese women to become entrepreneurs, a conference packed with famous names was told on Wednesday.
新技术的快速发展和互联网的广泛使用将帮助更多的中国女性成为企业家。5月20日,在杭州举行了一场众多知名女性和女性创业者参与的会议。
Alibaba Group Holding Ltd held the Global Conference on Women and Entrepreneurship on Wednesday in Hangzhou, Zhejiang province. The conference is discussing the steps needed to encourage more women to pursue their professional and personal ambitions.
阿里巴巴集团在浙江省杭州市举行"全球女性创业者大会"。大会讨论了鼓励女性追求个人职业和理想的所需途径。
However, they will face more difficulties than their male peers, such as the challenge of maintaining a good work-life balance and prejudice in the business world.
然而,相比她们的男性同行,在维持工作与生活平衡以及商业偏见的挑战方面困难重重。
"In the future, China's economy will be mainly driven by the service industry. Women, who by nature are more considerate than their male counterparts, will definitely play a larger part," said Jack Ma, the billionaire executive chairman of Alibaba Group, the world's largest e-commerce company by business volume.
阿里巴巴是全球营业额最高的电子商务公司,其执行董事马云说:"未来,中国的经济主要由服务业驱动。女性天生做事比男性考虑周全,她们无疑会发挥更大的作用。"
A growing number of women are taking advantage of the Internet to start businesses. A report published by the China Development Research Foundation in March said 25 percent of Chinese entrepreneurs are female, a massive increase compared with 10 years ago. Sixty percent of them are in East China, the powerhouse of the e-commerce industry.
越来越多的女性利用互联网创业。3月,中国发展研究基金会公布的一份报告称,25%中国企业家是女性,与10年前相比,人数大幅增加。她们中的60℅在中国东部创业,那里是电子商务行业的集聚地。
Clothing is the most popular sector for Chinese female entrepreneurs, thanks in large part to the e-commerce boom, according to a survey by PayPal.
据贝宝的一份调查显示,很大程度上要感谢电子商务热潮,服装业最受中国女性企业家的欢迎。
"We excel in imagination. We are thinking in pictures rather than in words," said Peng Lei, one of Ma's earliest partners and now one of the 50 most influential female entrepreneurs in Asia.
彭蕾是马云的最早合作伙伴之一,也是如今亚洲最有影响力的50位女企业家之一。她说:"我们擅长想象,我们想象的是画面,而不是语句。"
Vicky Zhao, well-known Chinese actress and director
中国知名女演员兼导演:赵薇
Women should remain independent and retain their glamor, said Vicky Zhao, a well-known Chinese actress and director.
中国籍著名女演员兼导演赵薇表示,女性应独立,并保持自己的个人魅力。
"I dreamed of being an independent and globe-trotting individual when I was young," said Zhao. Zhao said despite her marriage, she maintains her independent personality and life.
赵薇说:"我从小就爱做白日梦,我梦想自己能够成为独立的环球人物。"赵薇表示,尽管结了婚,她仍然保持自己的人格及生活独立。
So Young, the 2013 Chinese drama film, directed by Zhao, is a good example of how Chinese people lead their lives.
2013年中国电影《致我们终将逝去的青春》是由赵薇执导,这是关于中国人如何追求自己生活的好例子。
Zhao said she always strives to retain her charm. "It is a pity if you abandon your glamor as you take on more and more responsibilities."
赵薇说,她一直在努力留住自己的个人魅力,她说:"当你承担越来越多的责任,如果你抛弃了个人女性魅力,那样会很可悲。"
Lucy Peng, chief people officer of Alibaba Group Holding Ltd
阿里巴巴集团首席人力资源官:彭蕾
Women should take advantage of their characteristics and not give up on instinct, said Lucy Peng, chief people officer of the Hangzhou-based Alibaba Group Holding Ltd.
阿里巴巴集团总部位于杭州,其首席人力资源官彭蕾表示,女性应利用她们的特点,并且不放弃自己本能感觉。
"One characteristic of women is that they are fond of having dreams. When I have a new business to start, I often dream of changing the world a bit," Peng said.
彭蕾说:"女性的特点之一就是她们爱做梦,在我创业的时候,我经常梦想着自己可以改变一点点世界。"
Peng said women cannot give up their instincts because they are entering a data technology period and it is important to have a clear picture and somatic senses.
彭蕾说,女性不要放弃她们的感觉,因为我们步入了数据技术时代,画面感和体感变得很重要。
Liu Qing, president of taxi-hailing company Didi Kuaidi Dache
滴滴快的公司的总裁:柳青
Handling pressure, upgrading business and inspiring people are important steps for a startup company, said Liu Qing, president of taxi-hailing company Didi Kuaidi Dache.
滴滴打的打车公司总裁柳青表示,对刚起步的公司而言,处理压力、升级业务及鼓舞员工都是很重要的步骤。
"In the first month that I joined Didi Dache last year, it was very stressful because I only worked for Goldman Sachs Group Inc previously and my new company had spent a lot of money to compete with Kuaidi Dache," said Liu.
柳青说:"去年,我加入滴滴打车的第一个月,真的很有压力,因为我之前只在高盛集团工作过。另外,新公司在与快的打车公司的竞争上也投入大量资金。"
Liu said she faced tremendous pressure because most of her workmates in the new company termed her a "goddess".
柳青说,因为新公司的多数同事称她为"女神",让她觉得压力巨大。
Liu said her company is doing a business no player did before, so she has to inspire her workmates, telling them the company's mission and ways to deal with problems.
柳青说,我们公司在从事一个没人做过的行业,所以她只能激发她的同事,告诉他们公司的使命,解决问题的方式。