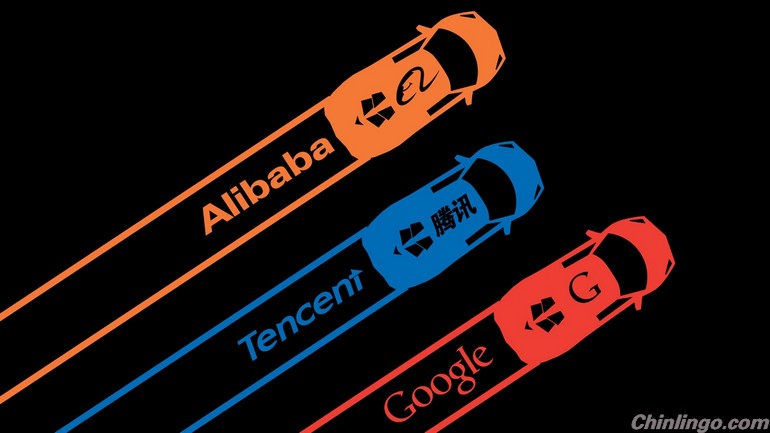 1. Apple Inc.
Market value: $749.3 billion
Apple Inc. whose business mainly covers a connected line of products, the iOS-based iPhone, iPad and iWatch, sits in first place in terms of market value.
苹果,目前市值7493亿美元。主营业务是苹果手机,平板电脑,智能手表等一系列以iOS为中心的生态闭环,理所应当市值第一。
2. Microsoft
Market value: $402.5 billion
Microsoft started with PC operation system, but recently has been going downhill in the mobile internet market. Its Windows Phone shares only 4% of market, which falls far behind its PC market value. For future business, it's not looking well.
微软,目前市值4025亿美元,以PC操作系统起家,目前在移动互联网的大潮中走下坡路,旗下WP移动份额只有4%左右,远没有PC的优势。未来之路不怎么看好。
3. Google
Market value: $373.7 billion
Google has the world's biggest search engine, and the most widely-used mobile operation system. Maybe Google will surpass Apple and Microsoft in the coming future.
谷歌,目前市值3737亿美元。旗下有全球最大的搜索引擎,最大的手机操作系统。未来的发展将会超过苹果和微软。
4. Facebook
Market value: $225.2 billion
Facebook is the world's biggest social platform with over 1.3 billion monthly active users. It has purchased Whatsapp, the biggest IM platform, and now it included over 0.8 billion active Whatsapp users.
Facebook,目前市值2252亿美元。它是全球最大的社交平台,月活跃用户超过13亿人,收购了最大的即时通讯平台whatsapp,活跃用户超过8亿。
5. Alibaba
Market value: $205.1 billion
Alibaba, the world's biggest online retailer, made over a trillion dollars in 2014. China is the home turf for Alibaba, but it's expansion in the global market has deeply changed China's retail industry.
阿里巴巴,目前市值2051亿美元,全球最大的网络零售商,年交易额超过一万亿。它目前的主要业务在中国,目前在向世界扩张,它深刻的改变了中国的零售业。
6. Amazon
Market value: $199.4 billion
Amazon, the world's biggest online shopping site is untouchable in its products and quality. Amazon's cloud computing ranks the nuber one place in the world, and it definitely has its place in the future.
亚马逊,目前市值1994亿美元,世界最大的网络商城,商品和服务的质量无可挑剔。亚马逊的云计算是全世界范围内的第一名,未来肯定有它的一杯羹。
7. Tencent
Market value: $195.5 billion
As the biggest social networking platform in China, Tencent owns two popular apps — QQ and Wechat. However, Tencent can be called a giant in only in China. It's still not so successful in other countries.
腾讯,目前市值1955亿美元。它是中国最大的社交网络平台,拥有两艘巨型平台:QQ和微信。在中国是一个巨无霸,出了国门却并不顺利。
8. Baidu
Market value: $76 billion
Baidu, China's top search engine, has the lowest market value among the three Chinese based internet giants.. Baidu is pushing its big data and artificial intelligence development
百度,目前市值760亿美元,中国第一的搜索引擎。是中国互联网三巨头市值最低的一个。不过百度的大数据和人工智能正在发力,百度现在还没有掉队。
9. Ebay
Market value: $71.4 billion
Ebay has the same structure of business with Taobao — C2C (customer to customer) , but because of China charging services on its platform, ebay has pulled out of the Chinese market. Still, it's l popular in the American and European market, and owns the world's biggest third-party payment platform—Paypal.
Ebay,目前市值714亿美元,它的商业模式和淘宝一样都是C2C平台,不过它在平台中收费,基本上已经在中国市场消失匿迹。不过在欧美市场还是很受欢迎,旗下有全球最大的第三方支付平台paypal。
10. Priceline
Market value: $64.8 billion
Priceline is the biggest travel information service platform in America, just the same as China's Ctrip. It is quite general in market potential.
Priceline,目前市值648亿美元,是美国最大的旅游信息服务平台,和中国的携程业务很相似。市场潜力一般。