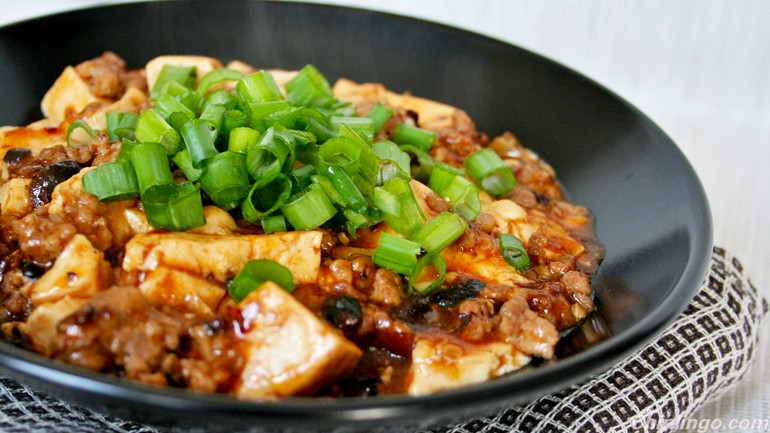 Mapo tofu, that aromatic dish of braised tofu with minced pork (sometimes beef) in a deeply savory sauce, is a wildly popular menu item in many Chinese restaurants. I gladly order it whenever possible. Just a spoonful or two with steamed rice makes a pleasant beginning to a multicourse meal.
麻婆豆腐是很多中餐馆里非常受欢迎的一道菜。它是用猪肉末(或牛肉末)在咸辣酱里炖豆腐,特别美味。只要餐馆里有这道菜,我一定会高兴地点它。把一两勺麻婆豆腐浇到蒸米饭上,会是一顿丰盛大餐的美好开始。
At home, though, mapo tofu can be a light meal on its own. If you need dinner in a hurry, you'll find it makes a rapid transition from wok to table. Though the dish is complex in flavor, the preparation is surprisingly simple. And even a novice cook can pull it off. It may take a trip to an Asian grocery to obtain the few required ingredients, but some supermarkets can provide them, too.
不过,在家里,单是麻婆豆腐就能做成一道便餐。如果你需要快速做好晚饭,麻婆豆腐是很好的选择,因为它能很快做好上桌。虽然这道菜味道丰富,但是做起来非常简便。甚至连新手也能做好。可能需要去趟亚洲杂货店,买几样必要的原料,不过有些在一般超市里也能买得到。
Fermented black beans are necessary, but just a tablespoon. The spicy red fermented broad bean paste from Sichuan Province called doubanjiang is the other key ingredient. (A small jar of each will keep indefinitely in the fridge.) Spring for Sichuan peppercorns, too; their tingly bite complements the hot red pepper and provides roundness.
豆豉是必备的,不过只需一汤匙。红色的四川辣豆瓣酱是另一个关键配料(两样各买一小罐,可以在冰箱里放很长时间)。记得买点花椒,它麻麻的口感与红辣椒相得益彰,能融合出完美的滋味。
The question is, can mapo tofu be made without meat and still satisfy on every level? Answer: absolutely, positively, yes. This meatless version with fresh shiitake mushrooms is completely satisfying. The chopped shiitake caps stand in nicely (the stems are simmered to make a quick broth). When you taste the finished rust-colored sauce, with ginger, garlic, sesame oil and scallions added to the kicky base, you'll agree.
问题是,不用肉仍能做出从各方面讲都令人满意的麻婆豆腐吗?答案是,绝对、一定能。用鲜香菇代替肉做出的麻婆豆腐丝毫不逊色。切碎的香菇帽是肉末的绝佳替代品(香菇梗可以马上做成汤)。当你品尝最后做成的放了姜、蒜、香油和大葱的红褐色酱汁时,一定会同意我的看法。
Much depends upon the tofu itself (and if you think you're not a tofu fan, this is a dish that could convert you). Look for the freshest. Buy soft rather than firm tofu for this dish (silken tofu is a bit too delicate). To enhance texture and flavor, give the cubed tofu a brief bath in boiling hot salted water before cooking.
这道菜的味道很大程度上取决于豆腐本身(如果你认为自己不爱吃豆腐,这道菜可能会改变你的看法)。寻找最新鲜的豆腐。不要买硬豆腐,要买软豆腐(嫩豆腐又有点太易碎)。炖之前,把切成块的豆腐放在滚烫的热盐水中短时浸泡一下,口感和味道会更好。
At the end, when you add the tofu, take care to cook it gently to keep it from crumbling. Shake the pan to help it settle into the sauce, and give it a nudge with a wooden spoon.
最后,加入豆腐后,要轻柔翻炒,不要弄碎。晃动炒锅,帮助豆腐融入酱汁,用木勺轻推。
Mapo tofu takes less time to cook than rice, so start the rice first. This is one 30-minute meal that won't have you feeling harried and breathless by the time it's ready. It's incentive to go meatless any day of the week.
做麻婆豆腐需要的时间比蒸米饭要短,所以要先把饭做好。这餐饭总共只需30分钟,做完后,你不会觉得筋疲力竭,气喘吁吁。它是你在一周任何一天实行素食的动力。