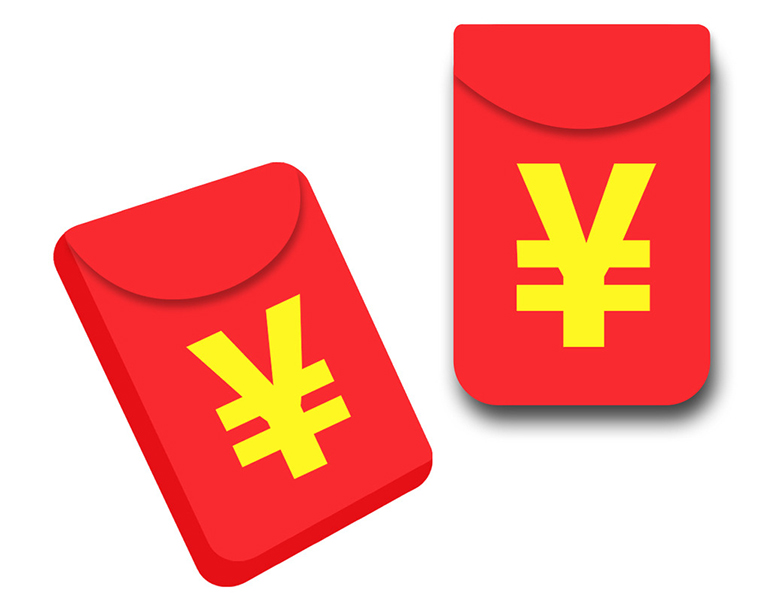 It's obvious that Chinese can't get rich by tapping to get red envelopes. So why are people still crazy about it? There are two reasons. First, it takes only a moment for the netizens to tap and grab the money. They also like the bustling atmosphere; second, what they have grabbed online is not only money but also a topic to discuss over dinner .
明知道靠抢红包发不了家,人们为什么还爱抢红包?原因无非在于两点:网民时间成本低;喜欢图热闹;同时,人们抢到的不仅是烧饼钱,更是晚上饭局上的谈资。
During the last Spring Festival , WeChat Red Envelope became suddenly popular and took Alipay by surprise. Although this years Spring Festival is far off still, the two giants have already started competing to distribute red envelopes across the whole nation.
去年春节,微信红包突然走红,杀了支付宝一个措手不及。今年离过年还有好远,两大巨头就争相给全民派发红包。
On Chinese Kitchen God Day (the 23rd or 24th of the 12th month of the lunar year), Alipay declared it would cooperate with some famous brands to hand out about RMB 600 million to its users. However, after red envelopes worth tens of millions RMB were distributed, the netizens found that the red envelopes, which they had snatched by almost stabbing their screens, turned out to be either "vouchers" or "50 cents". As a result, it triggered internet complaints.
农历小年,支付宝在宣布将联合品牌商户向用户发放约6亿元的红包后,给用户们撒了几千万的红包,不过网友们戳破屏幕疯狂点抢之后,发现不是"某某代金券",就是仅有五毛的现金,因而对此疯狂吐槽。
In view of this massive online anger, Alipay surprisingly made an apology after the first batch of red envelopes were distributed. What is wrong with money distribution?
由于民众的怒气太大,支付宝钱包在发完一拨红包之后,竟然道歉了。发钱还有错了?当然有错。
First of all, hundreds of millions of Chinese netizens have learnt lessons from various free activities and understand deeply that attention is money. One spares time to play games with a millionaire all day long but gets nothing. This is untolerable! Second, it is well-known that it.s a self-evident online promotional activity, but the activity performed poorly. It has been over-promoted, and it's absolutely a deception. It is reasonable to say that it failed to earn public praise.
一错在于,我国几亿网民早被各种免费模式教育过,深知注意力就是金钱的道理,辛辛苦苦陪首富玩半天打地鼠,连五毛都不给我,是可忍孰不可忍!二错在于,大家都知道,这是一场彼此心知肚明的网络营销,但活动搞得用户体验不佳,宣传用力过猛,忽悠的痕迹太过明显,赚不到好的口碑也是正常的事情。
Red envelope online grabbing has become the most popular recent internet game on WeChat, QQ, Weibo and Alipay. They are all battlefields in which celebrities, entrepreneurs, officials and quip writers join the fray . All fight for their own benefit in this giant online messy battlefield.
不管怎样,这都让抢红包成为网上最火爆的流行游戏。微信丶QQ丶微博丶支付宝都是战场,各路明星丶企业家丶领导丶段子手纷纷参战。人人各谋其利,战场上一片狼藉。
It is a great pleasure to grab a red envelope. However, many people who are now snatching red envelopes containing digital coins will be harrased with questions like, "When will you buy a house?", when they get home during the Spring Festival holiday. So the real question is: since people understand that they cannot make a fortune by grabbing digital red envelopes, but why are they still crazy about it?
有红包抢固然爽,可眼瞅着很多人回家又要在"啥时买房"的逼问中默默找地缝,现在却还在抢几毛钱一个的红包。问题来了:明知道靠抢红包发不了家,人们为什么还爱抢红包?
First, it takes little time. Rather than worry about meaningless fluff or be bothered by who will be Wang Feng's wife on your live feed, it is better you tap on a digital red envelope. Then you can can show off the "grabbed fortune" on Moments of WeChat followed by a cool status.
答案一:时间成本太低。闲着也是闲着,与其替上帝操心世界末日,替汪峰操心大舅子,不如抢点红包买个茶叶蛋吃,回头默默发在朋友圈,还可以低调地炫个富。
In recent years, social media marketing has exploded The above "monkey tricks" are just an easy way to attract clicks and views. In fact, the real foundation of this new fan based marketing is the minimum time cost for users. Not only does a red envelope contain coins, but also any microblog offering a lucky draw will attract numerous fans. Under the microblog entry there will be a long thread full of positive feedback, while other microblogs will be filled with bad comments. In this new Internet age, people can be bribed easily by a red envelope. Just go and find out how many fans follow Jack Ma and call him "father".
近年人们看到网络上粉丝营销风生水起,"耍猴技术哪家强"只是表象,其实粉丝营销的真实基础是亿万网民低廉的时间成本。不仅仅是几毛钱的红包抢得热火朝天,任何一个转发抽奖的微博都有无数拥趸,其他微博下边都是骂声一片,只有抽奖微博下面的队伍最整齐,"抽我抽我""楼主好人"……互联网时代的人心最容易收买,只需要一个抽奖,一个红包,你去看看马云微博下有多少人认爹就知道。
Surely, such enthusiasm will soon die down. Compliments before the lucky draw and negative feedback after, or excitement when successfuly grabbing the red envelope and irritation at the failed attempt will be soon forgotten.
当然这种人心也最易失去,抽奖前的夸奖和抽奖后的谩骂,抢红包时的兴奋和抢不到后的暴躁,转化只在一瞬间。
Second, grabbing the envlepose just for the fun of it Some quite well-off nouveau riche are also enthusiastic about grabbing various red envelopes. They are not Eugenie Grandet. They just have fun in this collective activity instead.
答案二:图个热闹。你会发现,有些分明很有钱的土豪,也热衷于在各个群里抢红包。他们不是葛朗台,只是把抢红包当成一种集体活动。
Bustling atmosphere to the Chinese is just like glucose water is to fish, perfectly natural and impossible to live without.. It's very difficult to say no to it. Innumerable people will spend money just for the bustling atmosphere. This practice has proven that only the Chinese Internet businesses really know the Chinese consumer.. Silicon Valley will never come up with such ideas of " innovative mobile payment" as is the red envelope grabbing.
热闹之于国人,就像葡萄糖之于草履虫,这种诱惑是不可以拒绝的,因为它发自本能。花钱凑热闹的事都有无数人愿意干,何况不花钱还有小钱赚。实践证明,只有中国互联网企业最懂中国人,像抢红包这种"移动支付创新",硅谷想破脑袋都想不出。
Many moths are drawn to the light Once it shines, they dart into it one after another. Right now the vouge is to to grab red envelopes online. What one grabs by tapping furiously is not only money but also the topic for the dinner table.
等着扑火的飞蛾太多,只要稍有火光就有大批赴汤蹈火者。目前抢红包时尚时尚最时尚,人们抢到的不仅是烧饼钱,更是晚上饭局上的谈资,不是吗?