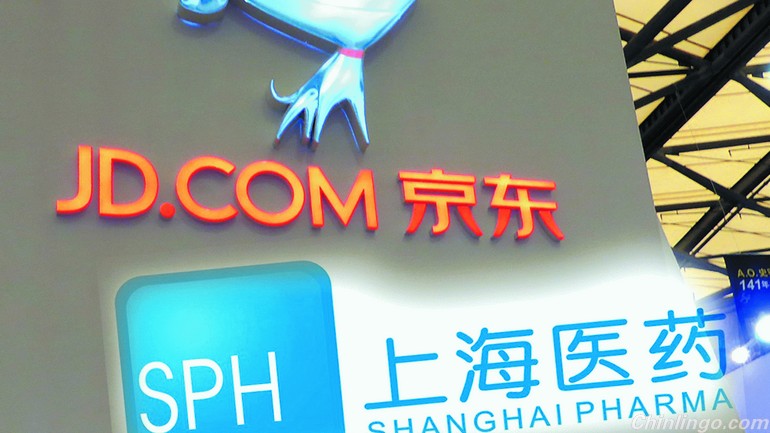 Chinese e-commerce giant JD.com Inc has tied up with domestic drugmaker Shanghai Pharmaceuticals Holding Co Ltd to develop its online healthcare business, according to a joint statement released on Sunday evening.
周日晚间一份联合声明称,中国电商巨头京东与国内制药企业上海医药集团进行战略合作,发展线上医疗销售业务。
According to it, a strategic cooperation agreement has been signed by the two parties to seize the potential opportunities in the market and built comprehensive strategic partnership in terms of make business strategy, operate investment and manage the new online pharmacy platform.
根据声明,双方签署战略合作协议,以抓住市场潜在机遇,在制定经营策略、经营投资和运营新的线上医药销售平台等方面建立全面战略合作关系。
"The move reflects a growing rivalry between Chinese e-commerce firms over China's fast-growing online healthcare market, with technology seen as a potential cure for a sector that is bogged down by high prices, snarling hospital queues and frequent allegations of corruption," said Reuters.
"此举反映了对于国内快速成长的在线医药市场,中国电商企业之间日益激烈的竞争,线上销售有可能通过技术手段改善当前医药行业价格过高、医院排队问题和频繁涉嫌腐败的问题。"路透社报道。
Last week, the giant's rival Alibaba Group Holding Ltd said it joined forces with US drugmaker Merck & Co Inc last week to explore developing online health services such as warehousing logistics and health data analysis.
上周,作为京东的竞争对手,阿里巴巴集团宣布同美国制药商默克公司合作,扩展仓储物流和健康数据分析等在线医疗业务。
"Contributing by JD's logistics system that covers nearly 2,000 regions and counties in the country, the new platform will explore a new cooperation method to reduce cost and optimize distribution channels within the market," said JD.com in the statement.
"得益于京东涵盖全国近2000县、区的物流系统,我们将在新平台上拓展新型合作,以降低成本,优化市场分销渠道。"京东在一份声明中说道。
"The government has recently announced a series of policies to encourage the development of online pharmacy and we expect this area to be a huge market opportunity," Shanghai Pharma said in a filing to the Hong Kong stock exchange.
"政府最近宣布了一系列政策,鼓励发展在线医药销售,我们预计该领域将有巨大的市场发展机会。"上海医药在提交给香港股票交易所的一份文件中说道。
China is a magnet for drugmakers, medical device firms and hospital operators looking to tap the world's second-biggest pharmaceutical market, where spending is set to hit as much as $185 billion by 2018, according to estimates from IMS Health.
艾美仕市场研究公司预计,中国作为世界上第二大医药市场,对于制药商的吸引力很大,很多医疗器械公司和医院运营者都将目光投向中国,到2018年其医疗支出支将高达1850亿美元。
Shanghai Pharma added a note of caution, reflecting wider concern over regulation of the sector: "China's online drug market is still at an early stage, and there are still some uncertainties around policies governing this sector," it said.
上海医药还提出了一点忠告,要对该领域的规章制度多加考虑:"中国在线医药销售市场仍处于初级阶段,该领域的政策制定仍有不确定性。"