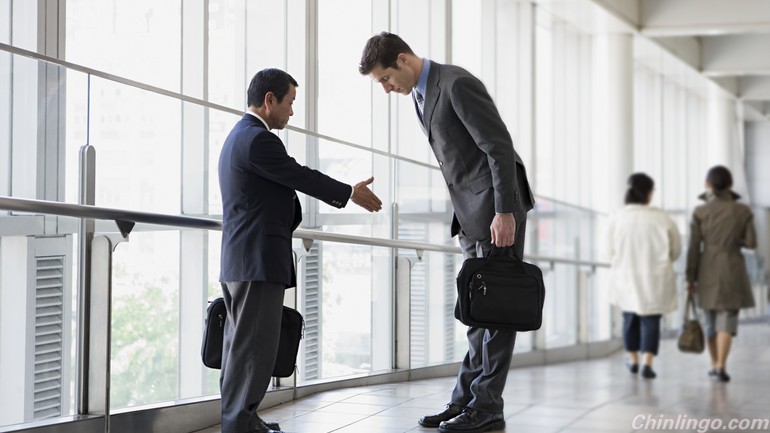 Eden Collinsworth moved to Beijing in 2011, opened up a cross-cultural consulting company, and wrote a best-selling book about western courtesy for Chinese businessmen. She has also learned a lot about China in the process. She described her experiences in a new book released today, "I Stand Corrected: How Teaching Western Manners in China Became Its Own Unforgettable Lesson."
伊登•柯林斯沃斯于2011年搬到北京,开办了一家跨文化交流咨询公司,并为中国商人撰写了一本有关西方礼仪的畅销书——在此过程中她自己也对中国有了很多了解。她将自己的经历收集在今天推出的一本新书中,书名为《我认错:在中国教西方礼仪如何给我上了难忘的一课》。
In the book, she reveals the top 10 mistakes and cultural issues that may mess up your next business trip, and methods to avoid them.
她在书中透露了可能搞砸你的下一次商务旅行的最重要的十种错误和文化上的小问题,以及如何予以避免。
1. Expecting a standard concept of time
一、期待标准的时间概念
In China, the definition of time does not clearly indicate when one hour begins and ends. For example, to a Westerner, noon is a definite time, while Chinese people regard it as a two-hour period from 11 a.m. to 1 p.m.
在中国,时间的定义并不一定清楚地指明一个小时何时结束,下一个小时何时开始。例如,在西方人看来,中午指的是一个明确的时间,但中国人用它来指从上午11点到下午1点的两个小时。
2. Mistaking loud voices for being hostile
二、将大嗓门误认为敌意的表示
Maybe it is because a great number of people in China are trying to express their opinions, or just a custom of Chinese language, that Chinese people's voices are of a slightly higher volume than Westerners find comfortable.
可能是中国想要发声的人太多,或者是这种语言习惯如此,但不管是什么原因,中国人的说话音量要比让西方人感到舒服的音量高出几个分贝。
3. Misunderstanding Chinese expressions of respect
三、误解中国人对尊敬的表示
Although shaking hands is common for Westerners, it is not always a comfortable action for Chinese who consider physical intimacy impolite and disrespectful. When most Chinese shake your hands weakly and only show reservedness during greetings, don't get angry.
虽然在西方人看来握手是很自然的,但在那些认为"亲热"是不礼貌且不尊敬表现的中国人看来,握手并不总是令人自在的行为。多数中国人握手无力,在问候别人时仅表现出矜持。请别生气。
4. Underestimating the importance of exchanging business cards before meetings
四、低估在会前交换名片的重要性
A double-sided business card with simplified Chinese on one side is the first step of showing respect to Chinese businessmen. Even though you are quite familiar with the title and position of the person to whom you have been introduced, you should check his carefully card.
一面印有简体汉字的双面名片是对中国商人表示尊敬的第一步。即使你很熟悉别人已经向你介绍过的那个人的头衔和职位,你也得细看他的名片。
5. Being uncompromising to "guanxi" (relationships)
五、不向"关系"妥协
"Relationships or connections outside the family" might be the closest description of what "guanxi" is as the core of Chinese society and culture. Therefore, Chinese tend to know the person with whom they wish to do business before starting business — the how, why, and when things are done all depend on these relationships.
"家庭以外的关系或联系"可能最接近这个作为中国社会和文化核心的概念的意思。因此,中国人在做生意之前就要了解他们想要与之做生意的人——事情如何、为何、何时做成都取决于这些关系。
6. Thinking a meal in China is just a meal
六、认为在中国一顿饭只是一顿饭
Undoubtedly, you will be invited to lunch or dinner, and it is rude to discuss business during the meal. But that doesn't mean that the meal isn't purposeful. Don't be surprised if people who have not participated in any of the business meetings you've attended appear when it's dinner time.
你肯定会受邀与人共进午餐或晚餐,在那期间讨论生意会被认为很无礼。但这并不意味着吃饭不带有商业目标。如果有从未在你参加过的任何商务会议上出现的人来到餐桌前,请别感到吃惊。
7. Forgetting table manners
七、忘掉餐桌礼仪
For a Westerner, there is always too much food at the Chinese restaurant's tables, but you should try every dish. Accept everything what the host offers to you it will be taken as an expression of gratitude and respect for his hospitality.
在西方人看来,桌上的食物总是太多,但每样菜你都要尝一尝。对于主人夹给你的每一份你都一定要接受,那是他好客的表示。
8. Refusal to toast
八、敬酒不喝
It's bad manners to refuse your hosts offers while in China, even when you have a seemingly reasonable excuse. If you don't want to drink, excuse yourself before the toasting begins.
在中国,拒绝主人,即使以似乎很正当的借口,会为一顿饭蒙上阴影。如果你不想喝酒,那么请早点找借口,趁敬酒还没开始。
9. Taking personal questions as uncourteous
九、将探索性问题视作无礼
Chinese people may ask you about what most people would want to know but are afraid to ask. Be prepared for a conversation that often surprisingly involves everything. If you are a man, you might be asked about your financial assets; if you are a woman, you will definitely be asked about your marriage.
中国人能够问出多数人很想问但都不敢问出的问题。请为常常百无禁忌到令人吃惊的社交谈话做好准备。如果你是男性,你可能会被问到财产情况;如果你是女性,你肯定会被问到婚姻状况。
10. Ignoring that dignity is more important than money
十、忘记尊严胜过金钱
It is very important to keep face for Chinese people. Any form of refusal will end up losing face, which is why no one should say "no" directly in China. Conversely, one should never think a "yes" in China means reliability, because "yes" in China is a temporary, flexible concept. Even in new capitalist China, dignity is a commodity that is far more important than money.
对中国人来说,保全面子至关重要。任何形式的拒绝都会让别人丢面子,因此在中国不该直接说"不"。相反,在中国,你也绝不该认为"是"很可靠,因为对中国人来说,"是"是一个暂时的、灵活的概念。即使在新资本主义的中国,尊严也是一种远比金钱重要的商品。