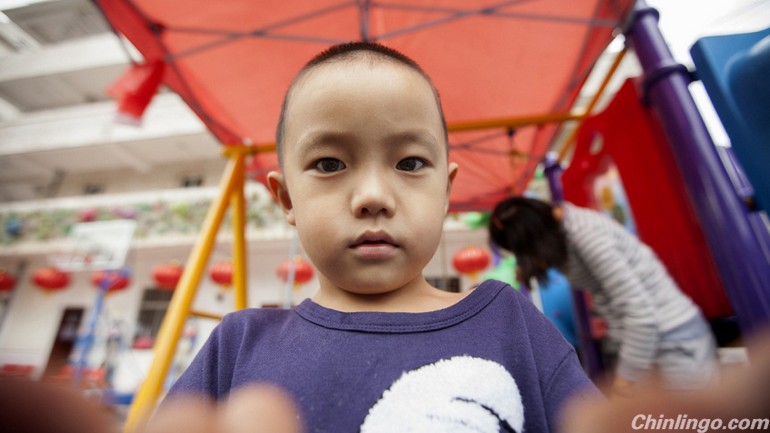 Ms. Li, a middle-school teacher found when her son was 26 months old, he still couldn't speak. Li Li Juan brought him to the hospital. She was told he had mild autism. However, she couldn't find an autism specialist in their hometown or a school that could handle his special needs, so she received training to teach kindergarten in order for her son to attend her class.
河南省宁陵县的中学老师李丽娟(音)发现,儿子长到2岁多的时候依然不会说话。于是,她带着孩子去医院求医,被告知孩子患有自闭症。但李的老家找不到专业的自闭症治疗师,也没有为自闭症儿童服务的相关机构。
Eventually, she discovered the Beijing Stars and Rain Education Institute for Autism, the oldest autism treatment facility in China.She and her son, in February moved here, to a temporary apartment next to the clinic for three months of applied behavior analysis, or ABA, therapy. Her son has made significant improvements, such as being able to dress himself.
后来,李得知北京有一家"星星雨教育研究所",是中国第一家为自闭症儿童及其家庭提供服务的教育机构。今年2月,李带着儿子来到北京,在"星星雨"附近租了一间房,开始为期3个月的ABA疗法(应用行为分析疗法)。至今,孩子已取得非常明显的进步,学会了自己穿衣。
China has a long way to go in providing high-quality autism intervention to everyone who needs it, experts say.For instance, ABA improves children's communication and social skills by reinforcing desired actions and ignoring unwanted ones. In all of mainland China, there are only four board-certified behavior analysts—an internationally recognized credential—to treat autism. By contrast, there are 101 in Rhode Island.The services that do exist in China are largely for children up to 6 years old, and there are no services for adults, says Yanhui Liao, president of the Shenzhen Autism Society. In addition, there are very few professional therapists available in China, the Chinese parents have to treat their children at home after learning from the therapists.

专家称,在为自闭症患者提供治疗和服务方面,中国还有很长的路要走。国际行为分析师认证委员会称,中国内地获得国际认证、掌握ABA疗法的行为分析师仅有4人。与之形成鲜明对比的是,美国罗得岛州就有101人获认证。深圳市自闭症研究会理事长廖艳晖说,即使中国有这项服务,大部分服务面向的是6岁以下的自闭症患儿,尚没有针对成年患者的服务。另外,由于专业治疗师少之又少,家长只能在跟着治疗师学习后,自己在家对孩子展开治疗。