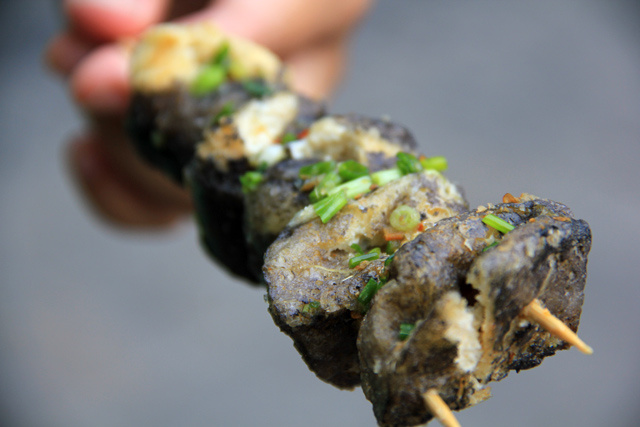 19. Stinky Tofu (Chòudòufu 臭豆腐)
I was extremely excited to get my first tast of the legendary stinky
tofuwhile I was in Yangshuo. The fermentation of the tofu is how it
earned its "stinky" nickname.
The stinky tofu was deep fried and filled with a tasty vinegar and
garlic sauce. Each cube of stinky tofu was melt-in-your mouth and
absolutely delicious!
Check out a video of eating stinky tofu here.
在第一次尝到传说中的臭豆腐真是兴奋死了!豆腐的发酵让它获得了"臭"的昵称。
臭豆腐是油炸过的,蘸满了美味的醋和大蒜酱。每块臭豆腐在你嘴里融化,绝对是美味!
看看一个视频在这里吃臭豆腐。每一个臭豆腐小方块融化在你的嘴里真是美味极了!
想看视频请戳这里。
20. Sichuan Style Foo Jook Hot Pot (Ma La Tang)麻辣烫
On similar terms with the Chinese self cooked hot-pots is the street
food version of choosing your own sticks and letting the vendor boil
them in her fragrant soup.
These Chinese street food bowls that are originally influenced from the culinary wondrous region of Sichuan, are awesome!
类似与中国自助火锅的街头食品版本,你可以选择自己的食物串,然后让摊主放进她的香汤煮。
这种街头食物源自四川地区奇妙的烹饪技巧,好吃!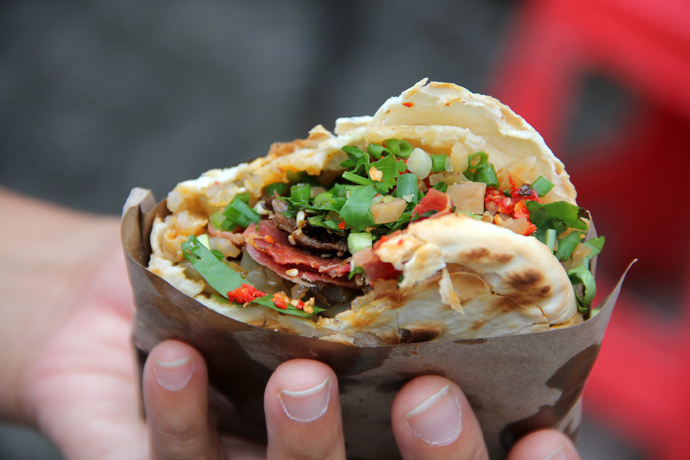 21. Chinese Hamburger中式汉堡包(肉夹馍)
With a "No Good, No Pay" policy, there wasn't much I could do to avoid
the sampling of something known as a the Chinese hamburger.
Though it was no ordinary hamburger, the chili marinated beef filled
with vegetables and noodles was quite a flavor packed treat!
本着"不好吃,不付钱"的指导方针,能我心甘情愿付钱的就只有中式汉堡包了。
虽然它不是通常的汉堡包,但它填满了辣椒腌制过的牛肉、蔬菜以及粉丝,别具风味。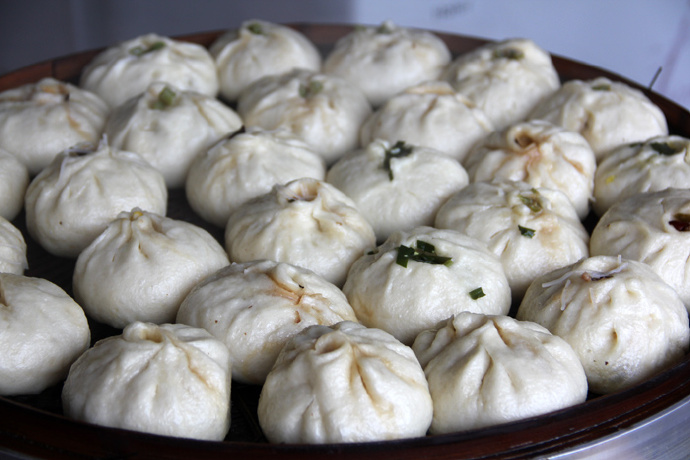 22. Baozi (包子)
Popular throughout China and Asia, Baozi (包子), steamed bread dumplings are available as a breakfast food all over Yangshuo.
They can be filled with an assortment of fillings, but I really liked
them filled with egg and chives and the ones filled with transparent
rice noodles.
作为风靡中国和亚洲的食物,包子、馒头和饺子都是阳朔随处可见的早餐美食。
它们可以包进各式各样的馅料,而我很喜欢那些填满了鸡蛋和韭菜和那些充满了透明的米粉等馅料的包子。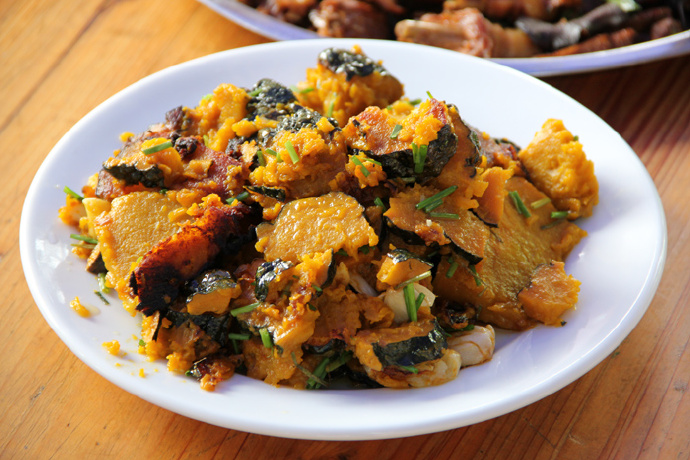 23. Stir Fried Pumpkin炒南瓜
Before visiting China, I preferred to think of pumpkin as something that
should only be used as a dessert in things like pumpkin pie. In
Thailand pumpkin is used frequently in Thai desserts but also in stir
fried dishes.
The best stir fried pumpkin I ate while in China was at the Chinese
Farmer's Market restaurant and the dish included whole chunks of garlic
and chives.
在来到中国之前,我认为南瓜只能做成甜点如南瓜饼。在泰国,南瓜经常做成泰式甜点,还用于拌菜。
我在中国吃过的最好的炒南瓜是在一个农贸市场饭馆,菜里包括整块大蒜和葱花。
24. Leng Mian Cold Noodles (冷面)
Chinese lamian noodles are the famous hand pulled noodles of China. This
huge plate of hand pulled noodles served cool is known as Leng Mian. It
is more of a cool noodle salad, topped with beef tomatoes, cucumbers,
carrots and fresh dressing.
These noodles are most commonly eaten in and around Lanzhou, but they have spread their deliciousness throughout all of China.
中国拉面是一种有名的手拉面条。这一大碟放凉了的手拉面叫做冷面。它更像是凉的面条沙拉,淋满了牛肉、西红柿、黄瓜、胡萝卜以及新鲜的调味品。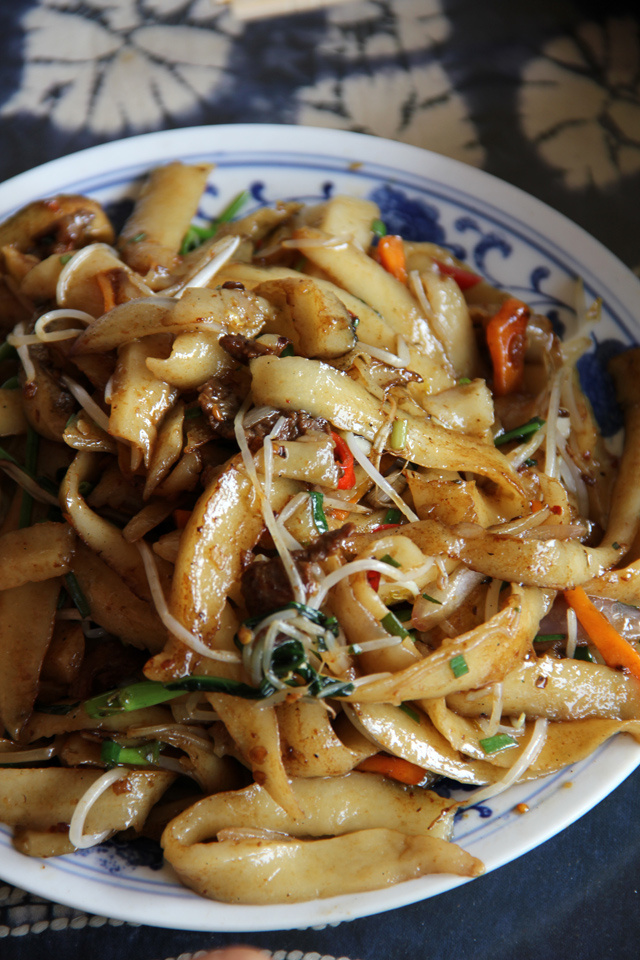 25. Stir Fired Dao Xiao Mian Noodles (刀削麵)
If you'd prefer to eat a plate of stir fried noodles, Da Xiao Mian is a
choice option. These noodles are hand sliced with a knife right off a
big blob of noodle dough and land in a big pot of boiling water.
After they are finished cooking, the noodles are stir fried up with a few other tasty ingredients.
如果你更喜欢吃一盘煮面条,刀削面会是一个选项。这种面条是从一个大面团手工切下的薄片,然后放进沸水中煮。
煮过后,再和一些其他可口的食材一起炒。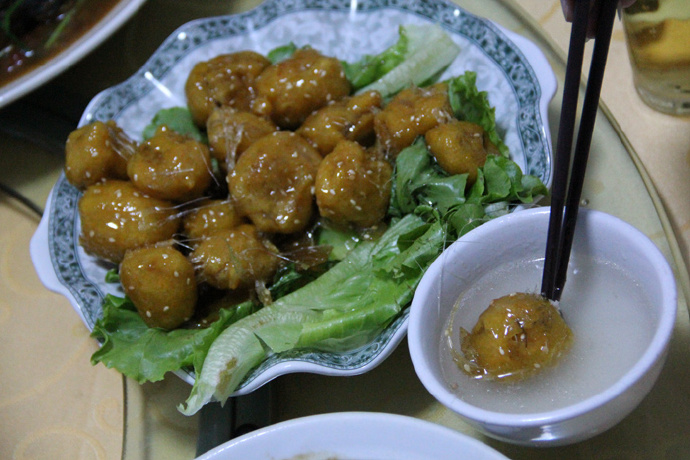 26. Candied Taro Bites (Ba Si Yu Tou 拔丝芋头)
There's no better way to describe these bite sized pieces of sweet deep fried taro than utterly delicious.
Small pieces of taro are battered in something similar to caramel and
then deep fried. They arrive at your table piping hot – the caramel
still melting.
They are so hot and sticky that you actually have to dip them into cold
water (bottom left) so you don't leave caramel strings all over the
place!
These are good, real good. – no surprise that Ba Si Yu Tou is a one of the very popular Chinese dishes!
我没有更好的方式来描述这些一片片的油炸芋头,只能说它是绝对的美味。
小片的芋头放进糖汁里翻炒,然后再油炸。它们上到你的桌上时是滚烫的——糖汁还没凝固。
它们又热又粘,你必须把它们浸入冷水中(左下),以免把糖丝拉得到处都是。
很好吃,真正的好吃。——难怪拔丝芋头会是中国名声远扬的美食之一!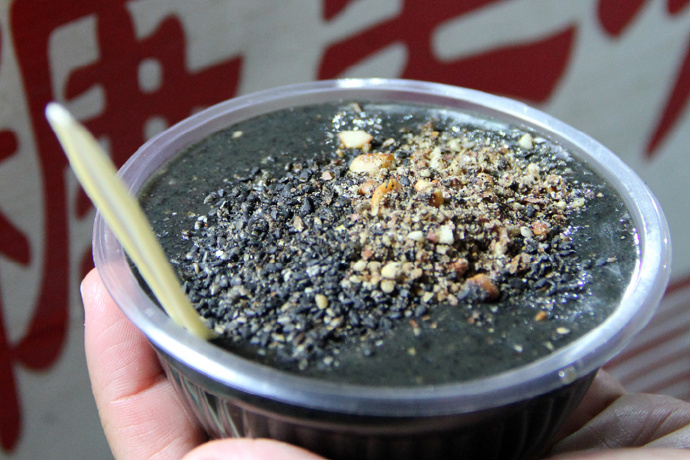 27. Black Sesame Pudding (Zhi Ma Hu 芝麻糊)
Black sesame seeds are spectacular – they've got a truly admirable
flavor. This Chinese Zhi Ma Hu 芝麻糊 is made with black sesame seeds and a
number of other ingredients to turn it into a thick starchy sweet
pudding.
黑芝麻种子令人赞叹——它们有一种真正令人倾倒的味道。这中式芝麻糊就是由黑芝麻种子加入其他一些食材做成的浓稠香甜糊状布丁。