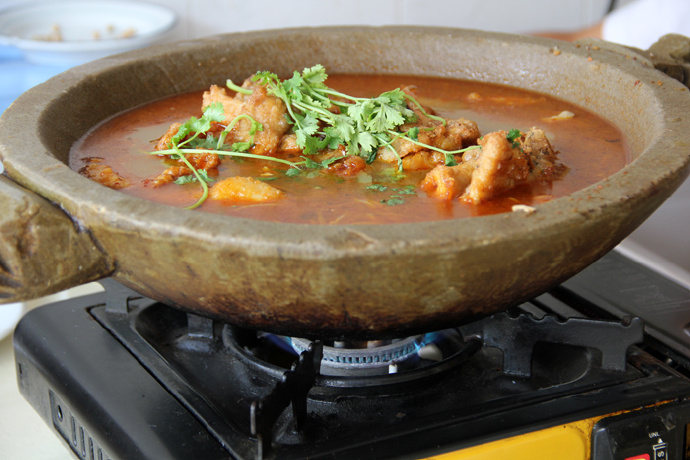 10. Deep Fried Fish Hot Pot炸鱼块火锅
Hot pots are your best friend in Yanghsuo.
They are cheap, huge, and extraordinarily delicious! Though you can get a
choice of meat, I often opted for fish. This pot contained deep fried
meaty chunks of river fish soaked in an awesome chili soup that also
included bean sprouts and cilantro.
火锅是你在阳朔的最佳伴侣。
火锅很便宜,但非常好吃!你可以选择肉类,我常常选择的是鱼。在这锅中,炸过的河鱼块浸泡在棒极了的辣汤里,还有豆芽和香菜。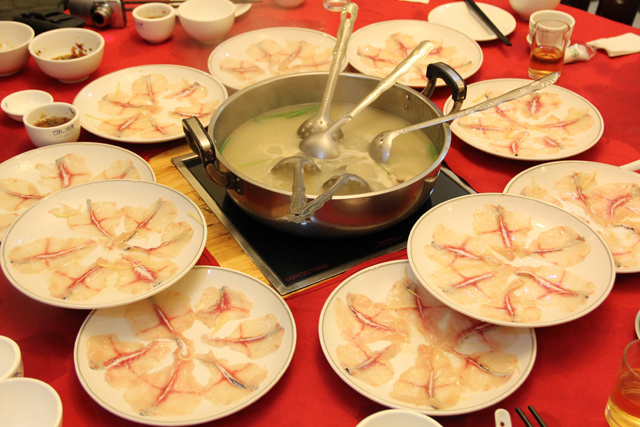 11. Thin Sliced Fish Pot鱼片锅
This version of hot pot in Yangshuo included extremely thin strips of
raw fish. Everyone grabbed a strip of fish with their individual
chopsticks, plunged it into the boiling cauldron of soup and in a matter
of seconds it was ready to be drenched in the chili garlic sauce and be
devoured!
在阳朔,这个版本的火锅包括极薄的生鱼片。每个人都用自己的筷子夹了一片鱼,把它浸入沸腾的大锅汤,只要几秒就可以蘸大蒜辣椒酱开动了!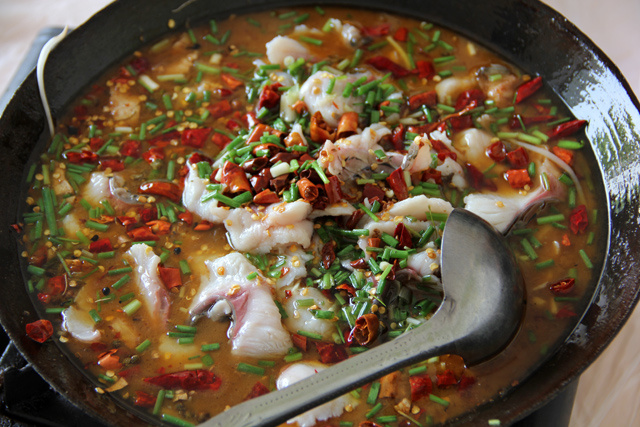 12. Sichuan Style Chili Fish Hotpot四川水煮鱼
There's not a lot I like better in this world than Sichuan Shuizhuyu – to me it's the pure form of food generated ecstasy.
While it's not a dish that is native to Gaungxi Province, luckily a few Sichuan specialities have found their way to Yangshuo!
在这世上我喜爱的没有多少东西比得上四川水煮鱼——对我来说它就是一种伴随着狂喜而形成的纯粹形式的食物。虽然它不是广西的本地菜,但幸运的是,一些像它一样的四川特色佳肴可以在阳朔找到!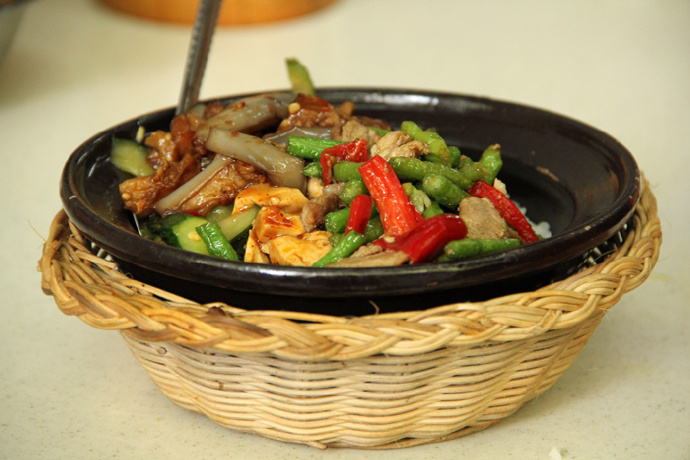 13. Clay Pot Rice and Toppings煲仔饭
Another Yangshuo Chinese food speciality is rice cooked in a clay pot
and served with a choice of stir fried vegetables and meat. The high
heat of the clay pot gives the rice a slight crunch along the edges!
另一种阳朔菜的特点是你可以选择炒过的的蔬菜、肉和米饭等放在一个沙煲里搅拌。沙煲的高温可以使大米略微紧缩糊在边上!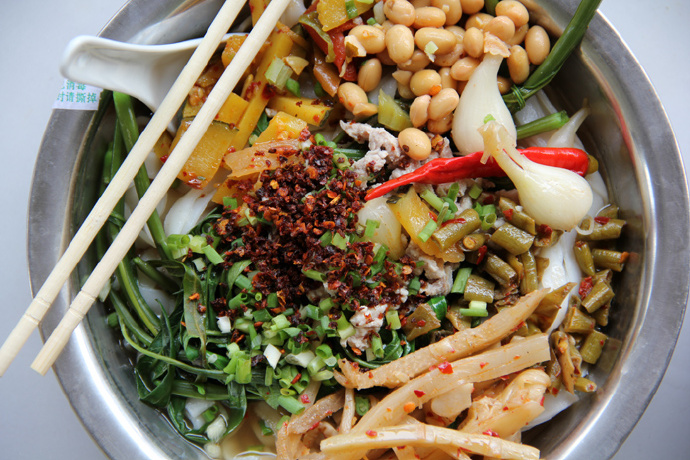 14. Guilin Noodles (桂林米粉)
One of the local homegrown comfort foods in Guangxi Province and around the Guilin area is Guilin Noodles.
A bowl of these delicious rice noodles loaded with toppings is cheap and
available everywhere. The noodles are famous to eat in Guilin and one
of the more popular Chinese dishes in the region.
在桂林周围有一种美食叫桂林米粉,它是广西省当地土生土长的爽心美食之一。
这种满满一碗淋满佐料的美味米粉经济实惠,随处可见。这种面因可在桂林吃到而闻名,也是当地相当受欢迎的中国美食之一。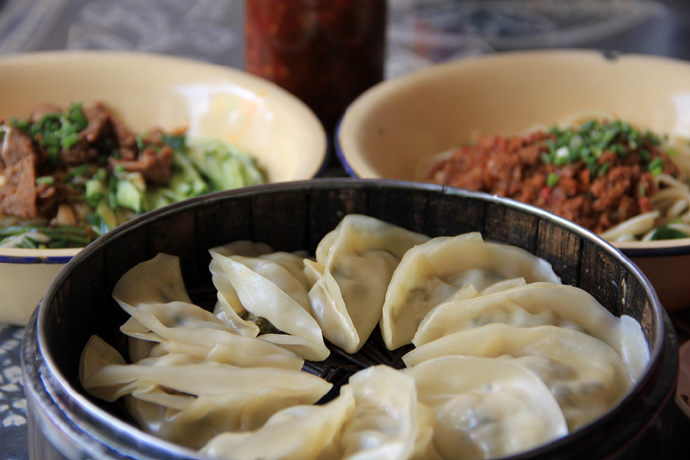 15. Steamed Dumplings (Jiaozi 餃子)
Steamed dumplings known as Jiaozi 餃子 are popular throughout Chinese food.
The interiors are filled with a variety of ingredients throughout
Chinese cooking, though these were filled with minced pork and chives.
蒸饺子在中国很受欢迎。
饺子内部充满了各种包含中国烹饪特色的材料,虽然相片的这些的是碎猪肉和韭菜。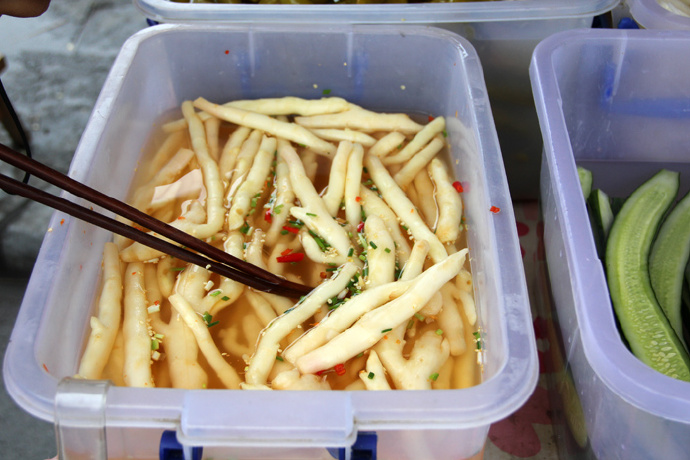 16. Chinese Pickled Vegetables酸嘢
Around the center of Yangshuo, near the park are a number of street
stalls that set up and serve take-away bags of pickled vegetables. They
are perfectly vinegary and heavy on glorious chilies. I particularly
found the young pungent ginger (pictured) to be incredible!
在阳朔市中心或公园附近,很多街道摊位都有可带走的袋装酸嘢卖。他们非常酸,也很辣。尤其是辛辣子姜(如图)我发现好吃得难以置信!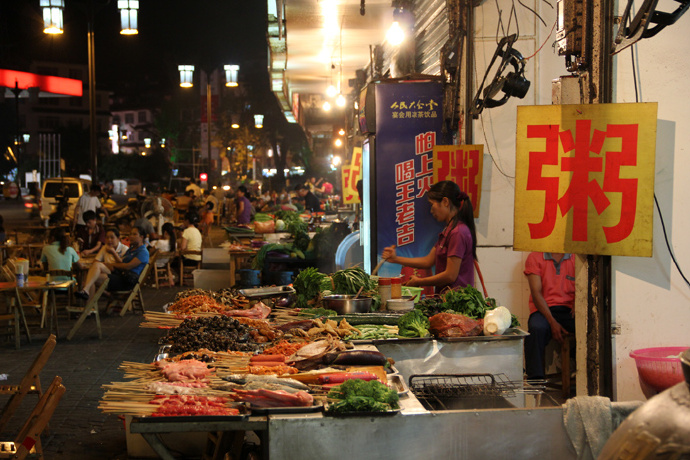 17. Yangshuo Barbecue阳朔BBQ
Yangshuo barbecue restaurants serve a selection of skewered meats and
vegetables that you self choose and then each stick of food is either
fried or grilled.
I choose a few vegetables, some wonderful eggplant, and a pig's penis (a little chewy..).
阳朔BBQ餐厅提供可以自选的蔬菜和肉类,每根食物可炸可烤。
我选了一些蔬菜,一些美妙的茄子,还有猪鞭(有点嚼头……)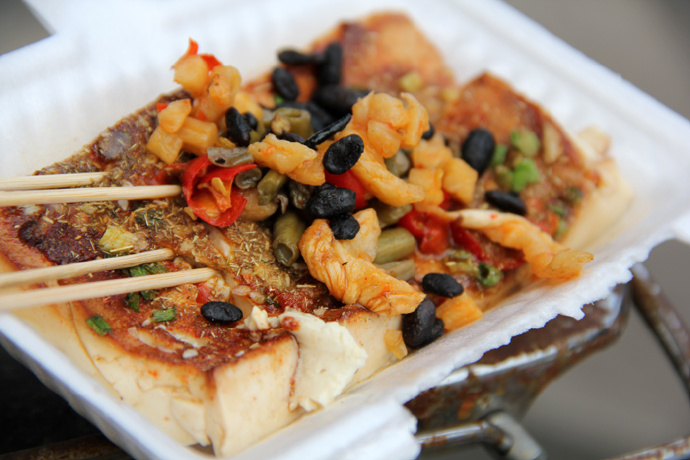 18. Yangshuo Grilled Spicy Tofu阳朔炙烤香辣豆腐
One of the most delicious little snacks on-the-go is Yangshuo's spicy
tofu pieces. They can be found grilling on the back of bicycles all over
town.
After ordering the vendor sprinkles on cumin, green onions, and a choice of a variety of Chinese pickles.
阳朔的香辣豆腐串是最美味的可带走的街头小吃之一。它们在镇上的移动烧烤摊上随处可见。
叫摊主撒上孜然、绿洋葱,还可以选择各种各样的中国泡菜。