Chinese food…
…is simply one of the word's most widely enjoyed and most influential cuisines.
Throughout my stay in Yangshuo, China, I was able to sample quite a few dishes – many of them were mouthwatering delicious!
中国菜……这个词代表的是最受欢迎、最具响力的美食。呆在中国阳朔期间,我品尝了很多美食——大部分都是令人口水横流的美味!
Here are 27 Popular Chinese Dishes!
这就是广受欢迎的27中国菜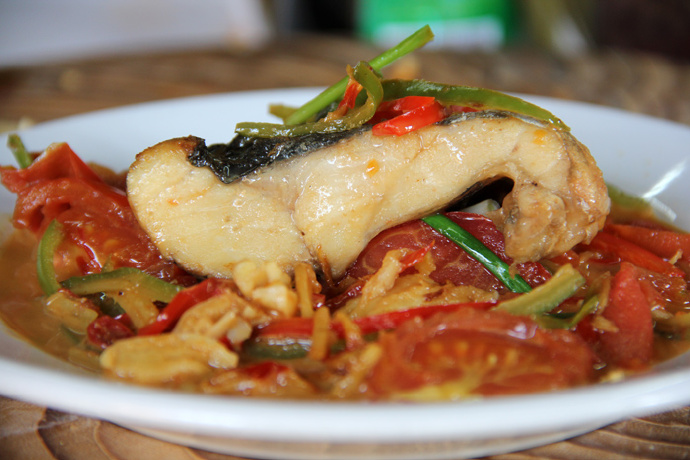 1. Yangshuo Beer Fish (Pijiu Yu 啤酒鱼)
At first I found it hard to believe that "beer fish" is one of the most
iconic dishes served in Yangshuo, China (it just doesn't sounds too
Chineezy?).
Normally the dish is made with an entire fresh water river fish chopped
up into chunks and simmered in a sauce filled with tomatoes, chili
peppers, onions, and a splash of beer to liven-up the sauce.
Beer fish is one of the most popular Chinese dishes to enjoy in Yangshuo!
起初我很难相信"啤酒鱼"是中国阳朔最标志性的菜肴之一(它听起来不是很中国?)
这道菜通常是由整条淡水河鱼切成块,和大量的西红柿、辣椒、洋葱、飞溅的啤酒混合成的酱一起炖。
啤酒鱼是阳朔最受欢迎、最值得品尝的中国菜之一!
2. Taro Pork and Fat Roll (Lipu Taro Looped Roll 荔浦芋头扣肉)
Another famous dish in Guilin and Yangshuo is the lip-licking Lipu Taro Roll 荔浦芋头扣肉.
The meat-loaf looking blob is a combination of alternating slices of
fatty pork belly and soft mashed taro. The thick brown sweet peppery
gravy glazes the ingredients and it's absolutely.
在桂林和阳朔,另一个著名的菜肴就是荔浦芋头扣肉。
看上去像是肉包裹着的团状物实际上是肥五花肉片和软芋头泥的结合。上面淋着厚厚的棕色甜胡椒味的肉汁,真是令人食指大动。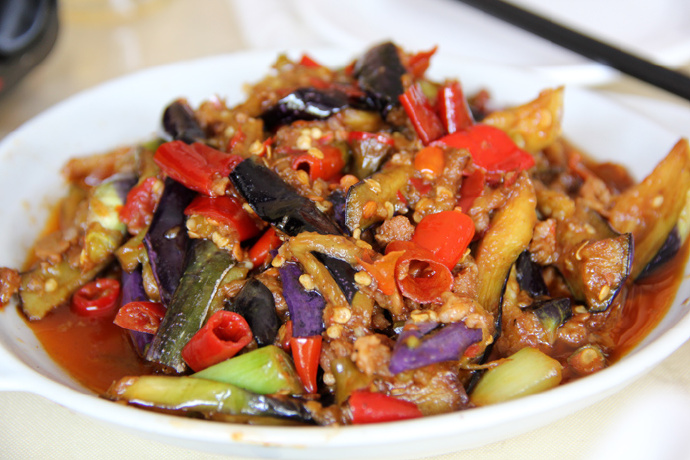 3. Stir Fried Eggplant in Chili Sauce (Shao Qie Zi 烧茄子)
I have a very soft spot in my heart for eggplant.
In my opinion it's a wonder vegetable that can be cooked in almost
anyway to taste delightful. From Egyptian street food to Sri Lankan
food, eggplant is made deliciously across the globe! This is one of the
dishes I learned to took at the Chinese cooking school.
我一直对茄子深怀好感。
在我看来,茄子简直是蔬菜里的奇迹,不管你以什么方式来煮都能做出美味来。从埃及的街头食品到斯里兰卡佳肴,茄子被做成的美味遍布全球!这也是我在中国的烹饪学校学会的一个菜肴。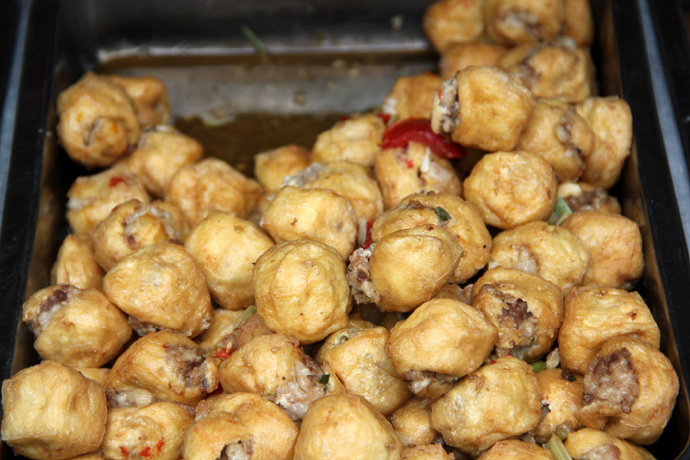 4. Pork Stuffed Tofu猪肉豆腐酿
Deep fried little balls of soft tofu are emptied out and stuffed with a
mixture of minced pork, green onions and oyster sauce. They are steamed
until they become perfect little pork balls – perfect with a bowl of
rice.
油炸过的小软豆腐球去掉里面的豆腐心,塞入碎猪肉、葱和蚝油的混合物,然后蒸,直到它们变成完美的小肉球,与米饭搭配绝佳。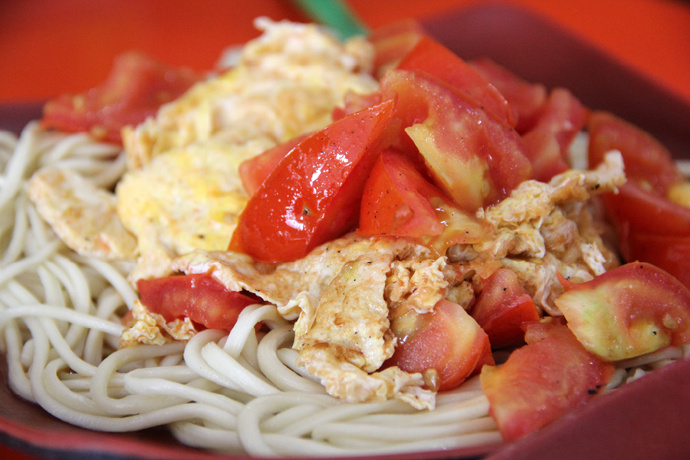 5. Tomato and Egg over Noodles番茄蛋面
The combination of stir fried tomato and egg was never so appealing
until I visited China. It is popular in Guangxi province, China, as a
solo dish, or over the top of rice or noodles.
番茄炒蛋的组合从未如此吸引我,直到我来到中国。这个菜在中国广西非常流行,可以作为一个菜,也可以配在米饭和面条上面。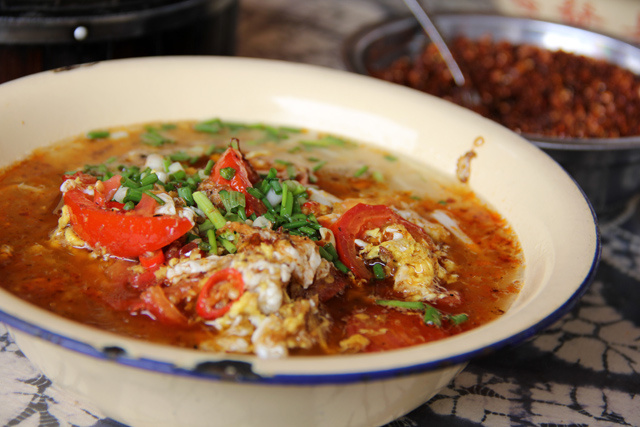 6. Tomato and Egg Noodle Soup西红柿鸡蛋面汤
Tomato and egg is equally as delicious, if not more tasty, in noodle
soup. This particular bowl from Gan's Noodles in Yanghsuo, was
exceptional.
番茄和鸡蛋是同等的美味,如果不会更美味,那一定是在面汤里了。但这碗独特的阳朔干丝是个例外。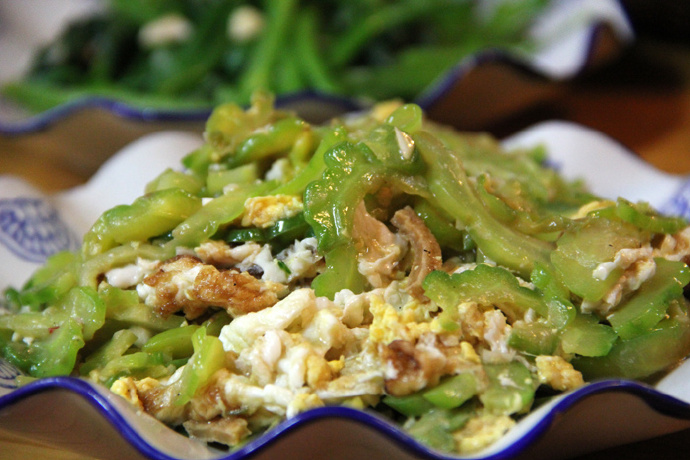 7. Bitter Melon and Egg
Along with tomato and egg, bitter melon and egg is another one of the
popular Chinese dishes to eat in Yangshuo. It goes so well with a fresh
bowl of rice and a scoop of Guilin chili sauce!
像番茄炒蛋一样,苦瓜炒蛋是另一个在阳朔吃到的流行的中国菜。它与一碗热腾腾的的米饭再加一勺桂林辣椒酱搭配简直绝了!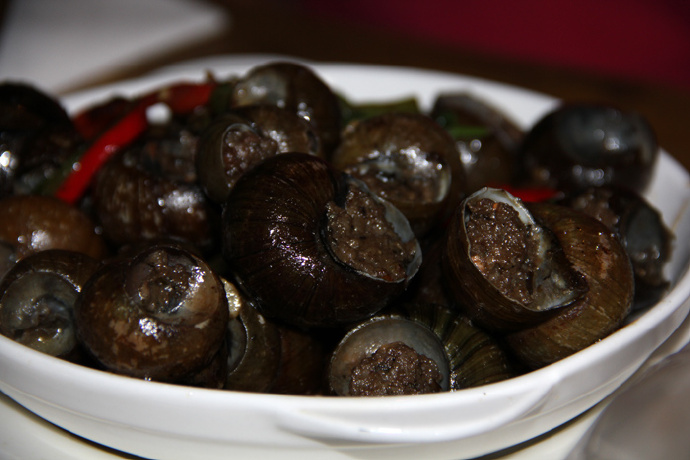 8. Stuffed Li River Snails (阳朔酿田螺)
Many Chinese tourists head straight for the stuffed Li River Snails –
one of Yangshuo's popular speciality dishes. There is actually very
little snail meat and most of the shell is filled up with minced pork
and spices.
These little guys go down great with a few cups of Chinese tea!
许多中国游客直奔阳朔就是为了那被塞满的漓江田螺——一个广受欢迎的特色菜肴,实际上是一点非常小的田螺肉,壳的大部分是塞满了切碎的猪肉和香料。
这些小家伙佐以一杯中国茶,没得顶!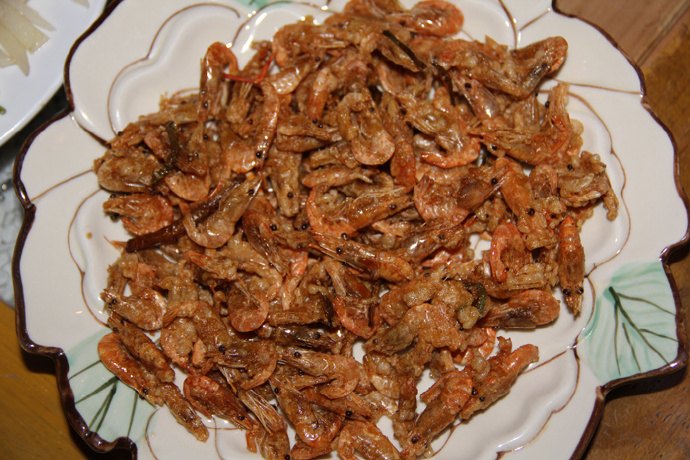 9. Little Fried Li River Shrimp油炸小河虾
Along with the stuffed snails that come from the Li River are the deep
fried bite-sized Li River Shrimp. I think they are the same variety of
shrimp that are used in Thai dancing shrimp, but these guys are stir
fried up with a little rice wine, some salt and pepper.
和田螺酿一道来自漓江的是很小的油炸漓江虾。我想它们与泰国活跳虾是相同的品种,但这些是与一些米酒、盐和胡椒一起煎。