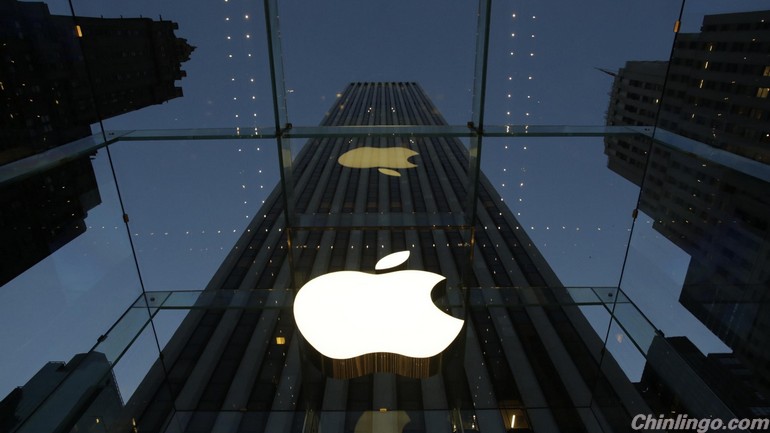 Apple Inc announced new environmental protection initiatives that include a multi-year project with World Wildlife Fund to increase responsibly managed forests across China on Monday.
周一苹果公司宣布将扩大在中国的环保措施,包括与世界自然基金会达成的一项多年合作项目,来增加在中国负责管理的森林面积。
According to the company's press statement, the new forestland program aims to protect as much as 1 million acres of responsibly managed working forests which provide fiber for pulp, paper and wood products.
据该公司的媒体声明称,新的林地项目旨在保护多达100万公亩的可经营森林,这些森林为纸张、木产品等提供纤维。
"Forests, like energy, can be renewable resources," said Lisa Jackson, Apple's vice-president of Environmental Initiatives. "We believe we can run on naturally renewable resources and ensure that we protect—and create—as much sustainable working forest as needed to produce the virgin paper in our product packaging. This is an important step toward that goal and our commitment to leave the world better than we found it."
"如同能源,森林也可以成为可再生资源。"苹果公司环境事务副总裁丽萨·杰克逊说道,"我们相信我们可以依靠自然可再生资源运营,确保我们保护并培植更多的可持续作业林,使得产量等同于我们用于制造产品包装的纸张。这是我们完成目标至关重要的一步,我们承诺要让世界变得比现在更美好。"
Apple's goal is to achieve a net-zero impact on the world's supply of sustainable virgin fiber and power all its operations worldwide on 100 percent renewable energy.
苹果的目标是实现全球可持续原生纤维零影响,推动其全球所有业务可再生能源使用率达到100%。
The company also announced its intention to expand its industry-leading renewable energy projects to manufacturing facilities in China.
该公司还宣布,苹果想要在中国的制造基地扩大其行业领先的可再生能源项目。
Today's announcements come three weeks after Apple launched its first major solar project in China. Solar installations in Sichuan province will generate far more energy than needed to power all of Apple's corporate offices and retail stores in China.
今天苹果公司的声明,是其在中国启动第一个主要太阳能项目的三周后发表的。安装在四川省的太阳能生成的能源将远远超过苹果公司中国办公室和零售店所需的所有能源。
According to the press statement, Apple is partnering with Leshan Electric Power Co, Sichuan Development Holding Co Ltd, Tianjin Tsinlien Investment Holding Co Ltd, Tianjin Zhonghuan Semiconductor Co Ltd, and SunPower Corporation on the project encompassing two 20-megawatt solar farms.
苹果公司称,公司正与乐山电力股份有限公司、四川发展控股股份有限公司、天津津联投资控股股份有限公司、天津中环半导体股份有限公司和太阳能公司就围绕2000万瓦特的太阳能电站项目进行合作。
"Together the project will generate up to 80 million kilowatt hours per year of clean energy, enough to power the equivalent of 61,000 Chinese homes. That's clean energy added to the grid that would otherwise not be there," said the statement.
"项目合作每年将产生高达8000万千瓦小时的清洁能源,足以相当于61000户中国家庭的电量使用。这些清洁能源将并入电网。"苹果公司的媒体文告称。
"Apple's support for this project and its environmental leadership show that protecting forests is not just good for society but important for business," said Lo Sze Ping, Chief Executive Officer for WWF China.
"苹果公司对该项目的大力支持及其环保领军带头作用表明了,森林保护不仅造福于社会,对企业也同样重要。"世界自然基金会中国区总裁罗诗平说道。
"This collaboration between our two organizations will seek to reduce China's ecological footprint by helping produce more wood from responsibly managed forests within its own borders. Doing so is essential to China, the world's biggest timber importer. Our hope is this will catalyze a new model of corporate leadership in promoting sustainable forest management and using paper resources more efficiently and responsibly around the world."
"我们两个组织将协手合作,在我们负责管理的森林区域内帮助培育出更多的树木,争取降低中国的生态影响。这么做对中国来说是至关重要,因其是世界上最大的木材进口国。我们希望这将催生出一种全球范围内提高可持续森林管理和更有效、更负责地使用纸质资源的企业领导新模式。"