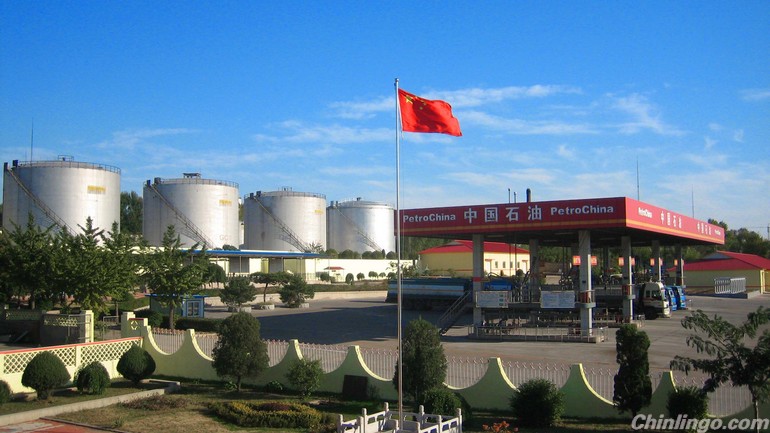 China overtook the United States as the world's top importer of crude oil for the first time in April, and its purchases are expected to remain strong despite a slowing economy, with far-reaching consequences for global oil and commodities markets.
中国在4月份首次超越美国,成为世界最大原油进口国,虽然中国经济增速放缓,它对原油的购买量依然很大,这将对全球石油与商品市场产生深远影响。
The soaring imports came as a surprise as growth in the world's second-largest economy was sputtering and its oil demand was expected to ease. However, low oil prices and China's series of interest rate cuts – including one over the weekend – in a bid to stoke growth are factors boosting demand.
中国作为世界第二大经济体,经济增速虽然放缓,原油进口量却急速增加,这一状况令人吃惊。然而,油价偏低,中国连续降低利率(上周末再次降低利率)以促进经济增长,这些因素有助于提升原油需求。
China's crude oil imports hit a record of almost 7.4 million barrels a day last month, putting it ahead of the United States' estimated imports of 7.2 million bpd for April.
4月份,中国原油进口量创下了每日740万桶的记录,超越了美国每日720万桶的进口量。
While China may drop back to second place in some months ahead, it is clearly headed towards overtaking the United States as the world's top crude importer on a permanent basis.
也许中国在未来几个月内会退居第二位,但显而易见的是,中国正朝着超越美国永久地成为世界最大原油进口国的方向发展。
China is already the world's biggest energy consumer, with oil by far the largest traded energy market. Overtaking the United States means China is the top user of almost all commodities, including coal, iron ore and most metals, with far-reaching implications for markets which continue to shift from West to East.
中国已是世界上最大的能源消耗国,其中,石油是目前最大的能源贸易市场。超越美国意味着,中国几乎成为所有商品的最大消费者,包括煤、铁矿石与多数金属,这对市场继续由西方转向东方有着深远影响。
"Being the world's biggest crude importer should give China more buying power. China's engagement in the Middle East will continue to change, and it will no longer be the minority player," said Philip Andrews-Speed, head of energy security research at the National University of Singapore.
"成为世界上最大原油进口国,中国应该获得更多的购买力。中国在中东的业务会继续改变,它将不再是影响力微弱的市场主体,"新加坡国立大学能源安全研究中心主任菲利普·安德鲁斯-斯皮德说。
Within a decade, oil producers around the world have had to fundamentally adjust their trade routes as U.S. imports fell from over 10 million bpd 10 years ago to around 7 million bpd currently, just as China's imports have risen seven-fold.
随着美国的石油日进口量由十年前的1000万桶降至今天的700万桶,而中国的进口量增加了7倍,全球的石油生产国不得不从根本上调整贸易路线。
Global impact
全球影响
Saudi oil minister Ali al-Naimi was on a high profile visit to China and other Asian countries in April when he announced near record Saudi oil production and said he was "very positive" about continued strong demand from China.
沙特阿拉伯石油部长阿里·纳伊米于4月高调出访中国与其它亚洲国家,当时,他宣布石油产量几乎创下新纪录,他说,他"确信"中国会一直保持强劲的需求量。
China's nascent role as the world's top crude buyer is also impacting trading.
中国才刚刚成为世界最大原油进口国,便对石油贸易产生了影响。
Companies like Unipec or China Oil, the respective trading arms of Chinese national oil companies Sinopec and PetroChina, have entered oil markets on an unprecedented scale.
许多中国公司,包括联合石化与中国石油,已经进入了石油市场,其规模之大可谓史无前例,联合石化与中国石油分别是中国石油化工集团公司与中国石油天然气股份有限公司的交易公司。
With prices still relatively low, China's demand is expected to rise.
由于石油价格偏低,中国的需求量有望继续上升。