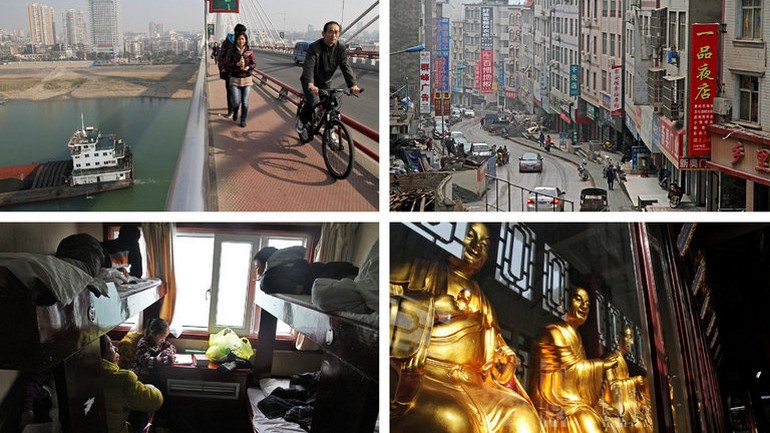 Clockwise from top left, crossing the Yiling Yangtze Bridge; the main street in Badong; figures at a temple in Wuhan; the riverboat cabin the author shared with a family of five.
左上起顺时针:穿越夷陵长江大桥;巴东县的主干道;武汉一家寺庙里的神像;本文作者与一个五口之家共享的船舱。
As the Hai Nei Guan Guang 2 blasted its deafening foghorn and pulled into the Yangtze River port of Fengjie, I brimmed with confidence. Two days earlier, I had nervously boarded a similar workaday passenger boat along another leg of the Yangtze, no idea what was in store. But now, I knew the routine. I'd say san-deng, hand over some cash, receive a handwritten slip with my cabin number, step over sunflower-seed-spitting passengers camped on the floor and settle into whatever rock-hard bunk remained in a room of instant-noodle-slurping Chinese passengers.
当"海内观光2号"拖着震耳欲聋的号角驶入长江上的奉节港时,我的心中充满了自信。两天前,在长江的另一段航程上,我紧张地登上了一艘类似的客船,不知道接下来会发生什么。但现在我已知道流程,大概就是三等舱、交钱、拿到一张注明舱号的手写纸条、走过一群躺在地上并乱吐瓜子壳的乘客、迈进一间充满中国乘客的船舱,并在他们吸溜方便面的声响中找到我那张硬如岩石的床铺。
Soon enough, the ship would arrive at my destination — in this case, about 24 hours later in the mega-city of Chongqing.
很快,这艘客船就会到达目的地——也就是说,24小时以后,我就会到达大城市重庆。
By the next morning I was in a better rhythm, making stunted conversation with the family via a phrase book and accepting a free meal in the ship's dining room from a young physical education teacher who ordered a whole fish in pungent sauce from a menu on the wall I did not even know was a menu. From the deck, I gazed through a ubiquitous haze at new Yangtze River cities, the result of the Three Gorges Dam project, completed in 2006. I posed for cellphone photos with passengers amused by the presence of a non-Asian.
但第二天上午我就进入了状态。我已能借助中英常用语手册与那家人进行不顺畅的聊天,并在客船餐厅里接受一位年轻物理教师的邀请,吃了一顿免费的午餐。他看着墙上的菜单(我甚至没意识到那是个菜单)点了一整条鱼,搭配一种味道浓烈的酱汁。我坐在甲板上,隔着无所不在的浓雾凝视着长江沿线的许多座新城。三峡大坝2006年竣工,这些新城都是三峡大坝工程的结果。一些乘客发现我这个唯一的非亚洲人士之后觉得好玩,纷纷拿出手机要求合影,我就非常配合地摆出姿势。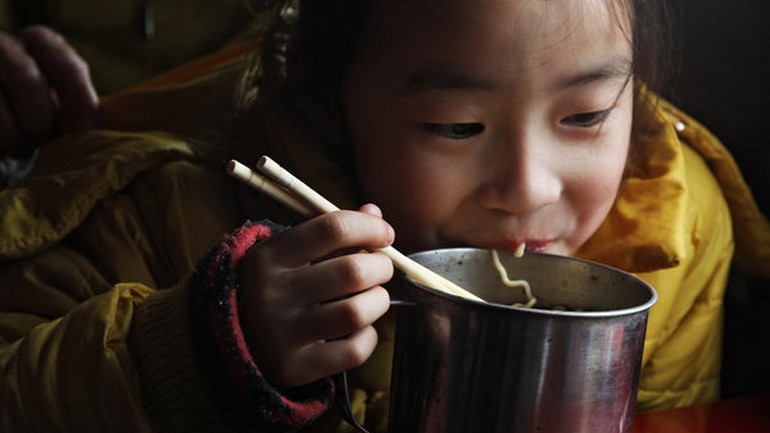 A meal of instant noodles, the main source of nourishment on the riverboat.
方便面是客船上的主要营养来源。
I was an ignorant, hapless and occasionally clownish first-time tourist in the world's most populous nation, and one of its most mysterious to Westerners. And I was enjoying every minute.
中国是世界上人口最多的国家,也是西方人眼中最神秘的国家之一。初次造访中国的时候,我知识准备不足,运气也欠佳,常常陷入手忙脚乱的境地,但几乎每分钟我都觉得很快乐。
Here was the daunting mission: a 10-day trip up the Yangtze River, taking trains and boats, for $50 a day, enough to pay for food, bottom-end hotels and public transport, but not enough for the organized tours and cruises that travelers commonly take through this part of the country.
这趟旅行我肩负着一个沉重的任务:以乘坐火车或轮船的方式沿着长江旅行10天,每天只花50美元。这个预算足够支付吃喝、底层旅馆和公共交通,但根本无力支付含导游的旅行团以及游览这段长江时人们通常选择的高端游轮。
Along the way, I learned some key lessons that will help travelers avoid my mistakes. Don't worry: you'll still make plenty of your own.
这次旅途我学到几个非常重要的教训,在这里与大家分享,希望你们不要重蹈覆辙。不过也不要担心,你们还是会有大量机会来犯你们自己的错误。
It's Not Like Traveling Anywhere Else
这里与其他地方的旅行不一样
Getting ready for a trip through China, especially planning anything outside major cities like Shanghai and Nanjing, is unlike planning a trip elsewhere. The usual sources — guidebooks, Web searches, user review sites — either don't provide the information you need or are in Chinese. Compared with, say, Southeast Asia, China has not been overrun, and thus well-documented, by independent travelers.
如果你打算穿行中国,尤其是上海、南京等大城市以外的区域时,你需要做的旅行准备与世界其他地方都不一样。常用的旅游资源,比如旅行指南、网络搜索和旅游点评网站,要么信息不多,要么都是中文。与东南亚等地比起来,中国的旅游业还不算开发过度,因此能找到的大部分攻略都由自助旅行者撰写。
So what should you do? First, learn how to use Google Translate. It works and is cheap to use, even if you have to turn on international roaming. Second, get a phrase book in which key phrases are written out in large-font Chinese characters. Third, learn how to count from 1 to 10 on one hand as the Chinese do: this is how prices will be relayed you.
那么你该怎么办?首先,学习如何使用谷歌翻译。这个应用软件非常好用,而且价格低廉,哪怕你的手机需要一直保持国际漫游状态。其次,找一本重要短语都以大号汉字印刷的中文常用语指南。再次,学习如何用一只手的手指来表示从1到10等数字。
Trust the Locals
信任当地人
When I travel to far-off countries, I tend to guard my possessions maniacally. But everyone told me crime was a nonissue in China, and by the time I reached Fengjie, I was taking them at their word.
我去偏远地区旅行时,常常以过度谨慎的方式保护自己的财物。但每个人都告诉我中国犯罪问题并不严重,当我到达奉节的时候,我就相信了他们的话。
So when a portside shopkeeper offered to watch my bag for 5 renminbi, I thought, why not, and took off to explore the hilly town unburdened. But I had to come back when she closed at 6 p.m., and the boat wouldn't pull in until 4 a.m. "Where can I wait?" I typed into Google Translate.
当港口一名店主提出以5元人民币的价格帮我照看行李时,我心想,为什么不呢?于是我决定将行李放在那里,一身轻松探索这座山城。但我必须在下午6点回到店铺,因为它要关门下班,但我的客船凌晨4点才入港。"我可以在哪里等船呢?"我将这句话打入谷歌翻译。
It was as if a starter's gun had been fired. She grabbed my suitcase and bolted across the street. I chased her down an alley full of drying clothes and rotting trash, into a wide-open door and up a decrepit staircase. In some parts of the world murder would have seemed imminent. But I trusted this woman. She led me to a family-run flophouse with crumbling walls and dirty, squat toilet bathrooms, but also bedrooms with crisp white sheets, working Internet and a TV with about 100 cable stations. It cost 30 renminbi, and it was perfect. I left my bags, computer included, and continued to explore Fengjie by night.
看到这句话的中文后,店主像听到起跑的发令枪一样,拎着我的行李就朝街道对面飞奔。我追着她跑过一个地上堆满垃圾、空中晾满衣服的小巷,最后走过一道宽敞的院门,爬上一道破旧的楼梯。在某些国家,这样的环境意味一桩谋杀案即将发生。但我信任这位女士。她带着我走进一个简易的家庭旅馆。那里有破败的墙壁、脏污的蹲坑式厕所,但也有几间不错的客房。客房内有整洁的白色床单,网络能用,还有可以收到100个频道的有线电视。房价30元,真是太棒了。我将包括电脑在内的行李放到房间里,然后出门继续夜游奉节。
Don't Skimp on the River Trip
长江之旅千万别省钱
There were supposed to be frequent ferry launches, but in reality, there was only one at 4 p.m., which I booked. And it turned out I had to take a bus to the boat, which actually left around 6 p.m., passing through the gorge after dark and defeating the purpose.
理论上去西陵峡方向的班次会很多,但发船的其实只有下午四点那班。于是我买了票。但后来我发现,我需要先坐一辆公交摆渡车从宜昌汽车站去往宜昌港。等客船真正发动的时候,已经是下午6点左右了,这导致我们天黑以后才路过三峡,我当初看风景的计划也因此破产。
Farther up the river, the only noncruise, daytime option for my trip from Badong to Fengjie turned out to be the faster, more expensive hydrofoil. The windows were thick and cloudy, which is fine for most passengers, who would rather watch the communal TV.
从西陵峡沿着长江继续向西,我发现从巴东到奉节唯一的日间非游轮型班船是一种速度更快、票价也更高的水翼船。窗玻璃很厚,而且模糊不清,这对许多乘客来说都无所谓,因为他们更喜欢待在舱内看公共电视。
Thanks to my no-cruise policy, I missed a chance to see the Three Gorges Dam, as well as many of the side highlights of the Gorges. I did catch the 17th-century Shibaozhai fortress, a 12-story pagoda formerly set high in the side of a cliff but even that sighting was only because a thoughtful Chinese passenger pulled me out of my cabin to alert me.
拜自己不坐游轮的原则所赐,我错过了欣赏三峡大坝的机会,也错过了三峡沿途许多美妙的风景。但我的确看到了17世纪的石宝寨,那是一座建在悬崖上的12层宝塔。但即使是这个景观,也是一位有心的中国乘客将我拉出船舱后我才看到的。
Explore the Old, as Well as the New
探索新旧两个世界
If you're on your own, though, what takes effort is to seek out old China.
如果你是独自旅行,那么寻找旧中国要多费一些功夫。
It was still dirtily urban, so when the English-speaking son of a hotel worker suggested I take a taxi out of town to a "famous" cave that I had heard nothing about, I jumped at that opportunity, even if even if it would cost 80 renminbi for a taxi and 90 for entrance to the park.
巴东市容脏乱,人多拥挤,但当酒店一名工作人员会讲英语的儿子建议我乘坐出租车到城外欣赏一个我从未听过的"著名"洞穴时,我立刻抓住了这个机会,尽管这会让我多花80元的出租车费和90元的公园门票。
What I found was Bashan Forest Park, which was straight out of some mystical Chinese past. A stone path snaked along partway up the side of a gorge. Greenish-gray waters of what I took to be a narrow Yangtze offshoot ran below; above, lush, green hills faded into mist.
后来我发现,洞穴所在的巴山森林公园简直就像从中国神秘的历史中直接走出来的。一条石板小径在峡谷一侧的山坡上蜿蜒前行,一条灰绿色的河流在下面潺潺流淌。抬头望去,黛绿的群山逐渐消失在远方的雾气之中。
The path led to the entrance of a cavern, and, where the same man I had paid for my ticket appeared again, leading me onto a rickety wooden boat, which he propelled, gondolier style, through subterranean passages illuminated with electric lanterns and Christmas-style lights.
小径的尽头就是山洞的入口。我刚才买票时的售票员又出现在我眼前,带我走上一条晃悠悠的木船,并划着威尼斯冈朵拉一般的游船将我带入一个地下溶洞,洞里的照明全靠岩壁上挂着的圣诞彩灯。
Reap Generosity
尽享当地人的慷慨
About the time of the pricey cave trip, I was getting way over budget. For lone, 40-ish male travelers like me, Couchsurfing can be hit or miss. But Chongqing's Couchsurfers were the most eager I'd ever encountered: I got three lodging offers and several other invitations.
在享受私家洞穴之旅的同时,我的费用已大大超出了当初的预算。对我这样40多岁的男性单身旅行者来说,沙发冲浪的机会并不好找。但重庆的沙发客比我遇到的所有城市都更加热情:有三个人邀请我免费住到他们家,此外还有几个其他类型的邀请。
I chose to stay with someone closest to my age, YangYang, a 35-year-old woman who lived with her mother and daughter near the Chongqing Zoo.
我决定选择与我年龄接近的地主。杨扬是一名35岁的女性,与母亲和女儿一起住在重庆动物园附近的一套公寓里。
That night, YangYang took me to meet her "sisters" and their families for dinner at an exclusive restaurant even she could not afford, the V.I.P. restaurant of the Chongqing DLT Hotel.
那天晚上,杨扬带我去重庆大礼堂酒店与几个姐妹及其家人一起吃饭。就餐地点是酒店为尊贵客人专门开设的私家餐馆,非常豪华,她自己是支付不起的。
About 15 of us sat around a huge, round table covered in flowers, under a wall-size painting of tumbling waterfalls. An attentive and excessive serving staff placed endless dishes — delicate dumplings, sesame-encrusted chicken, seafood soup, crispy okra, more than 20 in all — on a mechanized lazy susan. It was luxurious, gluttonous and absolutely free; one of YangYang's friends' husband was the assistant general manager, and he was treating. The ostensible occasion was the coming Chinese New Year. But for me, it felt like my graduation ceremony from China boot camp.
参与聚餐的大约有15人,大家围着一张摆满鲜花的大圆桌坐下。我们身后,一幅画有瀑布的巨型风景画占据了饭店的整面墙壁。态度认真、人数过多的工作人员端上数不清的美食——精致可口的饺子、芝麻鸡、海鲜汤、爽脆的秋葵……20多道菜陆续放上了那张带有转盘的餐桌。这顿饭奢华、美味,而且完全免费——杨扬某个闺蜜的丈夫是这家酒店的总经理助理,这顿饭由他请客。请客的理由,表面上是迎接即将到来的春节,但对我来说,更像是祝贺我从中国旅行新兵训练营完美毕业的庆功宴。