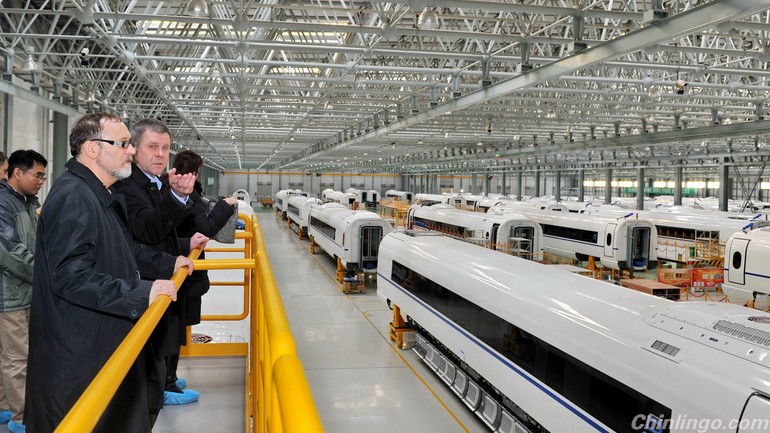 China's rolling stock makers are anticipating more exports of high-speed train technologies to Russia, after a consortium of a Chinese railway engineering survey and design company and two Russian firms won the bid for a high-speed rail project linking Moscow to Kazan in Russia.
由下诺夫哥罗德地铁设计股份公司和中国中铁二院工程集团有限责任公司组成的中俄财团投中了莫斯科-喀山的高铁的相关项目后,中国的轨道车辆制造商希望能出口更多的高铁技术到俄罗斯。
The Russian Railways signed a 20 billion rouble ($390 million) agreement with the consortium of two Russian companies and China Railway Eryuan Engineering Group Co Ltd for engineering research, development, project planning, land survey and design documentation for the construction of the high-speed rail line, according to Russia's Tass news agency.
俄罗斯铁路公司与中俄集团签订了一项200卢布(合3.9亿美元)的合同。据俄罗斯塔斯社报道,合同内容有关高铁线路建设的工程研究、项目发展、项目规划、土地测量和设计文件。
Although CNR Corp and CSR Corp have exported rolling stock to many countries, China is yet to export high-speed trains with operating speeds in excess of 250 kilometers per hour.
尽管中国北车公司和中国南车公司已经向许多个国家出口过轨道车辆,但还没有出口过时速超过每小时250km的高速火车。
The high-speed model operating on the Harbin-Dalian railway since late 2012 could adapt well to the Moscow-Kazan railway once it is built, as it operates well under ambient temperatures of up to minus 40 C at a speed of more than 300 km per hour, he said.
他说,如果莫斯科-喀山段高铁开工,那么2012年底通车的哈尔滨-大连段的高铁运行模式值得借鉴,因为该段高铁在低于零下40摄氏度的环境下仍能以超过时速300千米的速度运行。
Yu Weiping, vice-president of CNR Corp, in February said that the China-Russia project would be a major focus for the trainmaker this year and the company has provided an initial technical roadmap and plan for local production to its partners.
2月,中国北车副总裁余卫平表示,中俄高铁项目是今年的关注头等大事,表明已经为俄罗斯伙伴提供了初步的技术路线图。
CREEC, the Chengdu-based unit of China Railway Group Ltd, got a qualification certificate to conduct engineering survey and design in Russia in late March. Work under the contract will be completed by the end of 2016.
3月末,中国中铁成都分局取得了俄罗斯工程勘探工作和设计报告项目。根据合约,2016年底工程勘探工作和设计报告将会完工。
The Russian-Chinese consortium is "the most promising professional community that integrates decades of good practice and successful experience in the implementation of high-speed rail construction projects and other major Russian infrastructure projects", the Russian Railways said in a statement.
中俄联合集团是"最极具前途的专业团队,拥有数十年的高铁建设以及其他俄罗斯大型基础设施项目的实践经验和成功经历的团队,"在中标公告中,俄罗斯铁路写道。
The length of the Moscow-Kazan high-speed railway is expected to be around 770 kilometers and it will run through seven Russian regions with total population of more than 25 million.
莫斯科-喀山段高铁全长约770公里,穿过俄罗斯7个地区,穿过地区人口超过2500万。
The total investment in the project is estimated to be more than 1 trillion roubles, with some experts indicating that the project could also be a part of the new Silk Road.
总投资预估超过了1万亿卢比,一些专家预计这一项目将纳入一路一带。
The rail link connecting Moscow and Kazan, the capital of Tatarstan, a Russian republic, could go through Kazakhstan and be extended to China, Russia's Ambassador to China Andrey Denisov said in February, according to the Russian News Agency.
这条铁路连接着莫斯科和喀山,喀山是俄罗斯联邦鞑靼自治共和国首府。根据俄罗斯新闻社报道,俄罗斯大使安德烈·杰尼索夫二月访中国时曾表示,一名俄罗斯联邦共和国人就可以经哈萨克斯坦到中国去。