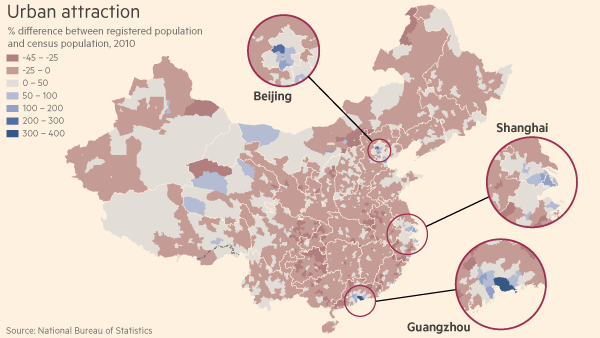 The flow of labour from countryside to city in China has powered three decades of economic growth and engendered what is likely the biggest annual mammalian migration on earth.
中国劳动力从农村向城市迁移,为过去30年的经济增长提供了动力,引发了一年一度或许是地球上规模最大的哺乳动物迁徙运动。
The above map shows this shift on a county and city level based on data from China's 2010 census. It shows the difference between the registered population of an area, and how many people the census takers actually found there in 2010.
上述地图显示了基于中国2010年人口普查数据得出的城镇级别的人口变迁情况。它反映了一个地区的登记人口数量与人口普查员2010年实际查到人口数量的差值。
We learnt three things from making this map:
我们从这幅地图中了解到三条事实:
The scale of human movement captured by this map is staggering
此图反映出的人口流动规模令人震惊
Henan province, which had the biggest exodus (-10.25m), lost more than the entire population of Sweden (9.76m).While Guangdong province, which received the most migrants (+20.5m), gained more than the entire population of Romania (19.94m).
河南省的人口流出规模最大(-1025万),净流出人口数量超过瑞典的总人口(976万)。而在人口流入最多的广东省(+2050万),净流入人口数量超过罗马尼亚的总人口(1994万)。
Not everyone was rushing to move to the coastal cities
并非所有人都涌向沿海城市
China's more remote regions, such as Heilongjiang, Tibet, and Inner Mongolia actually had a net gain in their populations.
中国更边远的地区,比如黑龙江、西藏和内蒙古,人口实际上出现了净流入。
As in Los Angeles, London or Paris, big Chinese cities sprawl.
正如洛杉矶、伦敦或巴黎一样,中国的大城市会向四周延伸
By the 2010 census, people had been moving to Beijing, Shanghai and Guangdong for years, and the map shows clearly that the influx has spilled into neighbouring counties and satellite cities such as Danyang, Huzhou, and Hangzhou for Shanghai. (Hangzhou is 160km away from central Shanghai – or roughly the distance from London to Bristol)
到2010年人口普查前,人口向北京、上海和广东的流动已持续许多年。地图清晰地显示出,流入的人口也外溢到了附近城镇和卫星城,比如上海附近的丹阳、湖州和杭州。(杭州距离上海中心区域160公里,大致等于伦敦至布里斯托尔的距离)
But these things take time. Electronics manufacturers – who employ large armies of workers – were just starting to move inland to cheaper locations such as Chongqing (population: 28.8m ) in 2010.
但这类趋势的形成需要时间。2010年,雇佣大量工人的电子设备制造商刚刚开始向内地转移,转入重庆(人口2880万)等成本更低的地区。
Foxconn, for example, only produced its first laptop from its Chongqing plant on May 18 that year. As a result Chongqing's gain in population, as shown on the map appear far less impressive, and the rural counties surrounding it remain a sea of red.
比如,富士康(Foxconn)的重庆工厂那年5月18日才刚刚生产出第一台笔记本电脑。所以,地图上显示的重庆人口净流入看上去远不那么明显,其周边郊县在地图上也仍是一片红色海洋。
China is conducting its sixth ever national census at the end of 2015 – it'll be interesting to see how the population of large inland cities such as Chongqing and Wuhan have changed in the last five years.
2015年底,中国将实施第六次全国人口普查,届时可以看看过去5年重庆和武汉等内地大城市的人口发生了怎样的变化,那将非常有趣。