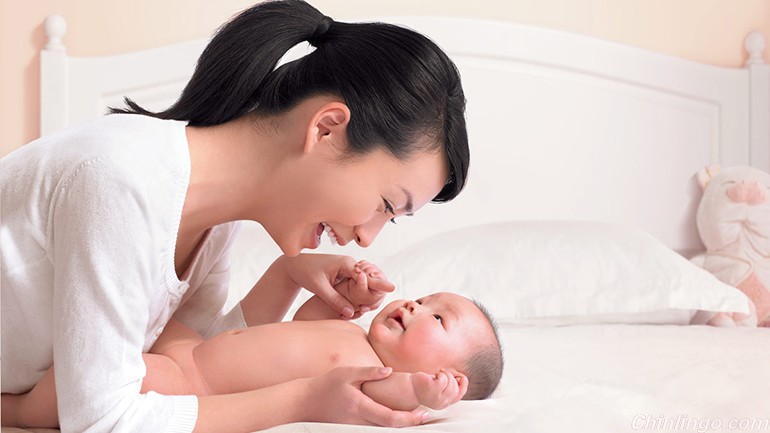 by Jocelyn Eikenburg
A Chinese female friend once said to me, "Western women don't need to do zuo yuezi because you're much stronger than us."
一位中国的女性朋友曾对我说,"你们西方女人不需要坐月子是因为你们比我们更强壮"。
Zuo yuezi, for those of you who don't know about this, is the month-long confinement that new mothers generally observe in China after birthing their child. During that time, they rest, eat nourishing foods, and usually have assistance with the new baby (often from their mother or mother-in-law). It's an extremely important recuperation custom for new mothers in China.
一部分读者不知道什么是坐月子。坐月子指的是中国的新妈妈们生完孩子之后一个月的调理期。在这期间,她们休息,吃滋补的食物,并且通常有人帮忙照料新生儿(通常是她们自己的妈妈或婆婆),对于中国的新妈妈们来说,这是一个非常重要的风俗,帮助她们恢复。
Now, zuo yuezi is not a tradition in most Western countries. But it's not because the women are so strong they don't need a rest!
目前,在多数西方国家,坐月子不是一项传统,但这并不是因为西方女人比较强壮,不需要休息。
After reading "cost of postpartum confinement centers"which I shared,some readers were aghast at the cost. One friend thought that the hotel-like accommodation was only for the extremely wealthy. Actually, while the per night tariff is not cheap, many people I know have stayed at them for a month or longer after having a baby. Others have spent between US$1,000 and US$2,000 a month on special home delivered postpartum meals.
一些读者在看了我分享的"月子中心的开销"后都惊呆了。一个朋友认为这种酒店式月子中心只有那些非常有钱的人才住得起。事实上,尽管月子中心的每晚住宿费并不便宜,但是我知道的许多人生完孩子后,会在这个地方待上一个月甚至更长时间。其他人则会在这一个月里在送货上门的特制月子餐上花费1000到2000美元。
Why is there instead a perception in Western cultures that it is wrong to spend money (and time) on a woman's recovery? If a husband loves his wife, why wouldn't he want her to have the best care? And if she loves herself, why doesn't she demand it?
而在西方文化中,有一种观念认为一个女人生完孩子后花费时间和金钱来恢复是不对的,这是为什么呢?如果一个丈夫爱他的妻子,那他为什么不想让她得到最好的照顾,如果这位妻子爱惜自身的话,那她为什么不要求得到更好的照顾。
getting someone to come in and help the mother with cooking, cleaning and looking after baby so that she can get some sleep? What extravagance! Why, people would think she was lazy, or that she was a negligent mother who could not perform her duties. Real mothers prove themselves by feeding through the night, changing dirty nappies, cleaning up vomit and doing several loads of washing. Then they put on some lipstick and try to look glamorous as they entertain guests.
找人来帮助新妈妈煮饭、打扫、照看孩子,这样她就能有时间睡觉?这是多么奢侈的想法啊!你问为什么,这是因为人们会觉得她懒,或者认为她是一个不称职的妈妈,没有尽到应尽的责任。真正的妈妈会通过给宝宝彻夜喂奶、换尿布、清理呕吐物和做大量清洗工作来证明自己的称职。为了取悦客人,她们还要涂上口红,尽量让自己看起来光彩照人。
Unfortunately, most supermums fizzle out eventually. In my case, it took less than a month with first baby before I began to get worn out and very cranky.
不幸的是,大多数的超级妈妈最后都不了了之。就拿我自己来说,生完第一个孩子后,不到一个月的时间我便筋疲力尽,变得很烦躁。
It's kind of crazy that the absence of zuo yuezi in Western countries could lead people to conclude Western women must be stronger – though it's not the first time I've heard this sort of thing.
从西方国家的女人不坐月子这件事情就得出西方女人更强壮这个结论,实在有点荒谬,但是我已经不是第一次听说这个了。
People in China also claim Westerners are tough because we're taller and larger than a part of the population here in China — with some even attributing this physical difference to diet (that Westerners supposedly consume loads of dairy and red meat). Naturally, this leads to bizarre conversations among friends. For example, one of our friends here in China proudly announced she planned to feed her toddler lots of cheese, because it's supposedly the "food of champions" for foreigners. All the while I kept thinking to myself, where did she learn this nonsense?
中国人还说,(我们)西方人更强壮是因为我们比大部分中国人更高大,有些人甚至把这个体质上的差异归结到饮食上,(因为)西方人吃了更多的乳制品和牛羊肉。当然,这种误解引发了(许多)朋友间的滑稽对话。比如,我在中国的一个朋友就骄傲地宣称,她计划给她的宝宝喂很多黄油,因为对外国人来说,黄油是食物之王。我一直在想,她这是从哪学来的这种无稽之谈。
By Ember Swift
The modern "zuò yuèzi" is not as strict as the traditional one, so, yes, I'd recommend it to new moms. In the West, some new moms think they need to jump right back into life and work after delivering a child; they're too hard on themselves. I think the practice is primarily about rest and recovery, not to mention establishing those early bonds with your child and as a family unit. The connection to TCM in the rules related to cold, wind, water (etc) all make logical sense, but some of the stricter requirements like not bathing (yikes!) are just not realistic in this day and age when we have access to hot water in the wintertime and when our homes are (mostly) free from drafts. What's more, how wonderful is it to have someone making your meals and taking care of your home while you just get used to being a mom? It's hard to turn down such a beautiful offer of caregiving.
现代的坐月子不像传统坐月子那么严格,所以,我向新妈妈们推荐它。在西方,许多妈妈觉得一生完孩子就需要迅速回归到生活和工作中。她们的这种做法对自己实在太苛刻了。我认为坐月子主要是为了休息和恢复,更不用说和宝宝建立亲情的纽带。坐月子期间不能着凉、不能吹风、不能沾生水的这些习俗在中医上都有逻辑意义,但是一些更为严格的要求,如不能洗澡,就现在这个年代来说就显得不切实际,因为(现在)冬天我们有热水,而且大部分人的家里都密不透风。更重要的是,当你正在适应当一个妈妈的时候,有人为你做饭并料理家务,这是一件多棒的事情啊。有人提供看护、照料,你会不忍拒绝这种美事!