In a country whose culinary reach is catching up to the rest of its ambitions, I visited a restaurant that does all of that and more.

在中国,一如这个国家在其他方面所展现出的发展动力,餐饮业也正在迎头赶上。我最近光顾的一家餐馆,不仅做到了上述的一切,甚至还有所超越。
It's named Ultraviolet. It's physically in Shanghai but spiritually unbound, thanks to the moving, shifting images projected onto the blank walls that encircle the windowless dining room, which has one long table for just 10 people, a crew of gastronauts floating hither and yon. Now you're in an amber field, now under a bell tower. Now amid the stars, and now pressed close against a window pearled with raindrops.
餐馆的名字叫做Ultraviolet。虽然位于上海,但感官上却无远弗届,这要归功于投射到墙上不断移动变化的影像。这间餐厅的四面墙壁上空无一物,甚至没有一扇窗,有一个可供10人用餐的长桌,这些美食家将会在不同场景之间游弋。这会儿你在琥珀色的田里,过会儿你又置身钟楼之下。此一时遨游星海间,彼一时又紧挨窗户,窗上挂着珍珠般的雨滴。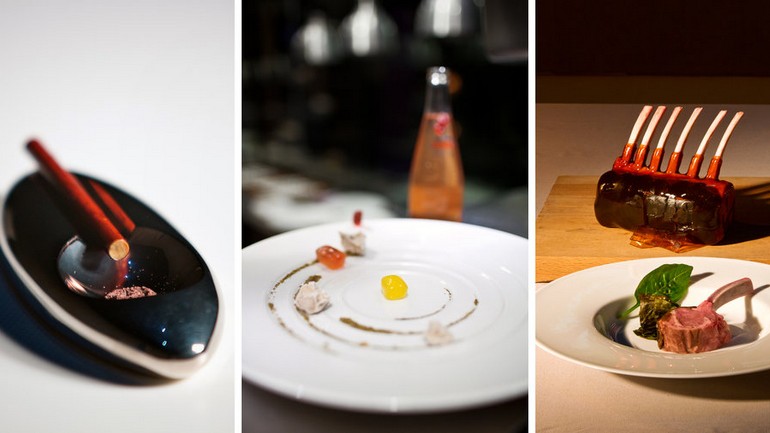 More dishes from Ultraviolet. From left: Foie Gras — Can't Quit, a slim cigarette of liver; a dessert of melted Gummi bears; and a lamb dish.
来自Ultraviolet的更多菜品。从左至右:"戒不了的鹅肝酱"、小熊软糖甜点、还有一道用羊羔肉做成的菜。
What you hear and sometimes smell changes with the sights, each of roughly 20 courses getting its own multisensory showcase. The waves and the ocean's aroma were for a lobster appetizer. A subsequent dish of eggplant and tahini was paired with a sumptuous visual travelogue of Greece.
你听到的闻到的,会因为眼前景色的改变而改变。全餐大致20道菜,每一道都有对应的多感官演示。作为开胃菜的龙虾,对应的是海洋的芬芳。随后上来的茄子和芝麻酱的菜肴,则跟希腊纪行中奢华的视觉享受对应。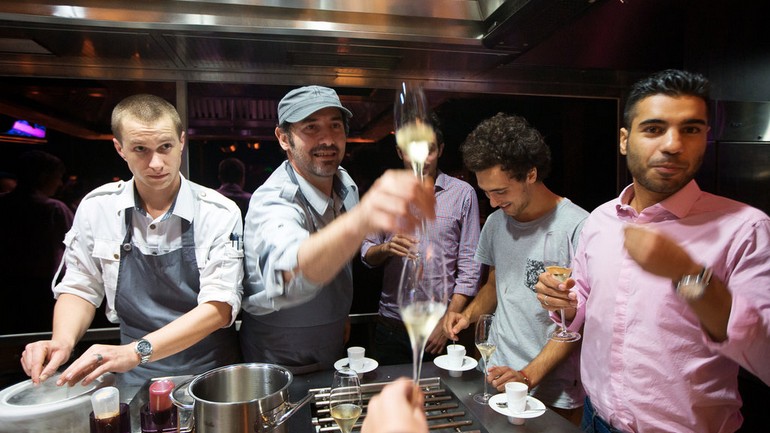 Sharing drinks and desserts in the kitchen with Mr. Pairet.
与派雷特在厨房里喝酒吃甜点。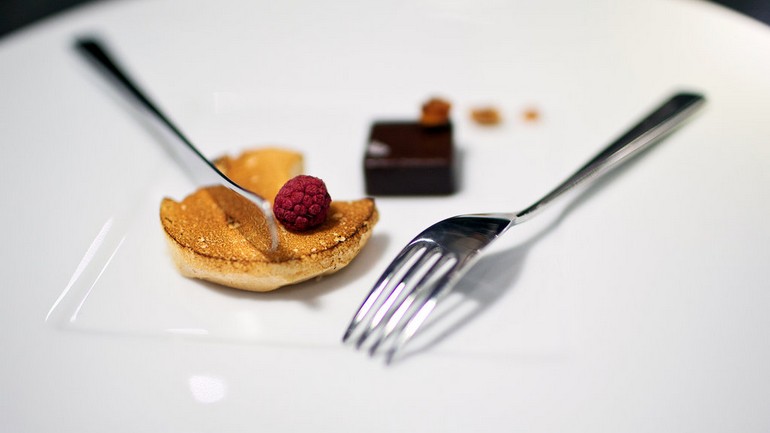 Tartine Chocolat, another of Ultraviolet's desserts.

Ultraviolet的甜点Tartine巧克力。
Ultraviolet, which opened last year, is one of a mind-bending kind. But it's also a perfect ambassador for China's dining scene right now, capturing the frenzy and swagger of it all. The country's flush of wealth and influx of business travelers have given rise to restaurants more varied, distinctive and imaginative than before. In Beijing, I found an elegant vegetarian place, King's Joy, that mimics a mountaintop monastery. Mist rises from the stones outside its entrance and around its courtyard; in the main dining room, a harpist plays angelic music.
Ultraviolet去年开业,给你带来一种仿佛幻觉的体验。但它也恰如其分地代表了如今中国餐饮业的面貌,捕捉了它的狂热和傲慢。当今中国财富涌动,吸引了大量商务旅客,大量前所未见更具多样化、更有个性和想象力的餐厅应运而生。在北京,我发现了一家优雅的素食餐厅京兆尹,风格仿佛山顶修道院。从门外到院子,薄雾从石头里飘出来。在主餐厅,一位竖琴乐师演奏天使般的音乐。
LOST HEAVEN
花马天堂云南餐厅
The day after I dined at Lost Heaven, in Beijing, I went back to talk with the cooks and figure out what I'd had. I wasn't sure.
在北京的花马天堂云南餐厅用餐的次日,我回去和厨师谈话,希望搞清楚我都吃了些什么。但我仍不确定。
I knew that in the sensational Burmese tea leaf salad, there had been shredded cabbage, fish sauce and peanuts. But the other crunchy, salty bits? What were those?
我知道美味的缅甸茶叶沙拉中有碎卷心菜、鱼露和花生。但是另一种脆而咸的小东西又是什么呢?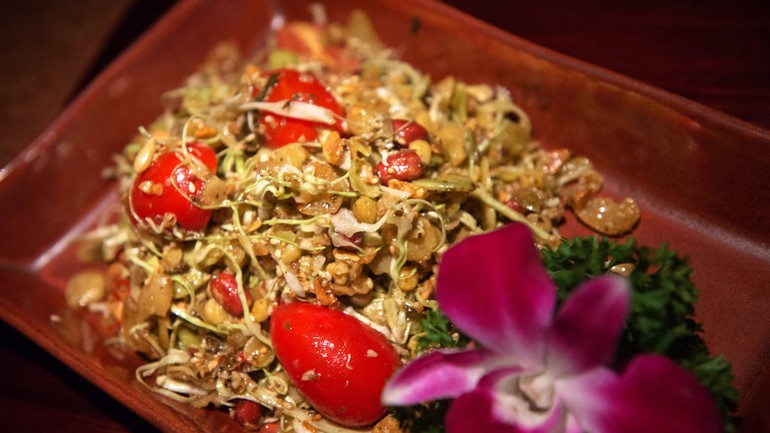 Burmese tea leaf salad, a dish of shredded cabbage, fish sauce, peanuts and three different kinds of beans.

缅甸茶叶沙拉,里面有碎卷心菜、鱼露和花生,还有三种不同的豆子。
One of the cooks answered by handing me a plate with three kinds of beans that weren't instantly familiar. He identified one as an Indian yellow bean and another as a dal bean. The remaining one he couldn't name. All had been toasted, he said, to tease out a nutty flavor.
其中一名厨师解答这个问题时,递给我一碟东西,里面装着三种不同的豆子,我不能立即辨识出它们。他说其中有一种印度黄豆,另一种是木豆。剩下的一种他也叫不出名字。他说,为了释放出坚果的滋味,他们对所有豆子进行了烘烤。
Lost Heaven, which opened last year, is more than great eating: it's a learning experience. A teachable meal. It specializes in the Yunnan region's cuisine, little known in Europe or the United States. That cuisine uses cheese to a degree that other Chinese cooking doesn't, and it's mad for mushrooms and flowers. All of this informs Lost Heaven's menu, which additionally reflects the region's proximity to Myanmar and Thailand, countries that the restaurant's Taiwanese owners have lived in. Lime and lemon grass show up.
花马天堂于去年开业,它不仅能提供美味的食物,而且还能提供一次学习体验。我们能在用餐过程中学到东西。它主要提供云南地区的特色菜,欧洲和美国对此都几乎一无所知。这种烹饪方法会使用一定的奶酪,而中国其他地区不会如此,而且它还非常爱用蘑菇和鲜花。这些都体现在了花马天堂的菜单上,而且菜单还反映了云南与缅甸和泰国的接近程度。花马天堂的台湾老板曾住在这些国家。菜品中还经常出现青柠檬和柠檬草。
Beijing's Lost Heaven has two identically named sisters in Shanghai. It arranges 200 high-backed seats that resemble thrones in a series of dark, sexy rooms whose Asian-temple motifs verge on kitsch.
北京的花马天堂在上海有两家名称相同的姐妹店。餐厅有一系列昏暗而性感的房间,里面的亚洲神庙图案略显低劣。这里设有200个靠背很高的座位,造型很像君主的宝座。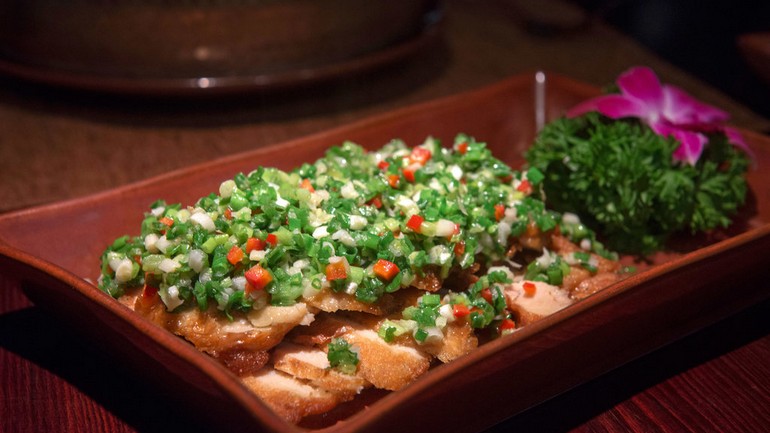 A dish of chicken dressed in a coat of red peppers, green onions, garlic and ginger.

表层撒有红椒、绿葱和姜蒜的鸡。
For a fantasia of this scale, the kitchen's work is surprisingly precise. The menu alternates relatively ecumenical dishes like the Dali style chicken, which wears a deftly woven coat of red peppers, green onions, garlic and ginger, with idiosyncratic ones like scrambled eggs with white mushrooms. In nearly everything I had, the ingredients were first-rate and the spicing beautifully calibrated.
对于如此规模的人造神奇世界,厨房的工作异常精确。菜单上既有大理风味的鸡(厨师巧妙地给这道菜撒上了一层红椒、绿葱和姜蒜)等相对普通的菜品,也有炒鸡蛋配白蘑菇等特色菜肴。我所吃过的几乎所有东西的食材都堪称一流,香料的用量也恰到好处。
JING YAA TANG
京雅堂
There's long been robust discussion, and no agreement, about where to find the best Peking duck in Beijing. Things just grew more complicated with the arrival of Jing Yaa Tang, which fired up its specially made wood-burning oven and began serving a rendition of this dish as superb as any I've tasted.
在北京,关于哪里的北京烤鸭最好一直存在热烈的讨论,但一直没有定论。京雅堂的到来使这个问题更复杂了,它使用以木头为燃料的特制烤炉,烤出来的鸭子是我吃过的烤鸭里最美味的。
The skin of this duck! Almost as thin as paper, almost as crisp as a potato chip. And the meat! Dark, rich — the chocolate of flesh. The pancakes that went with it were gossamer-delicate, and Jing Yaa Tang's version of hoisin sauce, made with dried dates, was less syrupy and cloying than the usual. The overall effect was sublime.
鸭子的皮!它几乎薄如纸片,脆如薯条。还有肉!颜色深而口感醇厚——简直是肉中的巧克力。 随鸭子送来的薄饼非常薄,而京雅堂用干枣制成的海鲜酱也不像普通酱料那样浓稠而厚重。整体口感非常出众。
An admission and a caveat: I ate there in the days just before its formal opening, by special arrangement, because I didn't want to miss a chance to try it. It wasn't serving a full house and was putting its best foot forward.
我必须承认一件事,也必须提醒各位:我是在这家店正式开业前的几天,通过特殊安排去用餐的,因为我不想错过品尝它的机会。那一次京雅堂并没有准备很多菜,只是拿出了自己最拿手的东西。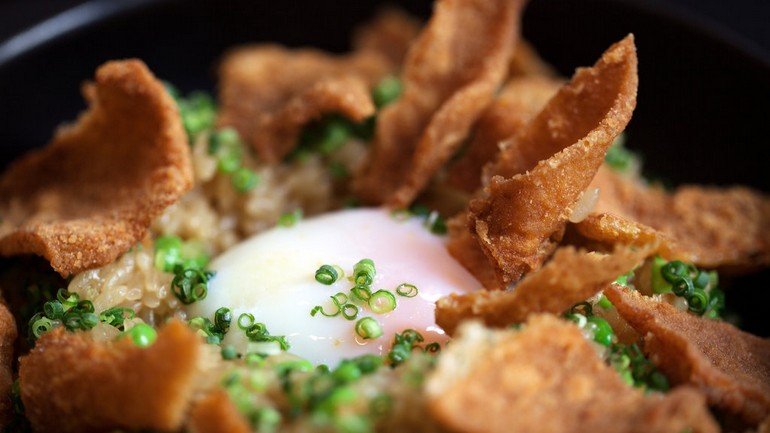 Rice with oozing egg, crisp chicken skin and green peas.

溏心蛋、脆鸡皮和豌豆炒米饭。
But what a comely foot that was. Beyond its specialty of duck, Jing Yaa Tang skillfully executed a range of other dishes meant to represent a concise, pan-regional survey of China's greatest hits, refracted through a modern sensibility. I was especially taken with a dish of Sichuan poached chicken and crushed peanuts in a gently fiery sesame sauce; shrimp fried rice with the restaurant's outstanding XO sauce; and a clay pot of tender cod with caramelized baby onions.
可它拿手的菜实在令人印象深刻。除了特色菜烤鸭以外,京雅堂还匠心独具地提供了一系列其他菜品,希望对中国名菜进行一次简要的、跨地域的巡礼,并通过一种有现代感的菜式呈现这些菜肴。尤其令我难忘的是:一道由四川清蒸鸡和撒在微辣的麻酱里的花生末组成的菜、配有餐厅美味的XO酱的虾仁炒饭,以及用嫩鳕鱼和用糖炒过的小洋葱炖制的砂锅。
Jing Yaa Tang occupies a handsomely appointed space inside what is perhaps Beijing's best boutique hotel, the Opposite House, and all the gorgeous plates were designed for the restaurant. It has an additional distinction: the chef Alan Yau, who created the Chinese restaurant Hakkasan, in London, consulted on the project, the first he has worked on in his ancestors' land.
京雅堂空间宽敞,它所处的地方或许是北京最好的精品酒店——瑜舍酒店,那些精致的盘子都是为这家餐厅特别设计的。它还有另一个特别之处:大厨丘德威。丘德威曾在伦敦创建中餐馆Hakkasan,他在京雅堂做顾问,这是他在祖先的土地上参与的第一个项目。
You're not given Ultraviolet's address, but told to meet instead at Mr. & Mrs. Bund, the other restaurant whose kitchen is overseen by the chef Paul Pairet, a Frenchman who has made Shanghai his home for the last eight years. You and your nine tablemates are transported in a small bus to an odd, unmarked location away from the city's commercial thoroughfares. In a blackened antechamber there, a heartbeat grows louder and louder; "Also Sprach Zarathustra," the music familiar from "2001: A Space Odyssey," kicks in. A wall slides open, and you're ushered into the dining room.

你没有拿到Ultraviolet的地址,只是被告知在Mr. & Mrs. Bund会合。这是由大厨保罗·派雷特担任主厨的另一家餐厅。过去八年里,这个法国人一直住在上海。然后,你与其他九名同席用餐者将乘坐一辆巴士来到一个奇怪而不起眼的地方,远离市区的商业大街。在灯光阴暗的接待室里,心跳声越来越响;这时传来了电影《2001太空漫游》中人们熟悉的音乐"查拉图斯特拉如是说"。一扇墙滑开,你被带入餐厅。
The genius of Mr. Pairet and Ultraviolet is that just when all of this starts to feel too gimmicky, too fast, too much, he slows everything down for three relatively straightforward main courses — of sea bass, rack of lamb and Wagyu — that have a classic French pedigree and leave no doubts about his mettle as a cook. They're a pivotal breather, and they were breathtaking.
派雷特和Ultraviolet的天才之处在于,就在这一切开始让人感觉太花哨、太快、太多的时候,他会放慢步调,带来三道相对简单的主菜——石斑鱼、羊肋骨肉和神户牛肉,毫无疑问,这些经典的法国菜充分展示了他的厨艺。它们既带来重要的喘息机会,又让人惊叹。
For dessert, it's back to the circus, including a course of melted and dissolved Gummi bears. Yes, Gummi bears. The surrounding walls show footage of cartoon bears in a footrace, and as they circle the room, so do Mr. Pairet and a team of servers, running shadow laps.
甜点看起来像是回到了马戏团,比如融化的小熊软糖 。是的,小熊软糖。周边的墙壁上展示了卡通熊参加竞走的镜头,当它们环绕房间的时候,派雷特和一组服务员也跑了几圈。
Ultraviolet is luxury lunacy, costing about $400 a person, but that includes all the beverage pairings and the tip. It books up many, many months in advance. But the pinch and the headache are redeemed by its singularity, and its commotion is inextricable from the sense of wonder it stirs. In other words, it tracks the maddening and mesmerizing country that harbors it.
来Ultraviolet就餐是非常奢侈、疯狂的行为,这里的人均消费为400美元,但这包含饮料和小费。而且需要提前数月预定。但它的独特性还是值得我们忍痛消费,它的骚动与它带来的神奇感觉不可分割。换句话说,它是在反映它所在的这个令人发狂的、迷人的国家。