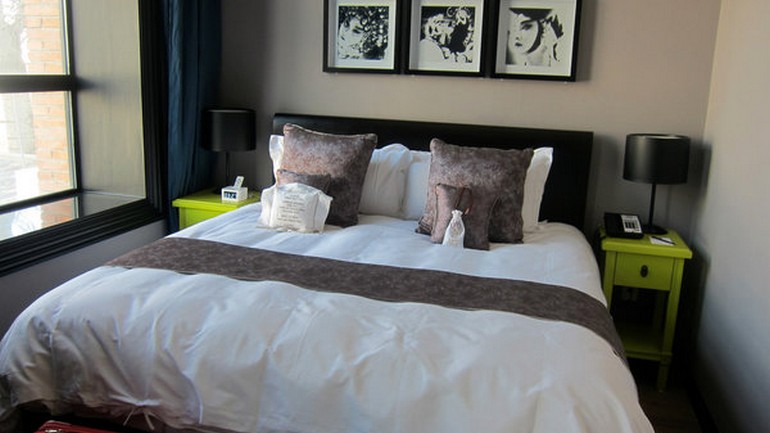 Rates
Rooms start at 850 renminbi (about $140, at 6 renminbi to the dollar), plus service charge.
Basics
This 30-room boutique hotel, which was the Yi House Hotel until the Grace Hotels Group bought it and reopened it in late 2011, embodies both eccentric and luxe well. Colorful abstract paintings and embroidered carpets fill the walls of its otherwise minimalist lobby alongside a bright green sofa and gray crushed-velvet chairs. The artiness gets more sedate as you approach your room: the hallways of the upper floors are dedicated to lush photos from films like "In the Mood for Love."
Location
The hotel is in the 798 Art District, home to a lively Beijing cultural scene that took root in an area of decommissioned military factory buildings in the 1990s. Now filled with galleries, cafes, little boutiques and craft shops, the neighborhood, with its Bauhaus-style buildings, has been likened to SoHo in New York.
The Room
Rooms range from the small Artist Studio to a large Grace Suite. The Superior Room was striking: it held a big gray crushed-velvet sofa and bright green night stands, a desk and closets. A basket overflowing with fresh strawberries was a nice touch, although it made my husband and me wish we still had the glasses of Champagne that we were offered at check-in. We also appreciated the iPod docking station, turndown service, stacks of local art magazines and the view of the hotel's serene courtyard.
The Bathroom
Spacious enough for two large sinks and chic, done in black and white with lime green and orange accents. Ba Yan Ka La, a trendy Chinese brand of natural skin-care products, did the toiletries, which included an unusual goji berry soap. The bathtub and a hand-held shower, though, were not intended for taller people. Showering was trying for my husband, taller than six feet.
Amenities
Grace has a restaurant, Yi House, which offers Asian and Mediterranean dishes, and Bar 798. The Grace Group's concierge service lets you make various arrangements ahead of time — from picking your pillows to ordering up a cot. The hotel also has a gym.
Breakfast
Breakfast, free with the room and served in Yi House, presented a mind-boggling set of choices. In addition to coffee and tea, our beverage options included Champagne, mango or chocolate smoothies and a number of juices that we could order infused with rosemary or ginger. We also had our pick of fresh fruit, cheeses and cold cuts, pastries and cereals before even getting to the entrees, which were divided into Asian and "hot" selections. My husband's caramelized banana pancake was outstanding; my egg white and sausage fried rice was a little bland.