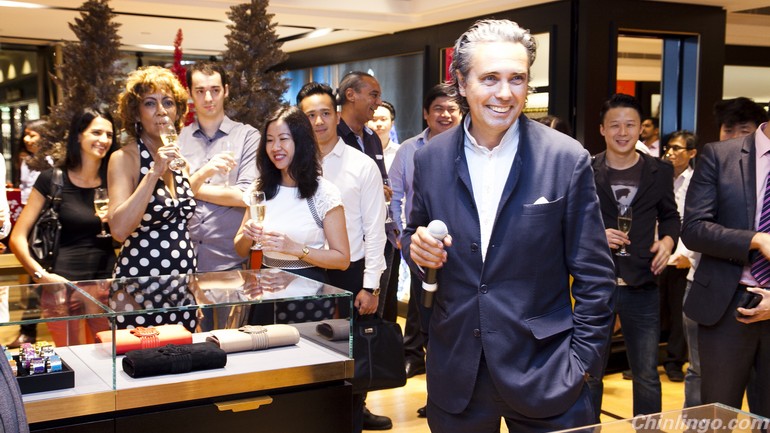 If you listed the factors that can benefit a firm's success in China, being led by a foreigner is certainly not one of them. Yet French born Raphael le Masne de Chermont has managed to beat the odds.
如果要罗列有助于企业在中国获得成功的因素,那么由外国人来领导肯定不是其中的因素。然而,在法国出生的拉雷富逸却令不可能成为可能。
In 2002, he joined glamorous Chinese lifestyle brand Shanghai Tang as executive chairman.
2002年,他加入魅力十足的中国生活方式品牌"上海滩",出任总裁。
And in just over a decade, he has managed to switch the firm from a single Hong Kong store aimed at Western tourists who wanted a Chinese souvenir during their travels, into a luxury brand attractive to Asian and Chinese shoppers.
仅仅用了10年时间,他就把这家只有香港一家店面、面向采购中国纪念品的西方游客的公司变成一家在亚洲及中国顾客眼中极具魅力的奢侈品牌。
This is not easy for him. When he joined the firm, there was no such thing as a high-end Chinese brand. Locals shopping for designer labels would look to overseas names such as Hermes or Burberry.
这绝不是一件容易事。当初他加入公司时,还没有高端中国品牌这回事。当地人要买设计师品牌产品都会把目光投向爱马仕和博柏利等海外品牌。
The secret to Shanghai Tang's successful turnaround was balancing the "knowhow of the West" with the "culture of the East", says Mr le Masne de Chermont.
雷富逸说,"上海滩"成功转身的秘诀在于重视"西方的技术",也要重视"东方的文化"。
In practice, this meant pairing up Chinese and Western designers to work together on the firm's products, which range from clothing to home furnishings.
放到现实中,这就是说,让中国设计师与西方设计师一对一合作完成从服装到家居所有产品的设计。
"The Chinese designers bring his culture and his feeling and his sensibility and, the Western designers bring the style, the fabrics, the best practice of international fashion," he says.
他说:"中国人贡献自己的文化、感受和品位,西方设计师则贡献式样、布料以及国际流行的最佳做法。"
Today, the firm continues to run its business in the same way, with half of its designers Chinese and the other half Italian and French.
这家公司至今仍然使用这种方法,中国设计师与意大利法国设计师各占一半。
His simple advice to the Western leaders looking to duplicating Shanghai Tang's success in China is "modesty".
对于想要复制"上海滩"在中国的成功的西方管理者来说,他的建议很简单,就是"谦虚"。
"It's true for every business man going to another culture. You have to understand the new culture and you have to adapt to it."
"这适用于任何进入异域文化的商人。必须了解这种新文化,必须适应。"
It's sage advice. China has become a priority for firms seeking growth. As the world's most populous country, its burgeoning middle class offers massive opportunities. But it's easy to underestimate the differences in the knacks of doing business in China and other markets.
这条建议是明智的。中国已经成为公司寻求增长的重点。作为世界上人口最多的国家,中国的中间阶层迅速扩大,蕴含着大量机遇。但是,中国的生意经与其它地方的生意经差别之大,很容易低估。
Leadership expert Steve Tappin, who works with both Chinese and Western chief executives, says many bosses assume that doing well at home means they will certainly succeed in the East.
领导力专家史蒂夫•塔平说,许多老板自以为在国内干得不错,到了东方也会成功。
Liu Chuanzhi, founder and chairman of Chinese computing giant Lenovo, says that the problem usually stems from a purely theoretical understanding of how businesses operate.
中国计算机巨头联想公司的创始人、主席柳传志说,问题经常出在对业务经营只有理论上的认识。
They live in a good residential area with lots of other expats, send their children to international school and have limited interaction with the "real" China, says Joe Baolin Zhou, chief executive of Bond Education Group, the largest private education service company in southern China.
中国南方最大的私人教育服务公司邦德教育集团的总裁周宝林说,他们住在外国人聚居的舒适的住宅区内,把孩子送到国际学校,与"真实"中国的互动是有限的。
For Western firms to fill in the gaps in their knowledge they need to recruit local business leaders, he says, or Chinese people who have returned from overseas, and put them into senior positions to provide better insight into the Chinese market.
他说,西方公司如果要填补这个知识缺口,需要招聘当地人或者海归人员来管理公司,让他们担任高级职务,以便更好地认识中国市场。
But the biggest lesson is that firms need to be patient.
但是,最重要的一条经验是公司要有耐心。
When China started to encourage development of a market economy, there were no proper systems or written contracts, so doing business with a friend was initially the only way to ensure that they wouldn't be tricked. A personal friendship is still a prerequisite for doing business in China, but it takes time to establish friendship.
中国开始鼓励发展市场经济时,没有正规的机制或书面合同,与熟人做生意是最初确保自己不受骗上当的唯一途径。至今,私人交情仍然是在中国做生意的先决条件,而建立私人交情是要花时间的。