This is not California or the Gold Coast of Australia; this is Hainan, China's largest tropical island and a beach-fringed playground.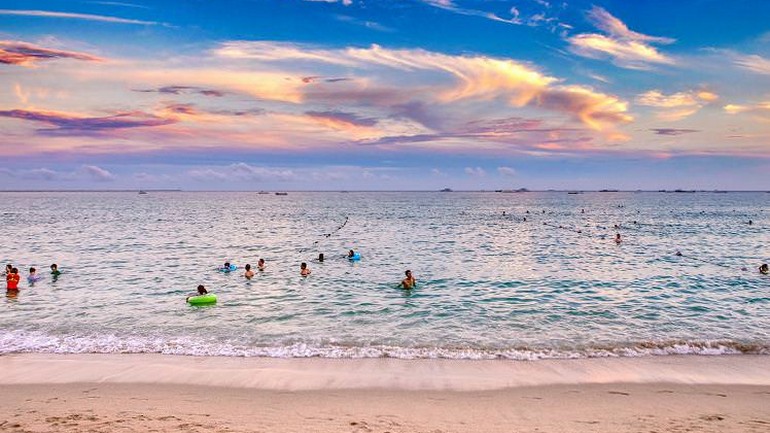 Sugary sands and pink sunsets on Hainan
Visiting Hainan today, it is incredible to think that this island the size of Belgium was an isolated backwater only a few decades ago. Its rainforests, white-sand beaches and tropical climes lie just a few miles from the tip of Guangdong province, but until the economic boom of the last 30 years remained largely ignored by the mainland. Today the island receives over 35 million tourists a year (the majority domestic) and the coastline has been transformed, the main beach resort of Sanya coming into view as a comb of high-rises. Hainan is flush with money and now one of China's most popular and luxurious getaways.
All this means some of the country's most opulent hotels can be found on Hainan's southern shore, and with regular flights and a high-speed rail link between the capital Haikou and Sanya, the island's charms are very accessible. Once you're weary of touring the ancient sights and frenetic cities of the mainland, take some downtime on the beaches of Hainan. Paddle in the warm waves of China's surf capital, dine with boat-dwelling Dan people, cycle cool rural highlands, or just watch the sun sink over the South China Sea while breathing in some of the cleanest air in the country.
Riding the waves of China's surf capital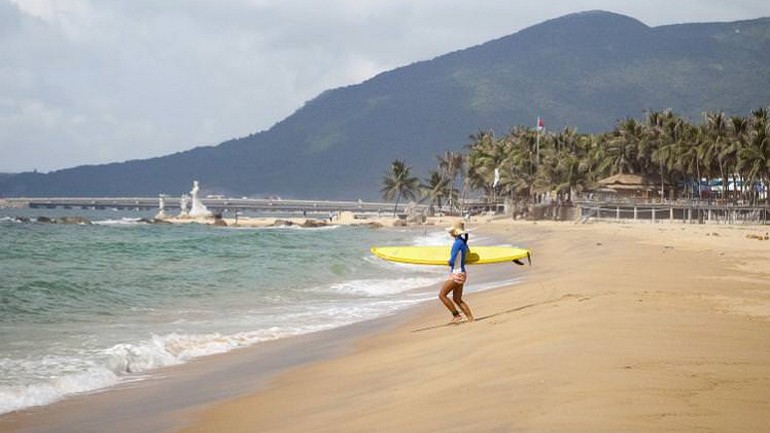 Hitting the waves at Sun and Moon Bay
Hainan is the centre of China's nascent surf scene and while its waves are no match for Hawaii's giant swells, its bays offer up a mix of breaks that are challenging enough for it to host four annual surfing competitions. And it's still possible to find you've got the waves to yourself, especially in the midday sun. Sun and Moon Bay and Shimei Bay on the east coast are the best spots, with point breaks and beach breaks to please both beginners and the more experienced. Dadonghai and Houhai further south have more placid but warmer waters and are suitable for absolute novices.
Dining at a Dan boat village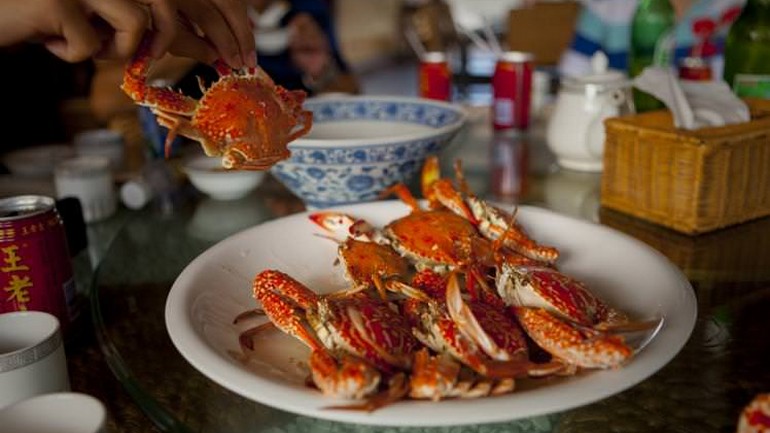 Fresh crabs at Haitang Bay Impression Seafood Restaurant
Boat-dwelling Dan communities have existed in the provinces of southern China for centuries. Once forbidden from living on land, they have made a watery life on the rivers and estuaries of coastal regions, setting up their buoyant villages for a generation at a time. Floating restaurants in the village at Haitang Bay are fashioned on large platforms with fully equipped kitchens and submerged containers where you can watch your order come flip-flopping out of the water beside you. You choose whether you want your catch steamed, fried or barbecued and then tuck into the freshest crab, tiger fish, squid and shrimp, all spiced with a little of Hainan's yellow lantern chilli.
Sybaritic stays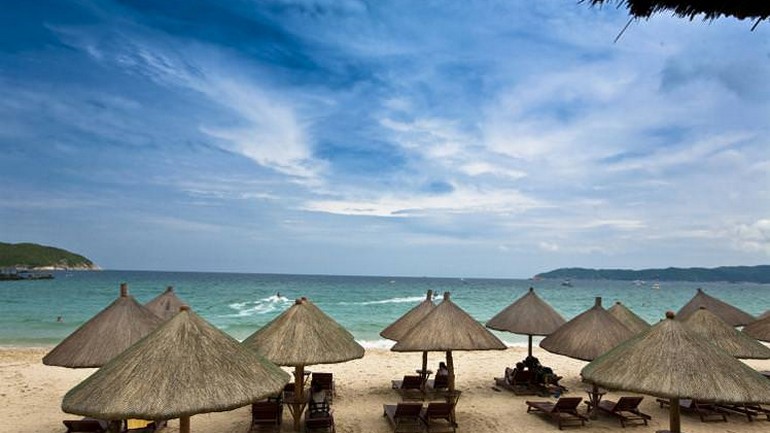 A Dreamy setting in Yalong Bay
Luxury hotels are popping up like well-appointed mushrooms on Hainan. Intercontinental, Marriott, Ritz-Carlton and St Regis have all opened branches on the island. The Westin Sanya Haitang Bay Resort is situated away from the tourist bustle of Sanya but smack dab next to the world's largest duty free shopping mall. Rooms and villas surround a huge water garden with lagoon pools, Jacuzzis, cabanas and a ribbon pool where you can drift down to the beach and back again.
Couples on retreat are particularly well-served; there are over 500 wedding photographers on the island. The hushed and lovely Banyan Tree Sanya offers the duel combo of complete privacy and utter indulgence: dining in the sand, free massages, petal-strewn bathtubs and other Babylonian extravagances are all available.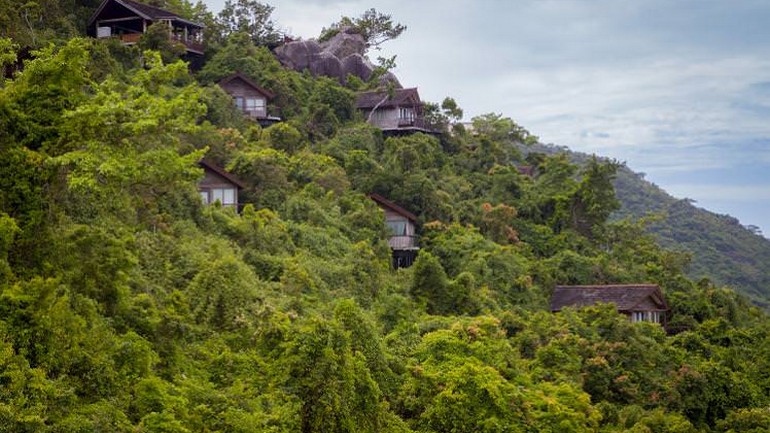 Nestled into the jungle: Earthly Paradise
Away from the beach, the Yalong Bay Earthly Paradise Bird's Nest Resort is located in a tropical forest where individual villas perch like luxury bird boxes in the treetops. Outside bathtubs, flitting butterflies and an infinity pool accessed via a series of treetop walkways complete the jungle experience.
Cycling in Haina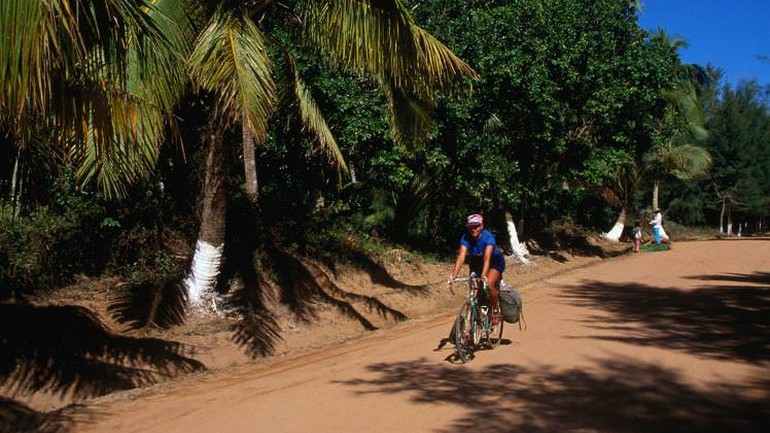 Cycling in search of an indigenous Hainanese village
Hainan's clean air, low traffic, green peaks and pretty farming valleys make for some excellent cycling terrain. Along the north coast you can ride alongside sandy beaches before making a foray into the interior to find waterfalls, jungle and indigenous villages. Haidian Island's rural landscapes and fishing villages are just a short peddle from Haikou.
Getting there
Hainan has two international airports: Haikou Meilan Airport in the north and Sanya's Phoenix Airport serving the resorts at the south. Both are well connected with China's main cities, Hong Kong, Bangkok, Singapore and Taipei. Sanya also serves Malaysia, Japan and Russia (in season).
When to go
November to February is the driest season and also the best time for surfing and inland cycling. This is also the prime holiday period for Chinese visitors. April to October is the best time to grab a hotel bargain, but these are also the hottest and wettest months. Hainan usually gets at least one typhoon during this time, which can cause some travel disruption.