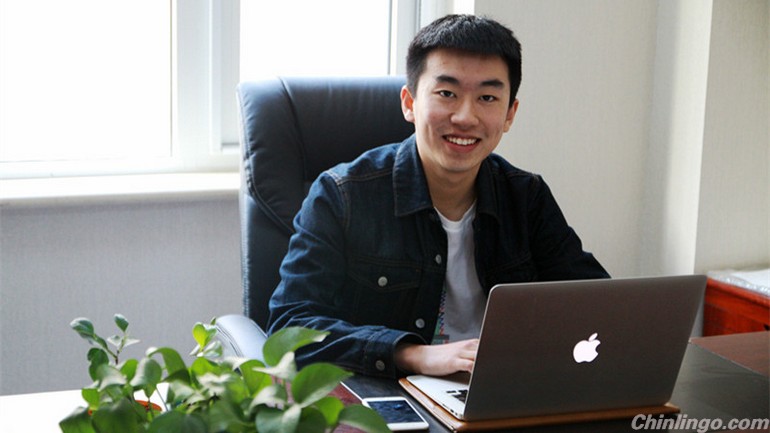 20-year-old Gou Yingda has already spent seven years in Internet start-ups, and is working to use the Internet to transform China's agriculture.
20岁的勾英达已花了7年时间在互联网创业上,并致力于利用互联网改变中国的农业。
The young man is already an industry veteran, having spent seven years in Internet start-ups, and is now the CEO of an Internet company aiming to link farmers with urban consumers to guarantee green, organic produce. He smiles frequently and shows not the slightest trace of tiredness, even though he only slept four hours last night due to work.
这个年轻人已是位行业资深人士,他花了七年时间在互联网创业上,现在是一家互联网公司的CEO,该公司旨在把农民与城市消费者联系起来以保障提供绿色有机产品。即使昨晚由于工作原因他只睡了四个小时,但他很爱笑,完全显示不出一丝倦意。
The company he runs, Ye Nong You Pin Technology Co Ltd, rents the usage rights of farmland to consumers for prices ranging from 299 yuan to 1,699 yuan per year, based on the size and quality of each plot, and hires farmers to grow crops on them. In fall, during harvest, the company delivers the produce from their plot to the consumer after some standard processing.
他经营的野农优品科技有限公司把农田使用权租赁给客户,租赁价格根据每个地块大小和质量不等,一般在299元至1699元之间,并且还雇佣农民在上面种植庄稼。到了秋天收获季节,在标准流程之后,公司把地里收获的农产品发送给他们的客户。
"Our company aims to optimize farm inputs, as farmers know the market prospects before they grow crops, improving efficiency and reducing pollution,"said Gou.
勾英达说:"我们公司的目标是优化农业投入,在农民种植庄稼前就能了解市场前景,从而提高效率减少农业污染。"
The company sets up cameras on the farmland, and provides real-time updates via live streams, so consumers can check on their plants on mobile phones. It did this because Gou believes the key to successful branding is consumers' trust, and allowing them to watch the whole farming process fulfills this goal.
公司在农田安装了摄像头,并通过现场直播实现数据实时更新,这样消费者可在手机上对他们农作物进行考查。公司这样做是因为勾英达认为成功塑造品牌的关键在于获得消费者的信任,为实现这个目标,应让他们观看整个农业生产过程。
"We pledge to provide organic food with no pesticide residue, and aim to become China's top agricultural brand," said him.
他说:"我们承诺提供的是无农药残留的有机食品,我们的目标是做中国农业的高端品牌。"
A quick look at his Wechat Moments reveals that Gou is a workaholic. He flies out of Beijing every two to three days on average to attend seminars, check on farmland, and give lectures. Many photos he posts show him working at midnight and eating instant noodles.
快速浏览下勾英达的微信朋友圈就能看出他是个工作狂。平均每两到三天,他就要离开北京飞往其他地区参加各种研讨会、视察农田及开办讲座。通过他贴出的一些的照片可以看出他经常加班至深夜并经常吃方便面。
"Investors choose me because I'm persistent in what I'm doing, and they believe in my business model," he said.
他说:"投资者之所以选择我,因为我执着于我所做的,他们相信我的商业模式。"
Gou was born in 1995 in Chifeng city in North China's Inner Mongolia autonomous region. Growing up with the Internet, he understood the commercial value of Internet connections at a young age.
勾英达生于1995年,出生在我国北方内蒙古自治区的赤峰市。他与互联网一同"成长",在他还很小的时候,他就深悉互联网的商业价值。
"I became addicted to programming in primary school," he said. He created a game forum, which earned him 200,000 yuan during operation. This boosted his confidence, and he decided to become an Internet entrepreneur.
他说:"在小学的时候,我就迷上了编程。"他创建了一个游戏论坛,在运营期间,这个论坛帮他赚了20万元。这一切使他信心大振,从此立志要成为一位网络企业家。
After high school, he spent a whole summer at a coffee house, a well-known hub for business starters in Beijing. There he immersed himself in the circle and eagerly exchanged views with other entrepreneurs and investors. The passionate young man gradually got to know famous investors like Angel Investor Xu Xiaoping and Tong Chen from IDG Capital Partners.
高中毕业后,他一个夏天都呆在一家咖啡店——北京著名的创业中心。他沉浸在圈子中,急切的与其他企业家或投资者交流想法。这个热情洋溢的年轻人渐渐认识了一些著名的投资者,像天使投资人徐小平和来自IDG资本的童晨。
In late 2014, Liaoning agricultural entrepreneur Yu Lianfu, believing in online agribusiness and Gou's potential, invested more than four million yuan in him to start the company. Then a student at China University of Science and Law, Gou temporarily suspended his studies to focus on his career.
2014年末,辽宁农业企业家于连富相信线上农业和勾英达的潜力,他向勾英达投资了400多万元创建公司。中国政法大学的学生勾英达暂停其学业而专注于他的事业。
Now the company has gained the usage rights of 30 square kilometers of prime land in Xinbin county of Northeast China's Liaoning province. The county was rated as a national prime spot for growing precious herbal medicine including ginseng, due to its fertile soil on the river basin and its low pollution levels.
现在公司已获得中国东北辽宁省新宾县30平方公里的土地使用权。新宾县被评为名贵中草药(如人参)国家级主要生产基地,因为新宾县处于河流流域附近,其土壤肥沃且污染较低。
However, farming methods there remained primitive, like in most rural Chinese areas. Farmers farm their own small plots of land and lack branding. They decide what to grow based on last year's market. As a result, oversupply causes unreasonably low prices and waste as crops are left to rot in the field.
然而,就如我国绝大多数农村地区,新宾县的耕作方式仍旧原始落后。农民耕种自己的小块土地并且缺乏品牌。他们根据去年的农产品市场情况来决定今年种植什么作物。结果就是供过于求就会引起低价,农产品烂在地里,也会造成浪费。
"Agriculture will tend to be developed on a larger scale, and the market can now be predicted using big data. I see the backwardness of traditional farming, and also see the huge business potential if I bring information technology in," said Gou with confidence.
勾英达自信的说:"农业将会形成规模耕作,现在利用大数据也可以预测市场动向。我目睹了传统农业的落后,也预测到了把信息技术引进农业的巨大商业潜力。
His words echoed that of Chen Xiaohua, Vice-Minister of Agriculture, who stressed that information technology is the key for China to modernize its agriculture.
他的话回应了农业部副部长陈晓华的观点,陈晓华强调信息技术是实现我国农业现代化的关键。
Gou has just received a five million yuan investment from IDG Capital Partner, and is working on drawing the next round of investment.
勾英达已收到了IDG资本的500万元投资,他现在正忙于下一轮的引资。
Asked why he didn't continue developing apps or websites, since they are both popular and lucrative, he said it was because they are not quite beneficial to society. Through his agribusiness platform, on the other hand, farmers can increase their income and urban people can eat healthier.
当他被问及为什么不继续发展受大众热捧且赚钱的应用程序和网站时,他说因为它们对社会不利,另一方面,通过他建立的农商平台,农民可提高收入,城市人也可以吃的更健康。
Gou believes that post-90 entrepreneurs like him understand the Internet better, and are prone to break old industry molds because they are not part of entrenched interest groups. But they also face obvious disadvantages: they lack experience in dealing with people, have few networks, and lack capital.
勾英达认为像他一样的90后企业家对互联网理解更深,且由于他们并非是那些根深蒂固利益集团的成员,所以他们倾向于打破传统工业模式。但他们也面临着明显的缺点:他们缺乏人际经验、没有人际关系网并且缺乏资金。
According to Youth Business China, a foundation that provides training and investments to entrepreneurs, only one in ten young entrepreneurs succeed. But this data doesn't bother Gou at all. "I'm just doing something that I like, so I feel my life is meaningful," he says.
通过中国青年创业国际计划(一个旨在为企业家创业提供培训和投资的机构)的援助,也只有十分之一的青年企业家能够创业成功,但是勾英达完全没有受到这一数据的影响。他说:"我只是做我喜欢做的事,所以我觉得自己的生活十分有意义。"
Gou said he hopes he can be a confident and charismatic man like Jack Ma, founder of Alibaba. At 20, his career has just begun.
勾英达希望自己成为一位自信、有魅力的人,就像阿里巴巴创始人马云一样,马云在他20岁时,他的事业才刚刚起步。