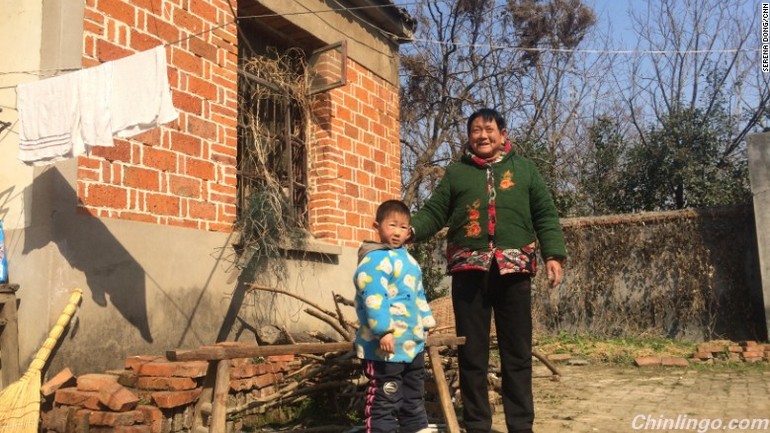 Six-year-old Lu Yiming is a handful. One minute, he's on the concrete roof of his two-story house, the next he's fiddling with fireworks. Now, he's skating down an alley. "Come back here!" yells his grandmother." I have such a headache raising this child," 72-year-old old Tang Xinying confides.
6岁的路一鸣(音)不让人省心,一会儿爬上自家的二层水泥楼顶,一会儿摆弄鞭炮。现在,他正在胡同里玩滑板。他奶奶喊着"过来!"72岁的唐新颖(音)老人说,"养这个孩子真让我头疼。"
Lu's mother abandoned him after he was born and his father works as a carpenter in Shandong province hundreds of miles further north. He comes back perhaps once a year. In China, Lu is what's called a "left-behind child. "Conservatively, there are at least 61 million such children in China — that's a staggering one in five. They struggle at school, have higher rates of mental health issues, and suffer from more behavioral problems than their contemporaries.
路出生后就遭母亲遗弃,他父亲正在数百英里外的山东省当木工。在中国,他这样的孩子被称为"留守儿童"。这个国家至少有6100万农村留守儿童,占到全国儿童总数的1/5。与同龄人相比,他们在学校表现不佳、更容易遭遇心理健康和行为问题。
In Cao Hu, a village in the inland province of Anhui, a dead-end track passes by half-finished housing projects and abandoned fields. A yellow haze hangs in the air leaving a metallic taste in the mouth. China's industrial pollution made it out here, but the jobs haven't. Everyone of working age in Cao Hu has gone to the cities to find work, leaving the old and very young behind.
在安徽漕湖(音)村,天空中弥漫着黄色烟霾。中国的工业污染已来到这里,但工作并没来。村里所有适龄劳动力都去了城市打工,留在家中的是老人和孩子。唐说,"父母们去外地干活,没法带着孩子。"
A steady stream of state media reports highlights the abuse suffered by left behind children. And crimes are often blamed on them. "It has a huge impact on society and the generation of people who grow up without parents," says Ines Kaempfer, of the Center for Child-Rights and Corporate Social Responsibility. "There is a generation of Chinese society that lacks security and trust. It could have a potentially disastrous effect."
来自媒体的陆续报道凸显这些孩子中一些人所遭受的虐待,农村的很多犯罪活动也归咎于他们。"这已对社会产生巨大影响",瑞联稚博儿童权利和企业社会责任中心的伊恩斯·肯普弗说,"中国社会将有一代人缺乏安全和信任感,这或将产生极其严重的后果。"
Unintended consequences of mass urbanization and migration are not unique to China. But draconian rules have made the problem worse. China's much-hated hukou system registers families as either rural or urban. Most migrants can't change their household registration when they move.
大规模城市化和人员流动造成的此类意外后果,并非为中国独有。意识到问题的中国政府,已启动包括取消暂住证在内的户籍制度改革。
In Chao Hu village, Tang is cooking a meal of rice and spinach for her grandson. She swirls peanut oil on her simple stove top. "I can't teach my grandson well. This boy should be educated by his father and mother," she says, "I cannot catch him when he runs away from me. I cannot discipline him when he misbehaves." Tang is convinced she can't give her grandson the support he needs. "We don't have a choice, even if the situation isn't good. If I don't take care of him who will," she says.
在漕湖村,唐正在简陋的炉灶上为孙子蒸米饭、炒菠菜,"我不能很好地教育孙子。这孩子应由他父母来管教。他跑开后,我追不上。他不听话时,我也拿他没办法。"唐清楚自己无法给予孙子所需的支持,"但我们别无选择。"