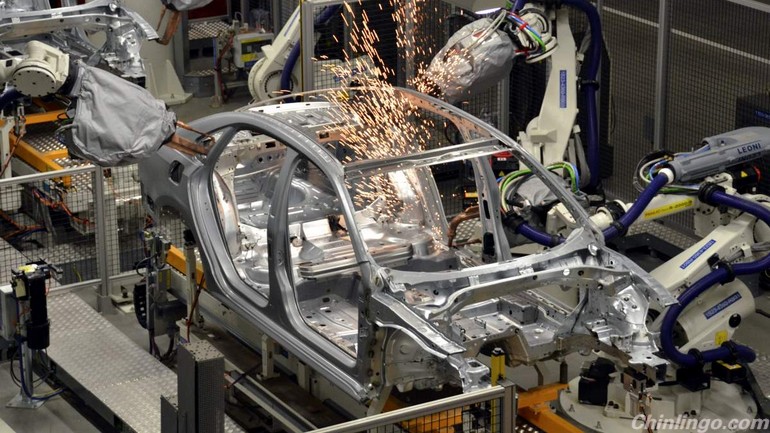 A manufacturing hub in South China's Guangdong province has begun constructing the city's first zero-labor factory, a signal that the local authorities are bringing into effect its "robot assembling line" strategy.
华南的广东省的一个制造中心里开始建造城市的首个"无人工厂",这标志着地方政府将实施其"机器人装配流水线"战略。
Dongguan-based private company Everwin Precision Technology Ltd is pushing toward putting 1,000 robots in use in its first phase of the zero-labor project, China National Radio reported. It said the company has already put first 100 robots on the assembly line.
据中央广播电台报道,东莞民营企业长盈精密技术股份有限公司在其"无人工厂"项目的第一阶段预计投入使用1000台机械手。该报道称,该公司现已在生产流水线中投入100台机械手。
"The 'zero-labor factory' does not mean we will not employ any humans, but what it means is that we will scale down the size of workers by up to 90 percent," said Chen Qixing, the company's board chairman.
该公司董事长陈奇星说:"'无人工厂'并不是意味着我们不雇佣任何工人,但它意味着我们将要削减90℅的工人数量。"
After the work on smart factory started, Chen predicted that instead of 2,000 workers, the current strength of the workforce, the company will require only 200 to operate software system and backstage management.
在"智能工厂"建成后,若按目前的劳动力强度来计算,陈奇星预计该公司只需要200名员工操作软件系统及后台管理,而不像以往得需要2000名员工。
Under the current pressure of labor shortage, calls to use smart robots in cities around the Pearl River Delta, including Foshan and Dongguan, are becoming louder.
在劳动力短缺的压力下,珠三角的一些城市,其中包括佛山和东莞,要求使用智能机器人的呼声越来越高涨。
"It is necessary to replace human workers with robots, given the severe labor shortage and mounting labor costs," said Di Suoling, head of Dongguan-based Taiwan Business Association.
东莞台资企业协会会长翟所领说道:"在用工短缺及劳动力成本上升的环境下,'机器换人'有其必要性。"
Manufacturers in the PRD have been hit by a shortage of an estimated 600,000 to 800,000 workers, according to data released after the Spring Festival in February.
据二月春节后发布的数据,珠三角工厂大约有60万至80万名工人的短缺。
Tens of thousands of migrant workers had earlier gone back home to inlands for a family get-together and some of them decided to settle down in their hometown where the living costs are much less than the coastal cities.
来自内陆省份的数十万名农民工为了和家人团聚提早回家,其中一些人决定在家乡安置下来,因为他们家乡的生活成本远低于沿海城市。
The country also faces the problem of an increasing number of aging migrant workers. Although the number of migrant workers in China continued to grow in 2014, the rate of increase for the group has fallen consecutively for four years, and their average age is on the rise, according to a report released by the National Bureau of Statistics.
中国还面临着农民工老龄化加剧的问题。据国家统计局公布的一份报告,尽管2014年,我国农民工的数量持续增长,但是农民工增长率已连续四年呈下降趋势,面且他们的平均年龄都在增长。
The year-on-year growth rate has been declining since 2010. From 2010 to 2013, the figure stood at 5.4 percent, 4.4 percent, 3.9 percent and 2.4 percent, respectively.
2010年以来,同比增长率一直处于下降趋势。2010年至2013年的四年增长率分别为5.4%、4.4%、3.9%和2.4%。
Around 43.5 percent of migrants in 2014 were over 40 years old, compared to 34.1 percent in 2010, and 30 percent in 2008, government data show.
中国政府数据显示,与2010年34.1%及2008年的30%这两组数字相比,2014年大约43.5%的农民工年龄超过40岁。
"In the future, the percentage of migrant workers under 40 will further decrease, and this is a warning for China's labor-intensive manufacturing industry," said Li Zuojun, a senior researcher at the Development Research Center of the State Council, according to Economic Daily.
据《经济日报》报道,国务院发展研究中心高级研究员李佐军说:"未来40岁以下的农民工比例会进一步减少,这是中国劳动密集型制造业的预兆。"
Faced with the dire situation of a shrinking workforce, economists suggest that China should upgrade its technology and largely use smart robots.
面对劳动力萎缩的严峻的形势,有经济学家建议中国提升其技术并且广泛使用智能机器人。
Guangdong authorities said in March that they will invest 943 billion yuan to replace humans with robots within three years.
三月,广东政府表示,他们将在三年内累计投资9430亿元,完成"机器换人"的项目。
The local government will push for application of robots in 1,950 companies across the province and plans to build two advanced industrial bases for robot production by the end of 2017.
各地政府将推动全省1950家公司安装机器人,计划于2017年底建成2个国内领先的机器人制造产业基地。