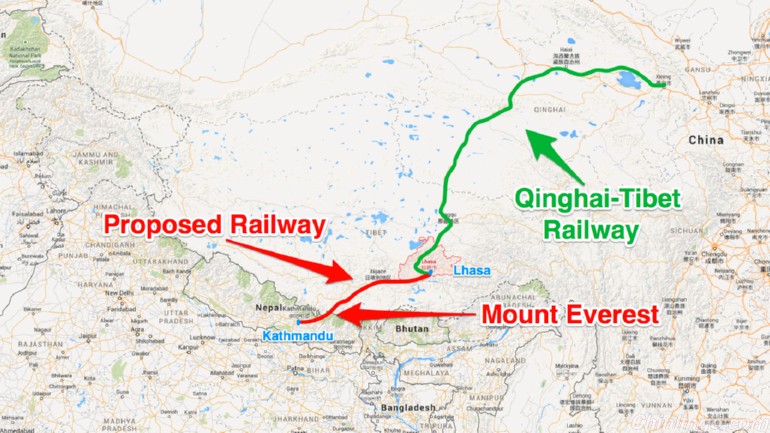 Chinese foreign minister Wang Yi is considering extending a rail line from the Tibetan capitol of Lhasa to Kathmandu in Nepal, and tunneling under Mount Everest to do so, AFP reports.
外交部长王毅称中国正在考虑修一条从拉萨至至尼泊尔加德满都的铁路,延长青藏铁路。该铁路线将横穿珠穆朗玛峰。
The project would involve tacking on about 400 miles of rail to an already 1,200 mile track which takes 25 hours to traverse as it is. The move would provide easy transport in one of the trickiest terrains in the world, and increase China's influence in the region.
这一项目将在已长达1200英里的轨道(走完全程耗时25小时左右)上再建设400英里长的铁轨。这一举措将为世界上最棘手地形之一的地方提供便利交通,并增加中国在尼泊尔的影响力。
Historically, the mountain range that holds eight of the world's fourteen peaks that top 8,000 meters in altitude has served as a practical and cultural barrier. Nepal has long been in India's sphere of influence, but in recent years China has bought in to the struggling nation by investing in infrastructure such as roads and bridges.
历史上,珠穆朗玛峰这一山脉高达8000米的海拔成为了一道真实阻隔文化的屏障。尼泊尔长期处于印度的影响范围内,不过近几年中国通过投资公路和桥梁这类公共基础设施逐渐在向这个挣扎着的国家施加影响力。
According to state-run Chinese media outlets, Nepal has apparently responded favorably, requesting that the line be built. If tunneling under the world's tallest mountain sounds like a difficult and involved ordeal, that's because it is.
据中国国营媒体报道,尼泊尔对此积极响应,这条铁路的建设是应"尼泊尔的要求"。这条将横穿世界最高峰的隧道听起来就很难建。
Wang is no stranger to ambitious engineering feats — he has also proposed a 125 mile long tunnel to traverse the Bering Strait joining Alaska and Russia. While tunneling under Everest is an achievable goal, the project would face severe difficulties with the terrain and altitude, so the train would likely not be able to break fifty miles per hour.
中国铁路工程师王梦恕表示由于铁路将横穿珠穆朗玛峰,因此工人们不得不挖一些非常深的隧道。王梦恕曾提出在白令海峡建一条125英里长的隧道以连接阿拉斯加和俄罗斯。虽然在珠穆朗玛峰下挖一条隧道是可实现的目标,但该项目仍会面临一些地形和海拔上的困难,也因此火车在这里的时速不会超过50英里每小时。
The feat would provide China with more influence over India's allies and neighbors as well as continue Beijing's plan to open up the Buddhist plateau of Tibet to tourism and modern Chinese culture.
这一壮举将令中国在印度盟友及其周围国家中拥有更多影响力,北京也能继续让西藏这一佛教高原开启旅游业并接触现代中国文化。
Basically, a rail line from mainland China under the Himalayas would connect the nation to the billion plus inhabitants living below "The Roof of the World".
基本来说,中国大陆现在靠喜马拉雅下的青藏铁路与这个拥有"世界屋脊"之称的地方相连。