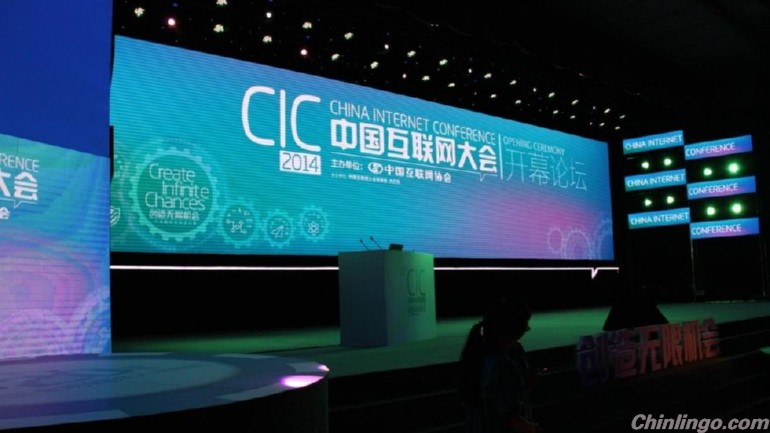 As reported, the first World Internet Conference would be held in Wuzhen, Zhejiang in Nov. 19th to 21st. This conference is the largest in scale, highest in level ever hosted by China. Over 1000 people, including politicians, representatives of international organizations, CEOs of significant enterprises, internet elites, experts and scholars from nearly 100 countries are said to participate in this "Wuzhen Summit".
据悉,首届世界互联网大会将于11月19日—21日在乌镇举行,这是中国举办的规模最大、层次最高的互联网大会。届时,来自近100个国家的政要、国际组织代表、著名企业高管、网络精英、专家学者等1000多人将参加这一全球互联网界的"乌镇峰会"。
This conference, themed as "mutual connecting, exchanging, sharing and ruling", is said to be co-hosted by the State Internet Information Office and Government of Zhejiang, in the hope to construct an international platform for internet giants of the world to exchange ideas, to explore the rules of internet and to draw a mutual understanding of each other.
此次互联网大会的主题为"互联互通共享共治",将由国家互联网信息办公室和浙江省政府共同主办,旨让全世界互联网巨头在这个平台上交流思想、探索规律、凝聚共识。
The conference features four highlights:
据悉,本届大会有四个特点:
First, it's the first time for China to initiate and host world internet conference. The conference includes 8 parts and 13 sub-forums, covering major and important issues of fields of cyber space;
一是第一次由中国倡导并举办世界互联网大会,8大板块和13个分论坛,涵盖网络空间各领域的重大问题、关键问题;
Second, it's also the first time that big heads of world cyber fields gather together to discuss the future of internet development;
二是第一次汇集全球网络界领军人物共商发展大计;
Third, it's the first time that China full discloses its ideas and achievements in the development of internet, and theme exhibitions of China's development of internet would also be on display;
三是第一次全景展示中国互联网发展理念和成果,将举办中国互联网发展主题展览;
Fourth, it's the first time to name the world internet summit with the name of a historic ancient town.
四是第一次以千年古镇命名世界网络峰会。
The conference has made Wuzhen, China's Historic and Cultural Town its permanent hosting site, aiming at integrating the most advanced achievements of world civilization with China's traditional culture, painting a bright future for both modern informative civilization and traditional histories.
大会将永久会址确定在中国历史文化名镇——乌镇,旨在让最先进的世界文明成果与最悠久的中华文化交流融合,让现代信息文明与传统历史文明交相辉映。