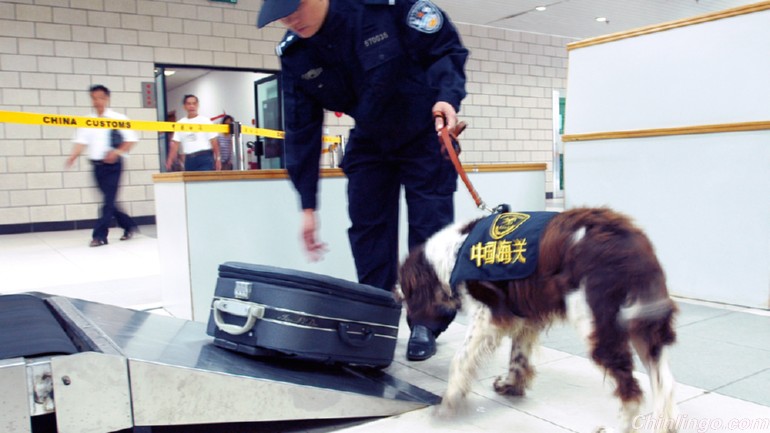 This week, the deputy commissioner of the Chinese General Administration of Customs, Sun Yibiao, led a delegation to New Zealand, where he was briefed on a detector-dog training program that the country is helping China develop, the state-run news agency Xinhua reported.
官方通讯社新华社报道称,中国海关总署副署长孙毅彪本周率代表团访问新西兰,并在那里听取了一个嗅探犬训练项目的介绍。新西兰正在协助中国开发该项目。
"Trainers from New Zealand customs will provide assistance to China when they begin training their dogs," the New Zealand customs minister, Nicky Wagner, said in a statement on Tuesday.
"中国开始训练自己的嗅探犬时,新西兰海关的训练员将提供协助,"新西兰海关部长妮基·瓦格纳在周二的一份声明中说。
Mr. Sun also visited the New Zealand detector-dog base, according to the General Administration of Customs website. This will be China's first cash-detecting dog program, though the country already employs dogs to track down contraband wildlife, drugs and explosives.
据海关总署的网站介绍,孙毅彪还参观了新西兰缉私犬基地。尽管中国已在利用缉私犬追查走私野生动物、毒品和爆炸物,但这将是中国首个用于嗅探现金的嗅探犬项目。
Enhancing surveillance capabilities has become more important for the Chinese authorities as President Xi Jinping's far-reaching anticorruption campaign enters its third year. Officials suspected of corruption have been nabbed at the border while trying to abscond with their ill-gotten gains. Between April 2011 and early June 2012, Canadian border officials reportedly seized nearly $13 million in undeclared cash from Chinese travelers at the Toronto and Vancouver airports.
随着习近平主席力度空前的反腐运动进入第三年,对于中国政府部门来说,强化监管能力变得愈加重要。有一些涉嫌腐败的官员是携带非法所得潜逃时在边检处被抓获的。据称,从2011年4月到2012年6月初,加拿大海关官员在多伦多和温哥华机场的中国游客中,总共拦截了近1300万美元没有申报的现金。
In New Zealand, Mr. Sun also discussed with Ms. Wagner ways to facilitate bilateral trade and efforts to counter drug trafficking. Relations between the two countries have strengthened since 2008, when New Zealand became the first developed country to sign a free-trade agreement with China. In 2013, China surpassed Australia to become New Zealand's largest trading partner.
在新西兰,孙毅彪还与瓦格纳讨论了促进双边贸易的方法,以及打击毒品贩运的计划。2008年,新西兰成为第一个与中国签署自由贸易协定的国家,此后,两国关系进一步加强。2013年,中国超过澳大利亚,成为新西兰最大的贸易伙伴。
New Zealand began training dogs to detect cash in 2012. Like many other countries, it had long used dogs to detect explosives and drugs. Both the dogs and their handlers undergo an intensive three-month training period, with weekly refresher sessions after they enter service. Dogs are rewarded for successfully detecting their targets with praise or a game with their handler, but never "food or drugs," according to the New Zealand Customs Service.
新西兰是从2012年开始培训嗅探犬来侦测现金的。就像许多其他国家一样,新西兰长期以来一直用嗅探犬来侦测爆炸物和毒品。犬和训练员都要经过三个月的高强度训练,在开始服务之后,每周还要上复习进修的课程。新西兰海关称,如果成功侦测到了目标,这些警犬会得到奖励,训练员会夸奖它们或是与它们做游戏,但从来不会给它们"食物或毒品"作为奖励。
As of last June, the New Zealand customs authorities reported, the dual-trained drug- and cash-detecting canines had sniffed out more than $1.9 million in "undeclared or concealed cash."
新西兰海关称,截至去年6月,接受过毒品和现金嗅探双重训练的警犬已侦测出了超过190万美元的"未申报或藏匿现金"。