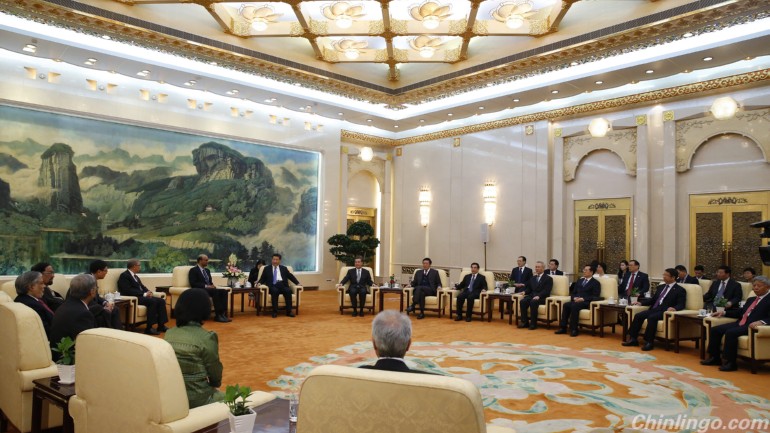 France and Germany are to join the UK in becoming members of a Chinese-led Asian development bank. The finance ministries of both countries confirmed on Tuesday that they would be applying for membership of the Asian Infrastructure Investment Bank (AIIB).
德法两国将仿英国,加入以中国为首的亚洲开发银行。本周二,两国财政部证实他们将申请加入亚洲基础设投资银行。
Last week, the US issued a rebuke to the UK over its decision to become a member of the AIIB. The US considers the AIIB a rival to the Western-dominated World Bank.The UK was the first Western economy to apply for membership of the bank. But German finance minister Wolfgang Schaeuble confirmed on Tuesday that his country would also be applying for membership. France's finance ministry confirmed it would be joining the bank. It is believed Italy also intends to join.
上周,美国指责英国加入AIIB的决定。美国认为AIIB是西方世界主导的世界银行的对手。英国是首个申请加入AIIB的西方国家。但是德国财政部长朔伊布勒本周二证实德国也将申请加入该银行。法国财政部长也表明法国将加入亚投行。此外,意大利也有同样打算。
The US has questioned the governance standards at the new institution, which is seen as spreading Chinese "soft power". The AIIB, which was created in October by 21 countries, led by China, will fund Asian energy, transport and infrastructure projects.
美国已经怀疑这项新机构的管理标准,认为这些标准有助于传播中国的额"软实力"。以中国为首的21个国家于十月份成立了AIIB,将会为亚洲的能源、交通以及基础设施项目上提供资金支持。
When asked about the US rebuke last week, a spokesman for Prime Minister David Cameron said: "There will be times when we take a different approach." The UK insisted it would insist on the bank's adherence to strict banking and oversight procedures."We think that it's in the UK's national interest," Mr Cameron's spokesperson added.
当被问及美国上周的指责时,英国首相戴维·卡梅伦的发言人表示:"有时,我们会采取不同的方法。"英国强调会遵守严格的银行业务和监管程序。该发言人补充说道:"我们认为这符合全英国人民的利益。"
Last week, Pippa Malmgren, a former economic adviser to US President George W Bush, told the BBC that the public chastisement from the US indicates the move might have come as a surprise. "It's not normal for the United States to be publicly scolding the British," she said. However, Mr Cameron's spokesperson said UK Chancellor George Osborne did discuss the measure with his US counterpart before announcing the move.
上周,美国前总统乔治·布什的经济顾问皮帕·菲利帕接受BBC采访时表示美国政府公然指责意味着此举对美国来说是出乎预料的。她说:"美国公然指责英国是不正常的。"但是,卡梅伦发言人表示英国财政大臣乔治·奥斯本在宣布此举之前确实与美国财政大臣探讨过。
Some 21 nations came together last year to sign a memorandum for the bank's establishment, including Singapore, India and Thailand. But in November last year, Australia's Prime Minister Tony Abbott offered lukewarm support to the AIIB and said its actions must be transparent.
去年,包括新加坡,印度以及泰国在内的21个国家,相聚一起,为成立该银行签订了备忘录。但是去年11月份,澳大利亚总理托尼·阿博特对ATTB表现出不冷不热的支持态度,并表示银行的各种行动都必须是透明的。
US President Barack Obama, who met Mr Abbott on the sidelines of a Beijing summit last year, agreed the bank had to be transparent, accountable and truly multilateral. "Those are the same rules by which the World Bank or IMF or Asian Development Bank or any other international institution needs to abide by," Mr Obama said at the time.
去年,美国总统奥巴马曾借北京APEC会议间隙与阿博特会晤,并一直认为该银行必须保证透明、负责和多边性。奥巴马表示:"这些都是世界银行,国际货币基金组织,亚洲开发银行以及其他国际性机构必须遵守的准则。"