Over the course of a leisurely three-day expedition from Kashgar to Tashkurgan in late summer, our vehicle was forced to navigate at least a half-dozen recent landslides that helped explain why the word Karakoram, which means "black rock" in Turkish, strikes fear into the hearts of local travelers. Since 1986, when it opened to tourists, though, the highway has provided access to a mesmerizing slice of a Chinese Central Asia, a high-altitude melting pot of seminomadic tribes who share a landscape of harsh but breathtaking beauty.
暮夏时分,我们开着面包车从喀什到喀什库尔干,经历了为期三天的休闲之旅,一路上至少遇到六处山体塌方,正因如此,喀喇昆仑山脉(Karakoram,在土耳其语中的意思是"黑色石头")让许多旅行者望而生畏。但自1986年以来,这条公路变得越来越有魅力,因为旅行者可以由此了解中亚地区中国人的生活。若干个半游牧部落在这片高海拔地区生活,共享这蛮荒而动人的美景。
Except for the smooth asphalt and steady cellphone service that puts Verizon and AT&T to shame, the journey is little changed in the 2,000 years since Silk Road traders shuttling between Europe, Asia and the Middle East found safe passage through the Karakoram Mountains at the Khunjerab Pass. Visitors today are confronted with the same barren stretches of dun-colored stone punctuated by the occasional glacial lake, the roiling Gez River and emerald grasslands speckled with white yurts and black yaks.
这就是传说中的丝绸之路,两千年前,来往于欧洲、亚洲和中东的商人发现了喀喇昆仑山脉和红其拉甫山口之间这条安全的通道,而今几乎一切如旧,新增的只有平稳的柏油路和令Verizon与AT&T蒙羞的优质手机服务。今天,徐徐展开在旅行者面前的还是那片苍茫的群山,山间偶尔几处冰湖,盖兹河奔流在山脚,墨绿的草原上点缀着洁白的毡房和乌黑的牦牛。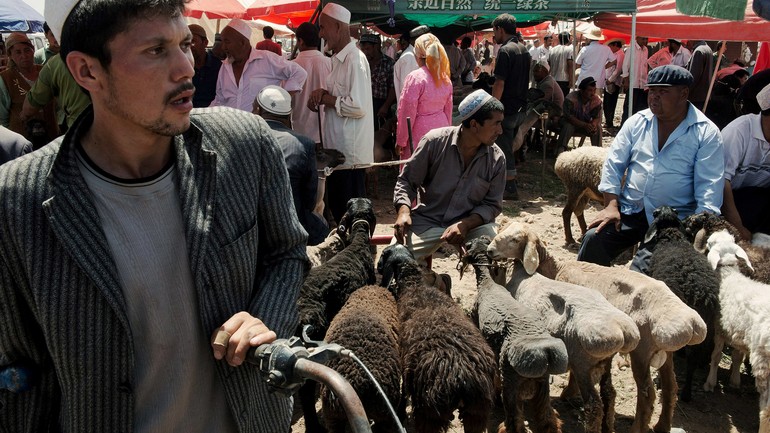 Kashgar's markets here are your easiest entry point into Uighur culture. Vegetarians might want to skip the city's Sunday livestock market, a raucous jamboree of fat-rumped sheep, yaks and the occasional camel — one of which can feed an entire village for days on end.
在喀什,如果你想了解维族文化,最快的途径就是赶集。素食者或许会跳过这座城市的星期日牲畜市场。在这个喧闹而欢腾的地方,到处是肥臀羊和牦牛,有时还有骆驼,一头骆驼就能让全村人连吃好几天。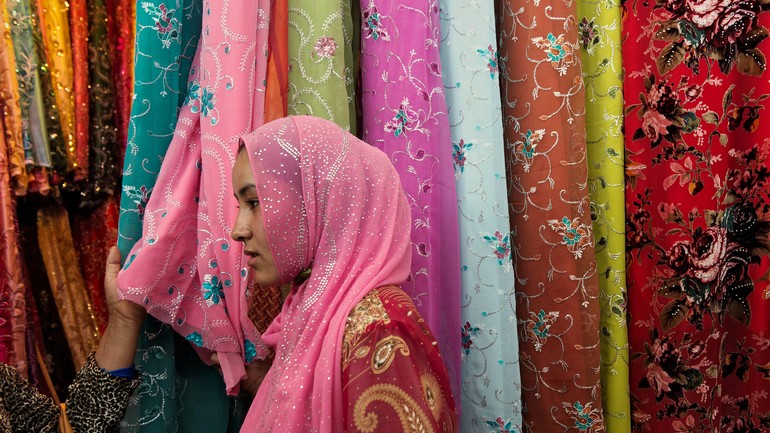 The city's other main draw is the Central Asia International Grand Bazaar, a gargantuan market that overflows with Chinese-made textiles, Malaysian sweets, Turkish appliances and a full range of doppa, the traditional embroidered hats that crown the heads of Muslim men from Istanbul to Bishkek. A few blocks away is a pigeon market, where collectors practically coo over prized specimens, some of which sell for more than $1,000. (Unlike creatures sold in the city's other markets, these birds do not end up on the dinner plate.)
喀什的另一个重要的魅力之源是中亚国际大巴扎,这片巨大的集市里摆满了中国的布匹、马来西亚的糖果、土耳其的生活用品及各种各样的维族花帽,从土耳其的伊斯坦布尔到吉尔吉斯斯坦的比什凯克,穆斯林男子钟爱这种传统刺绣小花帽。若干街区之外就是一座鸽子交易市场,选鸽人对着珍贵的鸽子低声呢喃,有些品种的鸽子能卖出每只一千美元以上的高价(与此地其他集市的动物不同,这里的鸽子不会沦为人类的盘中餐)。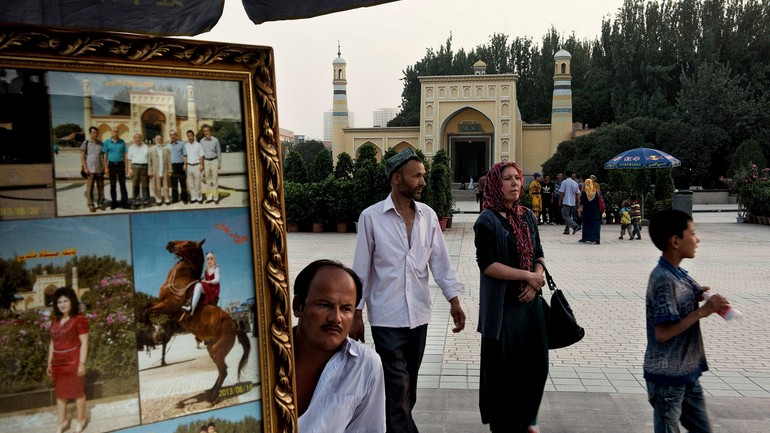 The old city is anchored by the Id Kah Mosque, China's largest, which can accommodate 20,000 worshipers during Ramadan and other religious holidays. First built in 1442, the complex is a tranquil refuge from the surrounding mercantile buzz, with a series of poplar-shaded courtyards and open-air prayer halls draped in vermilion rugs.
老城的精神中心是艾提尕尔清真寺。这是中国最大的清真寺,在斋月及其他宗教节日期间可以容纳两万名礼拜者。这片建筑群初建于1442年,像个宁静的港湾,隔开了周围的喧嚣市声与红尘纷扰。几重进深的院落绿杨成荫,开放式礼拜殿内铺着朱红色的地毯。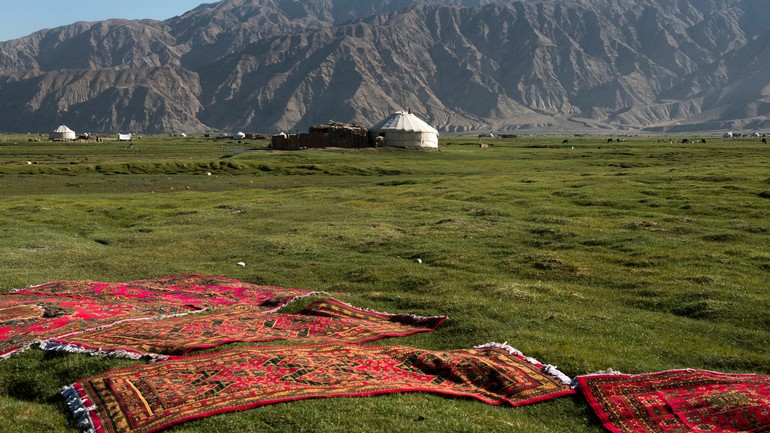 Having sufficiently stuffed ourselves on lamb kebabs and pulao, the Uighur rice dish not unlike Persian pilaf that is served at the city's lavishly decorated restaurants, we headed south on the Karakoram Highway, passing a lute factory festooned with plaster musical instruments, and the fast-expanding Special Economic Zone, three years in the making, that the government hopes will turn Kashgar into the manufacturing and trading dynamo of Central Asia.
我们饱餐了一顿羊肉串和维族孜然米饭(与喀什城里最豪华的饭店供应的波斯肉饭有点像),随即上了喀喇昆仑公路,一路向南。沿途可以见到一座琵琶工厂,这里装饰着石膏乐器;然后又经过一片飞速扩张的经济开发区。这片区域已经开发了三年,政府希望它能带动经济发展,将喀什变成中亚地区的制造业与贸易龙头。
Beyond Upal, the well-irrigated farms quickly give way to the parched foothills of the Kunlun Mountains and later, a deep river valley tracing the Gez River that can be challenging to the acrophobic. For hours, as the highway climbs higher, there is little sign of human habitation. Then the rock-strewn desolation is suddenly interrupted by a blinding expanse of aquamarine, a giant glacial lake whose southern end is framed by enormous sand dunes.
汽车过了乌帕尔乡,没多久,灌溉良好的农田就消失了,代之以昆仑山麓光秃秃的山峦,然后是一条幽深的河谷,那就是盖孜河。对于恐高症患者来说,往下看一眼都是巨大的挑战。公路渐渐升高,车行若干小时之后,前面终于出现了人类生活的迹象。这时,怪石嶙峋的荒山中忽然出现了辽阔而耀眼的湖蓝色,那是一片巨大的冰川湖,湖泊南岸便是无边无涯的沙丘。
From there, the road ascended above 11,000 feet, leaving half our party unpleasantly lightheaded. The next stop, Karakul Lake, had little to offer in the way of increased oxygen, but its placid waters reflecting glacier-capped peaks helped ease the malaise.
此刻,公路已经爬升到海拔11000英尺(约合3353米)以上,同行的人有一半都感到头昏眼花。下一站卡拉库勒湖虽然没能为我们多提供一些氧气,但澄澈的湖水中倒映着雪峰,如此美景多多少少减轻了我们的不适。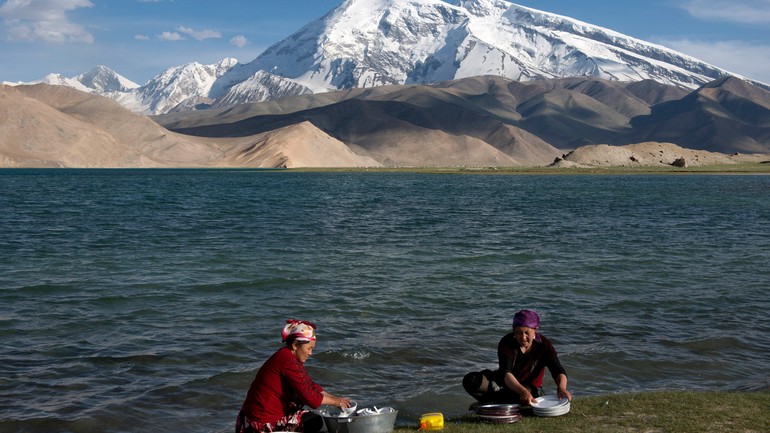 Karakul, the lake that launched a million Chinese postcards, is surprisingly unspoiled, with almost no development along its banks, except for a once-picturesque Kyrgyz village that the local government is rapidly "modernizing" with rows of concrete boxes. We avoided the unsightly Chinese-built hotel (reportedly owned by relatives of a powerful Communist Party official) and instead settled down with a family of shepherds who had turned their summer encampment of yurts into no-frills tourist accommodations.
卡拉库勒湖的风景曾经印在中国数百万张的明信片上,但令人惊讶的是,它没遭到多大破坏。湖畔几乎没有开发,岸边有个柯尔克孜族小村,过去风景如画,只可惜近几年来当地政府加快了"现代化"步伐,村里涌现出一排排水泥房屋。我们没有走进那座中国人建造的难看宾馆(据报道,酒店老板是某个强大共产党官员的亲戚),而是在牧民家投宿。这种实惠型客栈是由牧民夏季居住的圆顶毡房改建而成的。
There are roughly 145,000 ethnic Kyrgyz in China, a nomadic people who have been cut off from their brethren in neighboring Kyrgyzstan since a falling-out between Mao and Stalin in the early 1960s effectively sealed the border. These days, the Kyrgyz in Xinjiang still depend on wandering flocks of yaks and goats for survival, although younger people are heading to the cities in increasing numbers.
中国大约有14.5万名柯尔克孜族人,自从毛泽东与赫鲁晓夫因发生摩擦而封闭了边境线,这群牧民就与他们住在吉尔吉斯斯坦的同胞断了来往。新疆境内的柯尔克孜族人依然以放牧牦牛与山羊为生,然而近年来,外出进入大城市打工的年轻人越来越多了。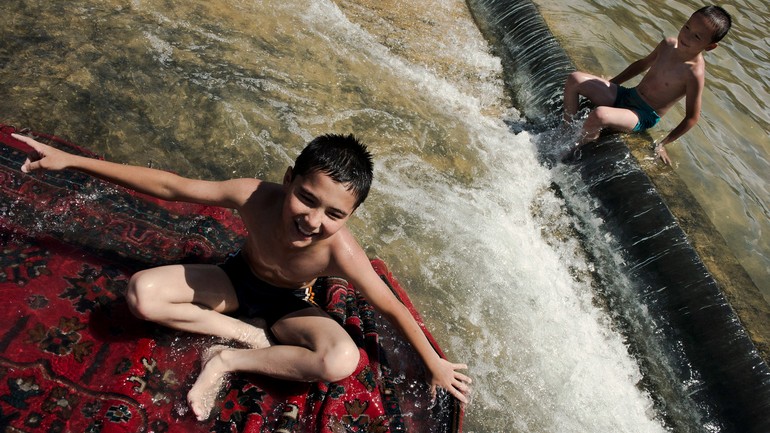 As our host, Sapar Said, a 48-year-old mother of five, stoked a dung-fueled fire and prepared a meal of tangy noodle soup and circular flat bread flecked with sesame seeds, she took a call on her cellphone. It was her 19-year-old son, who had recently taken a factory job in China's southern Guangdong Province more than 2,500 miles away. Her first question to him: "Have you eaten?"
我们客栈的老板娘莎芭尔·赛德48岁,有五个孩子。她点燃一堆牲畜粪便,给我们做了一顿饭:香气扑鼻的面条汤和馕(洒了芝麻的扁圆面包),然后接了个电话。是她19岁的儿子打来的,他在2500英里之外的广东某工厂打工。莎芭尔对儿子说的第一句话是:"吃饭了吗?"
We eventually clambered through the darkness, pulled aside the heavy felt flap that sealed our yurt from the wind and crawled beneath a mound of blankets. In the morning, we awoke to blinding sunshine and a train of horses waiting to take us around the lake. The hourlong circumambulation was led by a trio of teenage boys who listened to Chinese pop music on their cellphones but spoke halting Mandarin. The ride was magical; less so the plastic bags and bits of Styrofoam that floated in the crystalline waters.
我们在黑暗中艰难地走到毡房门口,掀起沉重的挡风毡帘,进屋钻到毯子下休息。次日清晨一睁眼就是耀眼的阳光,门外一支马队正等着驮我们绕湖观光。三个十来岁的少年领着我们享受了一个钟头的马背巡行。他们用手机播放着汉语流行歌曲,普通话却讲得磕磕绊绊的。骑马旅行非常开心,只是如果水晶般澄净的湖水中少一点儿塑料袋或泡沫塑料就更好了。
South of Karakul, the highway climbs to the wind-whipped Subash pass, which rises to a woozy 13,400 feet. There, we gasped for air and briefly marveled at a lonely bus stop beneath a propaganda billboard extolling ethnic harmony, and then descended into Tashkurgan, a city noted by the Greek scholar Ptolemy in his second-century B.C. geographic guidebook of the known world. Set in a lush river valley near the borders of Afghanistan, Pakistan, Tajikistan and Kyrgyzstan, the city is the westernmost settlement in China and still has the feel of a frontier outpost.
离开卡拉库勒湖向南而行,汽车沿着公路继续爬升,我们来到了狂风大作的苏巴什古城,此时海拔已上升到13400英尺(合4084米),令人头晕目眩。我们喘了口气,发现一块颂扬民族团结的标语牌下居然还有个孤零零的公交站,颇感惊讶,随即下山进入塔什库尔干。早在公元前二世纪,古希腊学者托勒密在他的世界地理手册中就提到了这座城市。塔什库尔干坐落在阿富汗、巴基斯坦、塔吉克斯坦、吉尔吉斯斯坦与中国边界附近一片水草丰美的河谷中,是中国最西端的居民区,直到今天依然设有岗哨,洋溢着边疆风情。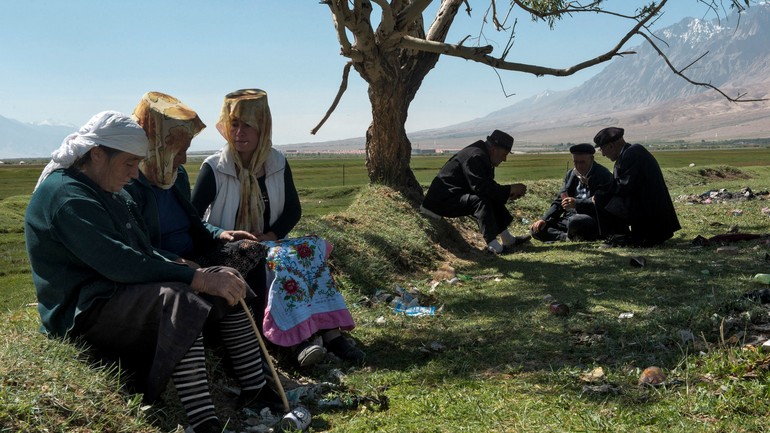 In the meantime, local residents seem to be enjoying the new public amenities, including a boardwalk across the grasslands that on a recent day proved popular with cows seeking to avoid the soggy terrain. At night, both Tajik and Han gravitated to a recently built park, where young people flirted as a troupe of folk dancers performed on a nearby stage.
同时,本地居民似乎很享受新建的公共设施。最近,草原里修建的一条木板路很受牛群欢迎,因为踩在木板上,蹄子就不会陷进湿漉漉的泥地。到了晚上,塔吉克族人和汉族人都纷纷踱进新开的公园,年轻人卿卿我我,一支舞蹈团在附近的舞台上演出。
A few blocks away, a group of Pakistani merchants from the Swat Valley had just stepped off a long-distance bus, weary from their travels, their white shalwar kameez flapping in the wind. Inside their oversize bundles were cheap metal bangles they planned to sell in cities farther east. "Chinese women love anything that shines like gold," one of the traders, Mohamed Razwan, said hopefully.
几个街区之外,一群来自巴基斯坦斯瓦特山谷的商贩刚刚走下长途客车,满脸舟车劳顿之后的倦容,白色的沙瓦克米兹(shalwar kameez,巴基斯坦的民族服装,包括一套长衫与长裤,男女均可穿)飘荡在风中。他们把大包廉价的金属饰品运到远东各个城市出售。"中国女人喜欢一切金光闪闪的东西。"商贩穆罕默德·拉兹万充满希望地说。
It was their inaugural trip outside Pakistan, and the men, all in their 20s, were thrilled to be meeting Americans, their first face-to-face encounter with a people frequently vilified at home as hegemonic warmongers. The two groups of strangers could barely communicate, but we reveled in the moment, snapping pictures of one another, and marveling at our unlikely encounter on a strange, far-flung corner of the world.
这群商贩都二十多岁,此行是他们首次走出巴基斯坦。见到我们,则是他们在真实生活中第一次与美国人劈面相逢。他们激动极了,因为在老家,大伙不都说美国佬是霸权主义战争贩子么?作为两群分别来到此地的异乡人,我们虽然语言不通,却只在一瞬间,就开始兴高采烈地为对方拍照,在世间这一遥远而陌生的角落,赞叹着这场几乎不可能的相遇。