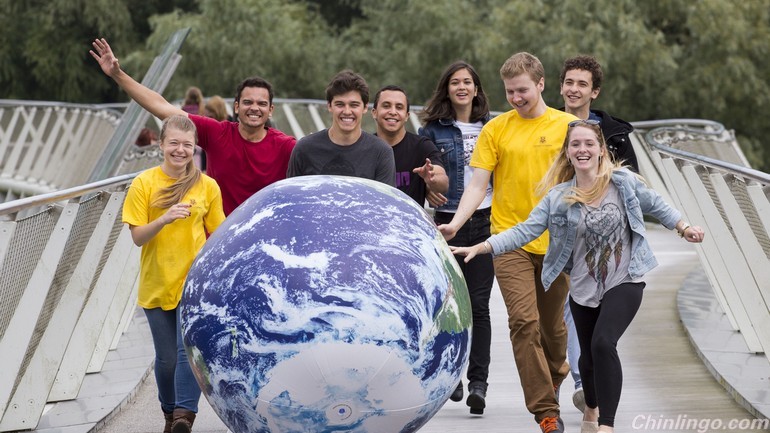 Surpassing France, China has become the third largest destination for international students in 2014, a recent report issued by Tsinghua University said. According to the latest figures from the Chinese Ministry of Education, there are over 337,000 international students studying in the mainland, which account for 8 percent of all international students across the world.
清华大学在最近发表的一项报告中说,2014年,中国已超过法国,成为留学生的第三大目的地。据中国教育部的最新数据显示,超过337000名留学生正在大陆学习,占全世界留学生的8%。
During the past 10 years, international students keep swarming into the mainland at an average annual growth rate of 13.19 percent. Although the momentum has slowed down in recent years, China is still one of the most popular destinations for international students.
在过去的10年中,留学生以13.19%的年平均增长率不断涌入内地。虽然这种势头在最近几年有所放缓,但中国仍然是最受留学生欢迎的目的地之一。
This development mirrors China's expanding influence in the international community, especially among its neighbors. Its robust economic performance triggers a spillover effect, which adds to China's charisma in other areas such as politics, culture and society. The growing number of international students is a reflection of the enhancement of China's soft power.
这种发展反映了中国在国际社会的影响力在不断地扩大,特别是在邻国之间。中国强劲的经济表现引发了溢出效应,为其他领域也增添了魅力,如政治,文化和社会。越来越多的留学生来到中国是中国软实力增强的一种反映。
Meanwhile, China is the country with the largest number of students going overseas to further their studies. The number of Chinese students studying abroad reached 450,000 in 2014, with an average growth rate of over 20 percent each year. More importantly, 360,000 have returned to China after completing their studies. Since China's reform and opening-up policy started in 1978, the total number of Chinese students studying abroad has been 1.8 million, 74.48 percent of which have come back.
同时,中国是一个拥有最多出国深造学生的国家。2014年,中国学生出国留学人数达到45万,年平均增长率超过20%。更重要的是,36万的出国留学生在完成学业后回到了中国。自1978年中国改革开放以来,中国学生出国留学总人数已经达到180万,其中74.48%的学生都回到了中国。
These statistics show that a virtuous circle of talent flow is taking shape in China. On the one hand, by drawing in talented young foreigners, China offers down-to-earth opportunities for these people to truly understand China. As the generation who will serve as the backbone of their nations someday, these people's ideas about China will make a huge difference in the future.
这些统计数据表明,中国正在形成人才流动的良性循环。一方面,中国通过吸引有才华的外国青年来华,为他们提供了切实的机会以真正了解中国。这一代外国青年在某天将会成为他们国家的骨干,这些人对于中国的想法将在未来产生巨大的影响。
On the other hand, by inspiring more overseas students to come back after their studies, China is cultivating a generation with a real international vision and advanced thinking skills. With these people's engagement, China will find it easier to get more deeply involved in the international community.
另一方面,通过鼓励更多的海外学生学成归来,中国正在培养一代具有国际视野和先进思想的人才。在这些人的参与下,中国将发现自己能够更容易地深入参与到国际社会中来。
However, there is no doubt that China needs to do more to make this virtuous circle more constructive. For example, statistics show that some Chinese universities are prejudiced and prefer to recruit students from developed countries.
但是,毫无疑问的是,中国需要采取更多措施来使这种良性循环更具有建设性。例如,有统计数据显示,中国的一些大学持有偏见,偏爱招收来自发达国家的学生。
However, the number of students from developed countries has remained stagnant in recent years, and has even declined in several cities, while the number of students from Asia, especially Southeast Asia and Central Asia, has increased rapidly. Therefore, China needs to shift its strategy, focusing on neighboring countries instead of trying to reach for something beyond its grasp at this moment. A neighborhood reorientation is also in line with China's foreign policy shift to neighboring countries.
然而,近年来,来自发达国家学生的数量一直处于停滞状态,在一些城市甚至出现下降,而来自亚洲,特别是东南亚和中亚的学生数量则迅速增加。因此,中国需要改变其战略,重点关注周边国家,而不是试图达成目前阶段无法掌控的目标。而且邻国关系的重新定位也和中国的外交政策转向邻国的趋势保持一致。