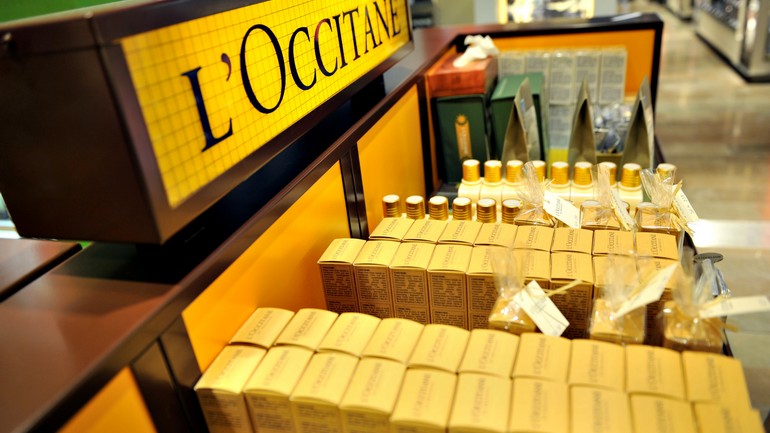 French skincare brand L'Occitane opened on Alibaba Group Holding Ltd.'s Tmall shopping site this week, the latest upscale name to join the platform in an attempt to combat unauthorized sales of its products there.
L'Occitane, whose online storefront opened Dec. 1 with products such as shimmery cherry-blossom lotion and dry-skin hand cream selling for about $40 U.S. apiece, saw an opportunity to launch on Tmall, China's main online venue for big brands, because its goods were already selling on the platform without its permission, according to Andre Hoffmann, president of the Asia-Pacific region for L'Occitane.
"This is the only way we can assure that expired and damaged goods are not sold," said Mr. Hoffmann. "Our goal is to be the only authorized seller of L'Occitane products" on Tmall.
U.K. luxury brand Burberry BRBY.LN PLC and high-end cosmetics brand Estée Lauder Cos. also opened online storefronts on Tmall this year, with sources close to the companies telling The Wall Street Journal that a key draw was the chance to protect how their brands were represented on the site.
"High-end brands are certainly of interest to Chinese consumers and we are going to continue to grow these brands on the (Tmall) site," said an Alibaba spokesman.
Alibaba, whose $25 billion initial public offering of stock in September was the world's largest, has promised high-profile brands that once they open an online store, it will purge goods sold on its platforms by retailers not authorized by the brands or do more to fight fakes, the Journal found in interviews with nearly three dozen sellers, brands and analysts this year.
When Burberry and Estée Lauder opened their stores earlier this year, all third-party sales of their products vanished from Tmall around that time, an analysis for The Wall Street Journal by e-commerce data firm YipitData found. Analysts see this development as a sign of the lengths that Alibaba will go to in order to court certain brands.
Still, the opening of L'Occitane's Tmall store this week hasn't led to any immediate decrease in the number of the brand's products sold by third-party sellers, according to YipitData, which counts about 1,400 listings of L'Occitane items on Tmall.
Even so, the firm's analysis suggests that brands can gain better control of their image by opening a Tmall store since "the flagship store can get better positioning on the site and make gray-market goods less visible," said Jordan Milan, a product analyst at YipitData.
Mr. Hoffmann said L'Occitane is in discussions with Alibaba about how to tackle the brand's products being sold on the platform by third-party vendors, many at discount prices.
Alibaba doesn't comment on conversations with its customers or on third-party data, the company spokesman said.
Gray-market goods—which are often authentic, bought from distributors outside China and then sold on the mainland at a discount—have been a problem for high-end brands. Brands worry that these unauthorized sales could tarnish their image and erode their pricing power.
L'Occitane has been negotiating with Alibaba for months over the opening of its Tmall store. The skincare company's main concern has been protecting its premium image on Tmall, according to people briefed on the negotiations.
L'Occitane's decision to open a Tmall store is seen as a reversal of strategy.
In a September 2013 report by CLSA Asia-Pacific Markets, analyst Paul McKenzie wrote that the brand has "deliberately avoided the Chinese marketplace sites and views them more of a hindrance than a benefit to its business. It sees the Chinese online shopper as having become conditioned to expect cheap and discounted prices on marketplace sites versus physical stores, something it (correctly in our view) is not willing to succumb to."
Yet analysts say that brands also recognize they can't ignore the promise of e-commerce in China. Tmall hosts more than 70,000 sellers and controls about 45% of China's business-to-consumer online sales, according to Euromonitor International. Over the past three years, sales on Tmall, one of Alibaba's three main e-commerce sites, have surged more than tenfold to $50.9 billion, Euromonitor said.
For L'Occitane, the first few days of sales on Tmall have been "encouraging," said Mr. Hoffmann.
Erwan Rambourg, a luxury analyst for HSBC, said other high-end brands have told him they are keeping an open mind about having a storefront on Alibaba's platform.
"Companies are simply adapting to the reality of consumption in China," said Mr. Rambourg, the author of "Bling Dynasty: Why the Reign of the Chinese Luxury Shoppers Has Only Begun." "The issue that many of these legacy brands have is that they're scared about losing in terms of brand equity versus gaining in terms of consumers."