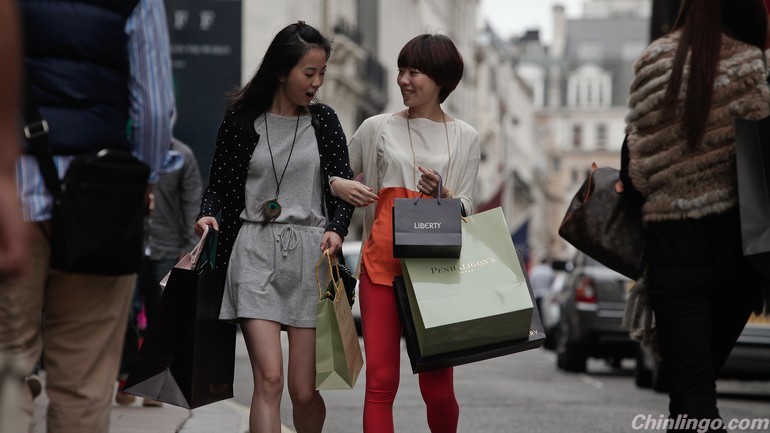 At least 43 percent of Chinese women have traveled alone, slightly higher than the worldwide average of 41 percent, according to the survey on female travel released on April 9 by TripAdvisor, the world's largest travel website. The survey was conducted to evaluate the travel habits of women, especially with regards to solo travel, and covered 10 countries and regions, including China, the U.S., the U.K., France, Germany, Italy and Spain.

据旅游网站TripAdvisor在4月9号发布的女性旅行调查,至少43%的中国女性独自旅行过,比世界平均值41%还要高点。该调查是为研究女性的旅游习惯,特别是关于独自旅行,这项调查覆盖了10个国家和地区,包括中国、米国、腐国、法国、德国、意呆利和西班牙。
Based on the survey, 85 percent of Chinese women compare prices on various travel websites before choosing hotels, higher than the world average at 57 percent. The survey also showed that a big number of women travelers, or 92 percent, regard online hotel reviews as important, while only 71 percent of Chinese women travelers believe so. This showed that most women travelers refer to hotel reviews to avoid bad experiences in hotel accommodation.
根据调查显示,85%的中国女性会在各种旅游网站对酒店进行价格比较,世界平均值为57%。调查还显示,92%的女性旅游者都认为网上在线酒店很重要,而中国女性在这点上比例为71%。总体来说,大多数女性游客更喜欢网上订酒店以免无法解决住宿问题。
According to the survey, Chinese female travelers also check the hotel ratings but are more interested and guided by lower prices. It also showed that 84 percent of them have tried local food as a necessary activity when they travel alone, higher than that of the global average of 62 percent. In addition, 76 percent of Chinese female travelers are willing to join in cultural and scenic activities, compared to only 73 percent of global women travelers.
虽然中国女游客也会查看酒店的星级,但低廉价格更受她们欢迎。当一个人旅行时,她们中84%会把品尝当地特产当作必备活动,世界平均值为62%。76%的中国女性游客会很乐意参与当地文化活动、欣赏美景,和全球女性游客的数值相差不大,后者为73%。
The survey also revealed interestingly that only 30 percent of Chinese women consider shopping as a must-do activity during their solo travel, lower than the world average of 43 percent.
有意思的是这项调查还发现,30%的中国女游客独自旅行时不会把购物放在必要活动中,低于43%的世界平均水平。
"Globally speaking, solo travel has gradually become a trend among the young generation. And there is no denying that women must face the greater challenges of unknown environments by themselves on their solo trips in the future," TripAdvisor China President Zheng Jiali was quoted as saying.Most Chinese women traveling alone think of the influences that travel can bring and not only on the journey process, the survey showed.
就全球看来,一个人的旅行成了年轻一代间的趋势。无可否认,女性在未来独自旅行中会面对更大的未知环境的挑战。" 大多数中国独自旅行的女性会考虑旅行带来的影响,而不仅仅是旅行本身的过程。