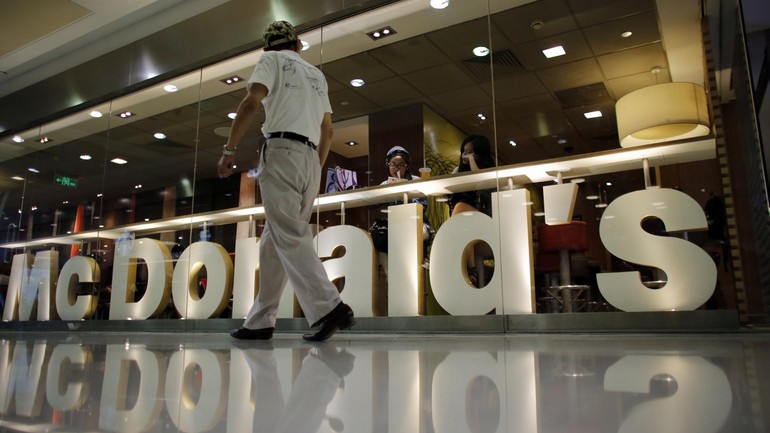 McDonald's Corp, the world's largest fast-food chain, is to close 350 stores globally, including 220 in China and the United States.
世界上最大的快餐连锁店麦当劳将关闭全球350家门店,其中包括在中国和美国的220家业绩不佳的门店。
The company said the move is in reaction to an 8.3 percent slump in first-quarter comparable sales in the Asia Pacific, the Middle East and Africa, which it blamed on the impact of what it called prolonged, broad-based consumer perception issues in Japan, and negative but improving performance in China.
该公司表示,此举是为了应对亚太、中东以及非洲市场第一季度同店销售降幅达8.3%这一情况,并把这归咎于日本的影响长期而广泛感知的食品安全事件以及中国在消极但稍有好转的业绩表现的影响。
Global comparable sales dropped 2.3 percent, reflecting negative customer traffic in all major segments, resulting in a 28 percent slide in the company's overall consolidated operating income.
麦当劳全球同店销售额下降了2.3%,反映在主要细分市场顾客流相对减少,导致该公司整体综合收入下滑28%。
During the quarter, its operating income from the Asia Pacific, the Middle East and Africa declined 80 percent due to strategic restaurant closings and other charges, on top of the issues in Japan and China, it said.
该公司表示,特别是中日两国发生的食品安全丑闻事件,导致门店关闭及产生其他费用。在一季度,亚太、中东和非洲地区的营业收入下降80%。
The fast-food restaurant company is expecting 130 stores to close in Japan, but it did not respond to China Daily's inquiry on the specific number of stores being shuttered in China.
麦当劳计划预计会关闭130家日本门店,但对于《中国日报》记者提出的具体关闭多少家中国门店这一质询,麦当劳没做出任何回应。
Kevin Ozan, McDonald's chief financial officer, said that April's global comparable sales are also "expected to be negative".
麦当劳首席财务官凯文·奥贞表示,四月份的全球同店销售额预计"不会有太多改善"。
McDonald's is considered the world's leading global food service retailer with over 36,000 locations. More than 80 percent of those are owned and operated as independent businesses.
麦当劳是全球领先的食品服务零售商,拥有3.6万多家门店, 80%以上的门店都作为加盟店独立自主经营。
Yum Brands Inc, the parent company of Taco Bell, KFC and Pizza Hut, is also still struggling in China, where sales declined 6 percent in the first quarter, while same-store sales fell 12 percent. The result was an improvement over the 16 percent same-store sales decline in the last quarter of 2014, and the company still insists it plans to add at least 700 new stores in China.
塔可钟、肯德基和必胜客的母公司百胜餐饮集团仍旧在中国苦苦挣扎,其第一季度销售额下降6%,同店销售额下降了12%。相对于2014年最后一个季度同店销售额下降16%,这一结果有所改善,而该公司仍然坚持在中国增加至少700家新店的计划。
Analysts said customers in China have been slow to forget recent food scandals, one of which involved a major supplier of meat to fast-food companies including McDonald's and Yum, which was shut down for allegedly violating numerous safety regulations, including mixing in chicken and beef parts that were well beyond their expiration date.
市场分析师表示,中国消费者已渐渐将最近的食品丑闻抛诸脑后,而其中一个丑闻是麦当劳和百胜等快餐连锁店的一大肉类供应商因涉嫌违法食品安全法规被强制关闭。该供应商将过期变质鸡肉和牛肉参入在原料中。
Yum has launched several initiatives to attract more customers in China including a high-end restaurant Atto Primo in Shanghai, and providing quality coffee in 1,300 restaurants across 10 cities.
为吸引更多的中国消费者,百胜举行了一些活动,如在上海开设高端餐厅Atto Primo ,并为10个城市内的1300餐厅提供优质咖啡。
Ben Cavender, principal of the Shanghai-based China Market Research, said he expected both brands to continue to struggle in China and internationally.
位于上海的中国市场研究所主任本·卡文德称,他预计在中国和国际市场上,这两大连锁品牌的日子都仍然好过。
He said in China specifically both brands continue to feel the effects of the scandal, and a slowing economy, and any company running a huge number of stores might be faced with having to close some.
他表示,在中国,两品牌会继续受到食品安全丑闻的影响,当经济增长放缓时, 任何拥有许多门店的公司可能面临不得不关闭其中的一些门店的问题。
"Coffee sales may be boosting KFC a little bit," he said, "but I don't think they have it fully implemented yet and they also have a lot of competition in that space."
他说:"销售咖啡可能使肯德基的业绩提高一点点,但是我认为,他们未充分发挥出咖啡销售的优势,况且这一领域的竞争也很激烈。"