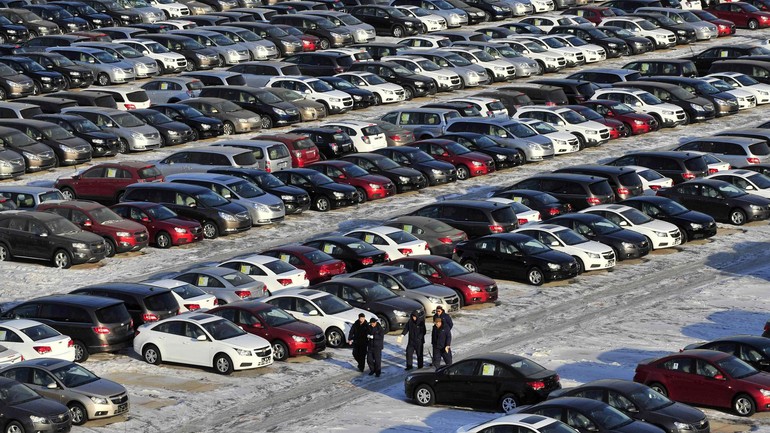 Auto sales growth in China, the world's largest market, decelerated to 6.9 percent in 2014 from 13.9 percent in the previous year. Nevertheless, a total of 23.49 million vehicles were sold last year, far outpacing the United States, the world's second largest market. U.S. consumers bought 16.5 million new vehicles in 2014.
中国是世界上最大的汽车销售市场,在2014年,汽车销售额增长速度从2013年的13.9%下降至6.9%,不过,2014年总共售出2349万辆汽车,远远超出世界第二大汽车市场美国,美国2014年全年销量为1650万辆汽车。
"When you look at the marketplace, it is clearly down from the double-digit growth we've seen in the last number of years. But the market's going to grow about 7 percent this year – it's still the largest growth market in the world. So I think we need to put that in perspective," Mark Fields, CEO of Ford told CNBC on the sidelines of the Shanghai Auto Show, which kicked off on Monday.
上海国际车展于周一(4月20日)开幕,展会期间,福特汽车公司的首席执行官马克·菲尔兹向CNBC透露说:"当前的中国市场,显然不再像过去几年一样有两位数的增长速度,不过我们预计今年中国市场将会有大约7%的增长速度,仍然是全世界增长速度最快的市场,因此,从长远来看,我们对中国的市场仍抱有很大的希望。"
Ford's China drive
福特在中国的增长
Earlier this month, Ford and its local joint venture partner Chongqing Changan Automobile announced they had paid $6.6 billion yuan ($1.1 billion) to takeover and upgrade a factory in northeast China. The factory will increase Changan Ford's production in the mainland by 200,000 vehicles.
这个月早些时候,福特公司联合中国合资伙伴重庆长安汽车宣布,将投入66亿人民币(约11亿美元)收购并升级中国东北的一家工厂,有了该工厂,长安福特在中国大陆的生产量将会增加20万辆汽车。
"Chinese consumers are really responding to our new products. It's about capitalizing on this momentum and taking advantage of that growth in the market place," Fields said.
菲尔兹表示:"中国的消费者对我们的新产品反响非常好,我们必须趁着这一势头加大投资,充分利用好中国市场需求的增长。"
Fields says the company's strategy to come into the market with new products in new segments is paying off.
菲尔兹称,公司的策略是针对新用户,将新产品投入到市场中,事实上,该策略已略有成效。
Last October, Ford launched its luxury Lincoln brand in China, seeking to make inroads into a segment dominated by German big three – BMW, Mercedes Benz and Audi.
2014年十月份,福特公司在中国发行了林肯豪华品牌汽车,旨在与德国三大汽车品牌–宝马、奔驰和奥迪进行竞争,在市场份额中分一杯羹。
Despite stiff competition, Fields says the brand is off has been well received: "Three of our top 10 Lincoln dealers around the world are here in China" He estimates 2015 could be the year China overtakes the U.S. as the world's top luxury car market.
尽管竞争激烈,菲尔兹表示,该品牌在中国获得了很大的反响。他说:"全世界十大林肯品牌汽车经销商之中,中国就占了三个。"菲尔兹预计在2015年,中国将取代美国成为世界上最大的豪华汽车市场。
China key in shaky world
中国成市场关键
Fields was not alone in his optimism about the resilience of China's car market.
菲尔兹并非唯一一个对中国汽车市场抱有乐观态度的人。
"China is critical because the rest of the world is very shaky, maybe minus North America," said said Dieter Zetsche, chairman of the Board of Management at Daimler AG and head of Mercedes-Benz Cars.
戴姆勒公司理事会主席兼梅赛德斯奔驰汽车公司负责人迪特·泽臣表示:"在当下,可能除了北美地区,全球其他地方的汽车市场都处于摇摆不定的状态,在这种情况下,中国市场变得极为关键。"
"We are kind of in catch-up mode. So, in spite of the slight slowdown of growth in China, we see ourselves going up, driven by great new product," he added.
泽臣补充说:"我们正处于竞争追赶模式。尽管中国的汽车销售增长略有下降,但是借助新产品的推出,我们的销售仍取得了增长。"
Daimler has lagged rivals Audi and BMW in China for years in part due to problems with distribution networks that have since been fixed, say analysts.
分析人员称,由于中国的汽车分销网络已经成形,许多年来,戴梅勒公司在中国的销售情况一直落后于竞争对手奥迪和宝马。
Meanwhile, on the mass market side, Nissan CEO Carlos Ghosn is equally sanguine on the outlook for the sector.
与此同时,面对大众市场,日产汽车首席执行官卡洛斯•戈恩对中国的汽车市场也抱有积极乐观的态度。
He set the company's sales target for China at 1.3 billion units this year – up 6.5 percent from last year's 1.22 million.
今年,戈恩定下公司在中国的销售目标,为130万辆汽车。相比去年的122万辆上升了6.5%。
"Most of the growth will come from expansion of product offerings. We're coming to segments where we didn't have an offer before addressing people that in the past did not shop with us," said Ghosn, who launched the Lannia, a new mid-size sedan aimed at younger buyers, at the Auto Show on Monday.
此前,戈恩所在的日产汽车公司针对年轻人发行了一款新的中型四轮轿车蓝鸟。在周一(4月20日)的车展上,戈恩表示:"我们大部分的销售增长将得益于市场需求的扩大,我们将踏足新的市场区域,与过去从未购买过我们汽车的人打交道。"