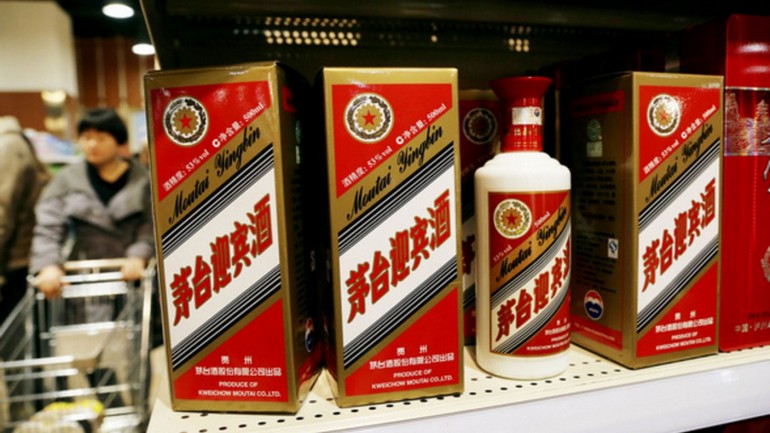 When President Richard Nixon and Premier Zhou Enlai toasted the opening of China to the U.S. during their historic 1972 banquet in Beijing, it was no surprise that the beverage in their glasses was the searing white spirit called baijiu (pronounced "bye-gee-o") made by distiller Kweichow Moutai. Its pricey version of the locally popular quaff had long been a staple of formal gatherings across the mainland. The drink's vaunted position continued, sending the price of a bottle of Moutai soaring to $300 in 2012 as baijiu became the go-to gift for officials during China's dizzying economic boom.
The brand's wild ride came to an abrupt halt two years ago, when President Xi Jinping's war on graft made China's self-proclaimed national liquor a symbol of boozy revelry and Communist Party excess. After Xi banned the lavish banquets in which free-flowing Moutai had long played a starring role, demand plunged among China's elite.
That led distributors of Moutai to slash prices by more than half, putting it within reach of urban professionals and curious trendsetters. Baijiu makers have also sought to rebrand the liquor as a sophisticated indulgence, sort of China's answer to single malt Scotch. To attract converts, Moutai has stepped up its marketing to the masses, sponsoring a 43-part TV series about a legendary Qing Dynasty gunfighter-turned-winemaker who founded the baijiu industry. The company announced in December it also would spend 200 million yuan ($32.3 million) to start a division to promote its lower-shelf brands such as Prince and Banquet liquor—costing 300 to 500 yuan—to attract customers not yet ready to shell out more for its namesake tipple. "The new targets for Moutai are middle-age, affluent consumers," says Doreen Wang, the New York-based global head of the BrandZ unit at consultant Millward Brown.
Recent results suggest the brand may finally be shaking the hangover. Moutai could see sales surge as much as 11 percent this year, according to Goldman Sachs. That's up from an estimated 1 percent rise in 2014. Guo Chaoren, a distributor in Guangzhou, reported a 20 percent sales jump during Lunar New Year festivities in February, selling out his entire 24,000-bottle supply. "The demand completely exceeded my expectations," he says. The reason? More affluent Chinese are starting to see the 106-proof, sorghum-based liquor as something to sip among friends, not just to buy the favor of powerful officials.
While that's welcome news for China's estimated $23 billion baijiu market, moving the spirit's positioning down market isn't without risk. Moutai's new drinkers are likely to hold back if prices rise too fast again. Yet there are signs that the repositioning is drawing attention for the drink far beyond its traditional strongholds. Bars specializing in the liquor are popping up from Beijing to London. And Lumos, a bar in New York's trendy SoHo area that's devoted to "white spirits" (a direct translation of the drink's name), opened in March with a menu of 60 baijiu cocktails.